Ongoing Reports From South Africa
Year End 2018 Update
Year End 2017 Update
September 2017 Update
South Africa Report 6 July 2015 Final Report
Mission Thando Preaching the Gospel
While many organizations around the world strive towards making living conditions better for the people they are serving not always do they care about spiritual needs and where the people they serve will spend eternity. Not so with the Meisnerís and Mission Thando. I have heard the testimonies from people who have been changed by the message of the gospel of Jesus Christ they preach.
There are many different ways to plant churches. Some use church growth methods where communities are surveyed and people are asked what ďbrandĒ of a church they would like. Some churches advertise the various entertainment programs they have for the children. Others promote ďseeker-friendlyĒ or the emerging church style services where any and all religions can join together to establish the kingdom of God.
The Meisnerís do not follow any of these man made ideas. They simply show the lost what Christianity looks like by spreading the love of Christ. They care for the poor. They feed the hungry. They care about those who are sick as well as the elderly and shut in. They transport those who have no way to visit a Dr. to their appointments. They help the widows and orphans. They teach the Bible and preach the gospel to the young and old. They have established a church in an area where most white people would never set foot. They do all of this with five children in a location that is more than halfway around the world from their friends and family.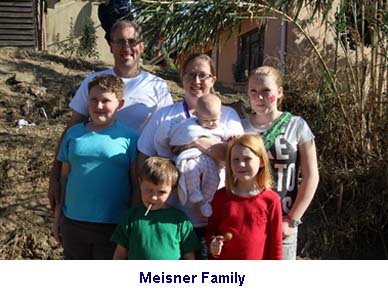 While I was in Durban I was able to see the ministry in action and meet many people. I was also able to speak at two meetings held at the Center, one for the youth gathering on Friday night and the Sunday Morning church service. For the present, the Center is where their fellowship gathers for meetings. The Center is simply a rented house in the Quarry Heights area surrounded by other houses. While not a church, it is a shelter and a place where people come and hear the gospel. Almost everyone that comes to the meetings has been impacted by the ministry already because they have experienced what true Christianity is all about.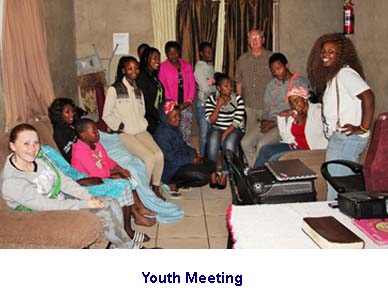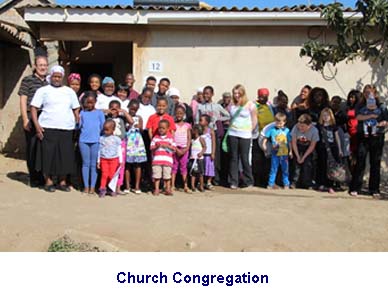 I spoke to the youth group on the topic on the truth of the Bible and why being a born-again Christian is so important when it comes to knowing the truth. On Sunday my topic to the entire congregation was ďHow to Be a Strong ChristianĒ.
This will be my last report. I encourage you to visit the Meisner Mission Thando web site at http://www.missionthando.com/ Also please consider supporting Bryce Homes South Africa though Understand The Times either by check or PayPal.
South Africa Report 5 July 2015
Mission Thando Provides Food for the Hungry
Few people that I know have ever experienced what it is like to be hungry day after day, night after night. Most of us are blessed with an abundance of meat, potatoes, a variety of vegetables and desserts. It is a fact that the majority of us eat more than our share.
Such is not the case in the area of Quarry Heights, a suburb of Durban, South Africa. The population is made up of primarily poor families who lack food and proper nutrition. Many children go to school with their stomachs empty. They return home after school to find the cupboards bare. Ministering the gospel to families in such an environment without showing concern for the wellbeing of peopleís physical needs would be a waste of effort.
With some funding from a corporate sponsor and funds raised from churches and individuals who donate through their non-profit ministry based in Canada, Quarry Heights children receive food free of charge twice a day five days a week from Mission Thando. This happens at a house Meisnerís have rented in the area which they also use as a church and youth meeting place. Each morning porridge and sandwiches are handed out to hungry kids before they head off for school. Later in the day David or one of his helpers picks up day-old bread, cakes, pastries, pies and other items from a large commercial bakery and brings it to the Center. I witnessed both the morning and afternoon feeding events myself and saw the impact this program has on the community.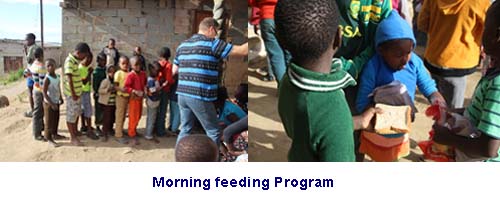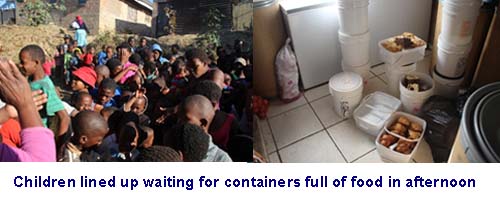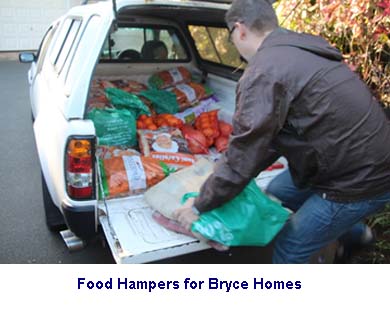 The whole community is aware of the work the Meisnerís are doing in Quarry Heights, not only for the humanitarian assistance, but also for the spiritual leadership they provide by teaching the Bible and showing people the love of Christ. The morning and afternoon feedings do not start until the children participate in singing songs of thanksgiving and praying. It is truly something to see. The following photos could not be described in a thousand words. You have to witness something like this in person to appreciate it.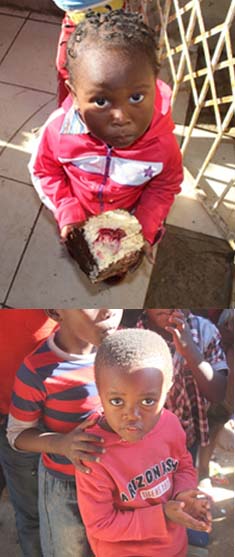 South Africa Report 4 July 2015
Additional Bryce Homes South Africa
The Bryce Homes International Program is a ministry God has raised up in memory of Bryce Oakland who died in a car accident in August of 2001. The program began in 2006 in the country of Myanmar with one home. Now, nine years later there are 60 homes in four countries caring for over 300 children. God has taken ashes and made something beautiful. He has taken the pain of losing a son and brought into existence something too wonderful to describe in words. He has introduced our family to hundreds of children we would have never had the opportunity to know or care for. This is Godís work, not ours. As God provides though His people with financial support we are committed to the expansion of the program by adding more homes.
While we have established basic guidelines providing the parameters for the Bryce Homes Program, one of the unique aspects is that we are flexible to new ways God wants to use us to reach out with the gospel to the needy. While in Durban the Lord led me to establish four new homes in South Africa bringing our total world-wide now to 64.
Describing the background for each home and the reason for choosing the children and the home caretaker would provide the contents for a book. Perhaps in the future I will write a book to try and convey what it is like to meet children, parents and grandparents who live in hopeless situations. I would then show the results when these same people see the love of God expressed to them in a way that shows someone cares.
For now, let me say on this visit to Durban we added two more homes in order to assist grandmothers who faithfully attend church in order help support their grandchildren who otherwise would go hungry. While most South African poor families do receive a small pension or stipend from the government, it is not enough for them to survive.
The two grandmothers we have added are in their 70ís and not in good health. One has diabetes with a leg amputated and suffers from heart problems. The other has had a stroke and is confined to her bed most of the time. In both cases David Meisner picks these grandmothers up at their homes to bring them to church every Sunday morning. The Meisnerís met them because they were helping them with their medical needs. It was because of this they became believers in Jesus Christ. Understand The Times and the Bryce Homes South Africa program will now come alongside to assist with further support in order to make their lives somewhat more bearable.
A third grandmother who attends the church is a widow who serves the elderly. On a very small stipend she works for Mission Thando as a care giver to the elderly. Each day she visits 20 older ladies and helps by bathing them and giving them their medication. She also delivers the day old bread the Mission Thando ministry receives as a donation from a Durban commercial bakery.
The fourth Bryce Home we have added will provide support for a young girl who is also a new believer and attends Meisnerís church. Krista and Dave became acquainted with her when they helped her with a serious medical need. Through this outreach she came to Christ. Through the Bryce Homes Program she will now be able to finish her High School. Her vision is to continue her education and become an administrative secretary.
On Sunday morning I saw her worshipping the Lord with tears streaming down her cheeks. Another life transformed.
The following are photos of our four new Bryce Homes in South Africa: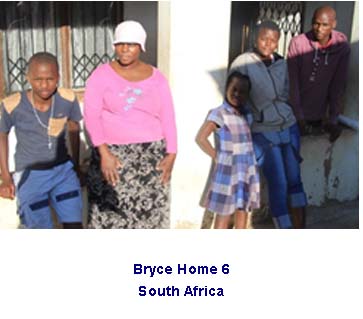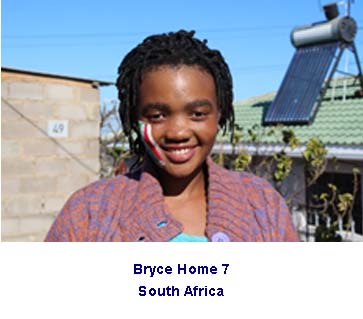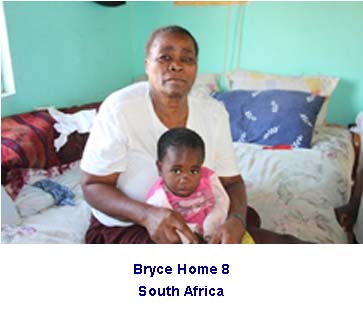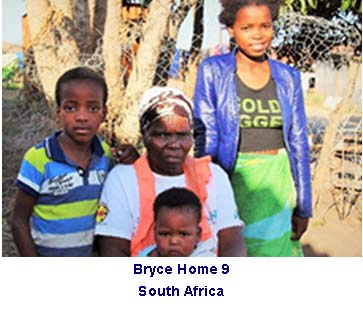 South Africa Report 3 July 2015
Bryce Homes International has been formed as a program designed to support orphans and/or very poor children in a home environment. Our guidelines require Christian leadership and personal care that assists in providing spiritual guidance, food, clothing, education and medical assistance. Unlike many programs that target humanitarian assistance alone, our emphasis has been to find reliable accountable men and women with integrity to manage our programs in each country and location where we are working. In Durban, South Africa the Meisner family, missionaries from Saskatchewan, Canada are the ones we have chosen to head up the Bryce Homes South Africa Program. Dave and Krista are committed to work among the poor and unfortunate and to help them both materially and spiritually.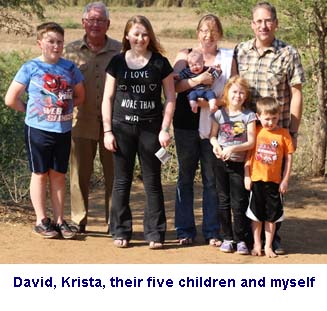 One of main objectives for taking this trip to South Africa in July of 2015 was to visit our five existing homes and measure the progress since my last trip two years ago. This way I am able to personally assess each individual family and adjust the program accordingly as special needs arise. As well, there have been a few changes and new families or children replace those who have moved on. We like to be open to special needs that we were not aware of before and replace those who have benefited from the program and are now capable of working towards self-sufficiency.
It took us about one day to visit all the five homes we are supporting in Quarry Heights. One situation we observed was a health issue. One of the grandmothers who cares for an entire family was suffering from a severe condition of shingles and had been confined to bed. Her mattress was broken down and wire springs were poking into her body as she tried to find comfort. David and I went to a local furniture store where we had purchased some furniture for this family before and bought a new mattress and transported it to her humble home. We prayed for her before we left. On Sunday she was sitting in the front row of the church service to hear me teach.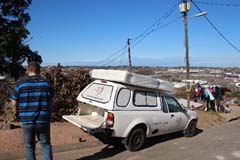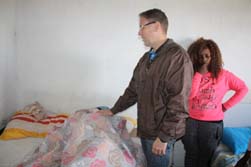 In another one our Bryce Homes we were informed the teenage girl we have been caring for was in the hospital. When we first met her we saw that she had been born with a deformed back. David and Krista had transported her many times back and forth for medical appointments. The Dr.ís made the decision to operate to correct the problem. On Sunday afternoon we made a trip to the hospital where she was located and took her grandmother and visited her. The compassion and love that Dave and Krista have for the people they shepherd is truly commendable.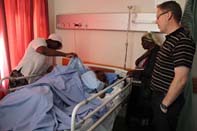 During my time in Durban we have visited all five Bryce Homes and delivered a monthly supply of vegetables to each home. I interviewed most of the children and the adults in the home who are in charge. Following are the photos of the five families: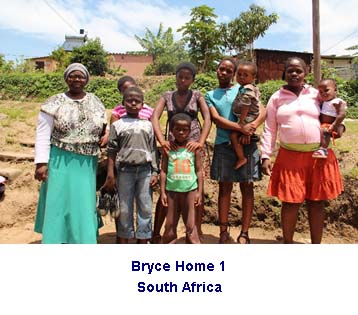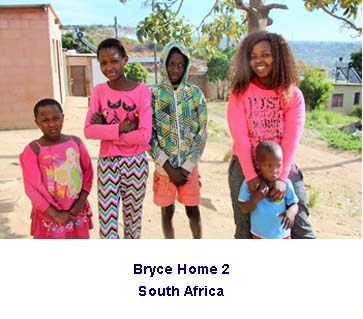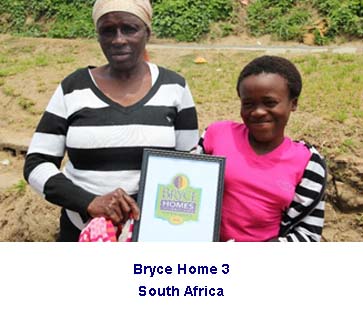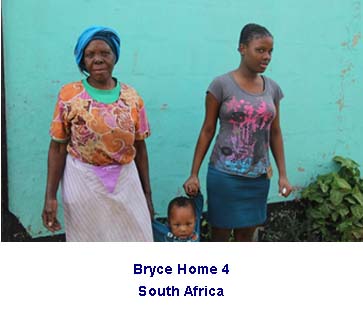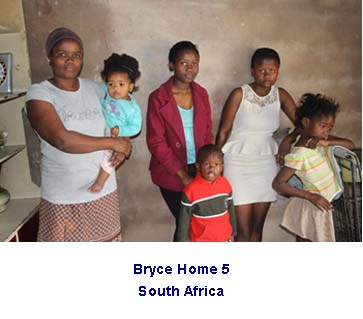 South Africa Report 2 July 2015
My first day in Durban was packed with activity from morning through evening. David Meisner picked me up early in the morning and we made our way to Quarry Heights. This is the location in Durban where all of the Understand The Times Bryce Homes are located. This is also the area where the Meisnerís have their base for the majority of their mission work - Mission Thando. Please check out their web site at www.missionthando.com/
David arrived at my bed and breakfast location with his vehicle loaded with food supplies that would be delivered when we visited our five Bryce Homes. About one year ago David was hijacked by thugs and his vehicle was stolen. Thankfully, David was not harmed.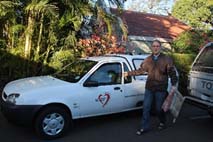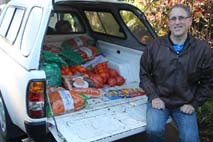 Our first destination was the Mission Thando Center located in the heart of Quarrey Heights. This is an area where the government has relocated over 10,000 people. Most of them are still living in severe poverty conditions. David and Krista have been called to this location from Canada to ďspread the love of Jesus.Ē The meaning of the word ďthandoĒ in the Zulu language is love. Their Mission Center is simply a low cost rental house they have secured in the area where they can administer their outreach to the Quarry Heights community.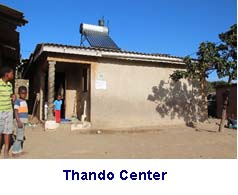 The current goals and objectives for Mission Thando are as follows: orphan care, after school programs, computer classes, youth programs, feeding programs (morning and afternoon each day) for the hungry, HIV/AIDS programs and elderly care and assistance. Their non-profit organization raises support for their work (please read the details at http://www.missionthando.com/donations).
Presently, a staff of four assist David and Krista to implement this program. This is my third trip to Durban. I have seen tremendous growth and progress since my first trip and highly recommend the work they are doing. If you have ever considered supporting a missionary family in a faraway land, your investment in the Meisnerís ministry would be a good one.
As previously mentioned, besides Mission Thando, the Meisnerís oversee and administer our Bryce Homes program in South Africa. In a following report I will share the details of the visits we made to each Bryce Home.
South Africa Report 1 July 2015
I have arrived in Durban, South Africa and will be here visiting David and Krista Meisner and our Bryce Homes for several days. The Bryce Homes South Africa Program was established in Durban, November, 2011 when I made my first trip here.
David and Krista are missionaries from Saskatchewan, Canada. They have five children ranging in age from 14 years old to a newborn baby. I have known David since he was a small boy as he went to school in Eston with Bryce.
David and Krista administer the South African Bryce Homes Program for Understand The Times. They have founded their own non-profit organization and are very active in reaching out to the poor and unfortunate in the Durban area. As well they have planted a church in Durban and work extensively with children and young people.
Our goal in ministry has always been to work together with established like-minded ministries to advance the gospel of Jesus Christ. The Meisnerís are a perfect example of this. We are very pleased to be able to partner with them.
While I am here we will not only be visiting all our Bryce Homes, I will be looking at the possibility of expanding the program. Daily reports will be posted on our website with photos that will keep you updated. As well I will be shooting video footage so that we can provide more information about Bryce Homes South Africa.
Sincerely,
Roger Oakland
January 2013
Greetings in Christ,
I am excited to update you on all the God is doing through your generous support. The Bryce homes in Durban South Africa are doing so well. We recently baptized 6 individuals from the homes. Pastors Art and Ruth Bartlett from Pangman, Sask. helped us out!! We have more to baptize as well. The families are doing well. The food and support we give them is making a difference. There are many challenges but the support along with the Bible teaching has been so helpful. We are seeing an increase in their faith. The families have experienced many challenges but we see more and more that they turn to God through their difficulties. One of the other homes had both the Granny and her grand-daughter get baptized. The granny was so brave stepping into the cold pool!!! We also have had great things happening in our home where we are now caring for two more orphans who are flourishing now that they are receiving love and support.
This past year we have been providing food and support for the Bryce homes through your support. This means that these children can go to bed with a full stomach and go to school. We take them fresh vegetables like onions potatoes and carrots as well as rice, and Mealie meal. The childrenís uniforms and school fees were paid for through UTT and this has meant so much to these children. I have been monitoring the reports and the children are doing well overall. The families are very thankful!!
Apart from these homes sponsored by UTT we are also giving care and support to over 65 other orphans and Vulnerable children. We help them with school uniforms and shoes and food parcels. We
also provide them with things like toiletries. The church has been growing with both young and old. We recently began a ministry caring for the elderly who do not have enough help. God has truly blessed this ministry and we are seeing women give their lives to Jesus and more and more elderly are reaching out for support and God is touching their lives in a powerful way. We are seeing miraculous healings. One woman not only gave her life to Jesus but went from not being able to get out of bed to now being able to walk without support for a short while.
We are also running a feeding program in Ntuzuma where we have been assisting with a daycare. The lady who runs the daycare wanted to help feed the children in the area. We are providing ingredients for soup and she feeds up to 50 children 3 times a week. This has been a blessing to the community. Through her we have been able to help some of the elderly in the area including helping to finish building a house for an elderly woman in the community. There is a lot of need in this community and we hope to be able to assist them further as well!!!
Thanks so much for all the support. May God be glorified!!
David and Krista Meisner
Click On A Picture To View It Larger

November 2012 - Roger's Trip in Nov. 2012
One year has passed since my first trip to Durban, South Africa when I first visited David and Christa Meisner, missionaries from Canada. David was the same age as our son Bryce and he grew up in the same town, Eston, Saskatchewan. Since Understand The Times made a decision to shift our main focus to help poor and needy Christians around the world by coming alongside pastors and assisting them financially, we felt that David and Kristaís ministry would be a perfect fit and a very good investment.
It was while I was in Durban a year ago that I decided to revise the Bryce Lodge Myanmar program to become the Bryce Homes Program. It became apparent to me that we could accomplish more and make a bigger difference by establishing Christian homes overseen by local pastors that would help in distributing food, provide better living conditions, education and Christian education. The Meisnerís agreed to partner with Understand The Times to work towards this goal in a very poor area where they minister in Durban.
While there last year the needs of one particular family deeply touched me, we made the commitment to begin the Bryce Homes South Africa Program by providing monthly support for food and clothing for this family. As the tin shack this family called home was deplorable, Understand The Times provided the funds to have a new home built for them with a cement floor and brick walls. David organized some volunteer help along amongst his youth group and with a few paid construction workers the project was completed.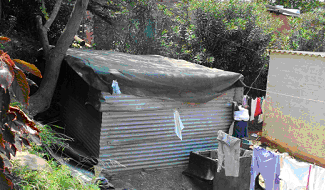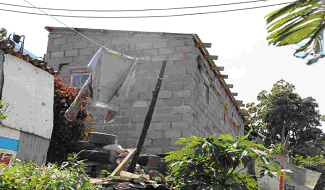 Old Shack New Brick Home - Not Complete
The new home is like a mansion compared to the shack they were living in. Before, ten adults and children all slept and ate in one room. They will now have a toilet, shower and three rooms for sleeping and eating. Each person, adult and child will have a bed to sleep on. There are a few more things yet to be done such as adding a solar hot water heater and plastering the walls and painting the interior and the exterior. Understand The Times has committed the funds to complete this project.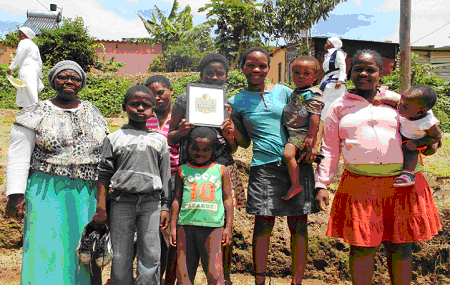 Bryce Home One South Africa Ė the Gamede Family
Bryce Homes Two and Three in South Africa are specifically designated to provide education for students who would otherwise not be able to go to school. The Meisnerís provide the care for Bryce Home Two. The student is Desmond.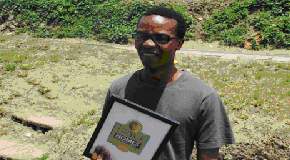 Bryce Home 2 Desmond
Bryce Home Three is overseen by a widowed grandmother who attends David and Kristaís church. She looks after her granddaughter who is going into grade eight. The grandmother does not have enough money to feed her grandchild nor send her to school.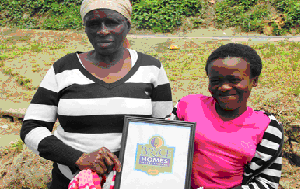 Bryce Home Three
While in Durban we made the commitment to establish two more Bryce Homes by assisting two more families. This will make a total of five Bryce Homes in South Africa. In every case the children attend David and Kristaís church and youth group.
My trip to Durban was very rewarding. I was able to see the tremendous difference that had taken place in one year.
Please pray for the Meisnerís and the work they are doing among the poor in Durban, South Africa. Each Friday evening they hold a youth service in their home attended by over 25 young people..
David transports them to the meeting and takes them home when the meeting is over. Their weekly church service is held in one of the memberís homes. The lady who provides this place for teaching and worship also provides a room where food can be stored and then distributed to
those who are need. The work that the Meisnerís are doing is truly the Lordís hand extended.
While Understand The Times provides some personal support for the Meisner family, their ministry goes far beyond the Bryce Homes South Africa Program into a number of other areas. They are presently in the process of setting up their own non-profit organization in Canada. I strongly recommend that individuals, other organizations and churches support their work.
June 2012
Greetings!
I am attaching a picture of the Gumede family taken at a recent service. I cannot begin to tell you all that God is doing in their lives but it is amazing. As we have been getting to know them more and more and hearing all that God has brought them through I can only tell you that the support from UTT had been the answer to their many prayers. Dave's dad will give you some video footage as well as some more photos!!
The Masuku family is doing very well too and God is really increasing their faith. They have become very involved in the ministry and are very thankful for your support. This too is an answer to years of prayers, even those of their late Grandmother who was a Christian and prayed for them. That is one of the memories of their family that they often share.
How are you doing? How is Ron? We have been praying for all of you as a church.
Blessings,
Krista
February 16, 2012
Family #1: Gumede Family
Mother: Maureen Gumede
Daughters : Andileage 26, Nosipho age 24, Thule age 26
Grandchildren: Sbahle age 12, Andiswa age 11, Sphiwe age 7, Nsindiso Age 5, Sphelele age 4, Eshihle age 1, New baby born Dec 14 2011
The Gumede family live in a small one room shack at the back of a relativeís home. There are eleven people living in the shack. There is only one bed. Those who do not sleep on the bed will lay on straw mats on the floor. The family has very little for possessions and struggles to have food to eat and clothes to wear, with only a small income coming in. One of the daughters is sick with seizures and has some brain damage as a result. Another daughter was raped and became pregnant. Another of her children passed away leaving grandchildren in her care. Mother Gumede, is a woman of great faith and has become a regular attendee of church along with her family. The food that is provided through Understand the Times has made a huge impact on the family. By providing basics such as flour, sugar, mealie, rice, beans and oil the family is doing much better. They give God praise and say that He has looked upon them and blessed them. The family is happy to attend church on Sunday morning and the older daughters have also joined the Tuesday Bible study. Ma Gumede has testified that since coming to church they have seen God bring good change to their lives.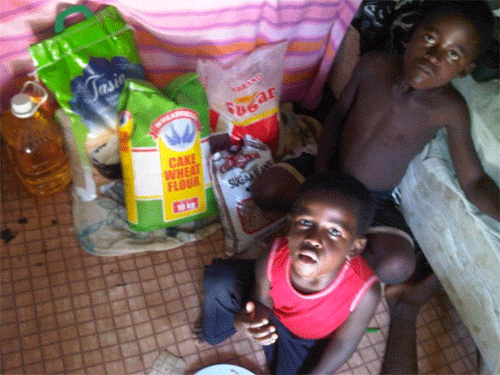 Family #2 Masuku Family:
Nombulelo -24, Desmond-17, Vusi-15, Zanele-13, Nothando-8months (photo of Vusi, Nothando, Nomvelelo and Desmond)
The Masuku family is led by Nombulelo. She recommitted her life to the Lord last year and has been a huge blessing to our church. She is helping with music and childrenís ministry. Her younger brother Desmond is also involved and has a strong call on his life to minister the Gospel. He desires to go to Swaziland and preach the Gospel when he is finished school. The family has no parents and have struggled to survive for the past ten years. The assistance from UTT has helped with food as well as school fees and uniforms. Please pray that God will provide a home for the family so they can all be together.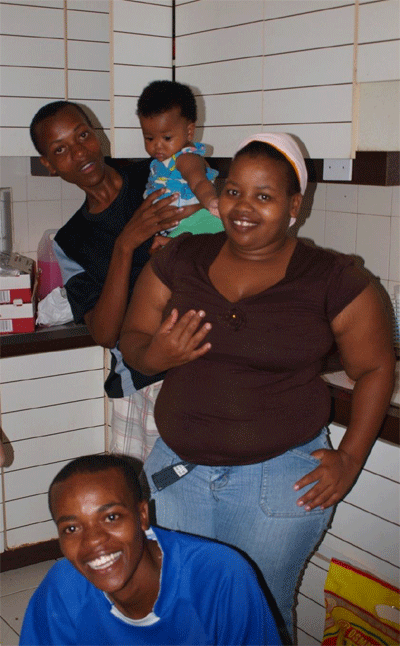 Family #3 -The Mokato Family

This family also lives in Quarry Heights. Their mother passed away leaving the oldest brother to care for his two sisters. The oldest brother, Tsepiso quit school to work and take care of his sisters, Msinhle, grade 11 and Thobile, grade 7. The money he makes

is not enough to provide for the basic needs of the family. Thobile goes to school at Quarry Heights. We have been able to help the family with food and school bags for the girls. We hope to get to know the family better in the coming weeks and see God really work in their lives. They live in a shack that leaks terribly and are in need of a proper home.