Ongoing Reports About Making Disciples Ministry School
January 1, 2014
Dear Roger,
Great is the privileges of sharing the Gospel of Christ to the lost in Yangon and village to village, house to house, government schools, street preaching, and personal evangelism, distributing tracts, praising songs and prayer for the families in December 2013. In the 1st and 2nd week of December 2013, we have ministry activities in Yangon. In the third week, we have mission trip to Delta area. In December 25, we have combine service at Nawaday Centre nearby Bryce Home 3 and the Last week was especially spent for children ministry. The last night in waiting New Year, we spent time in singing, Skit, Bible games and preaching short sermon by three people. We give this update with thanks giving for the leading hand of God which we have experienced throughout the year and bringing us into this Happy New Year.
We acknowledge that all these things has happened because God has a great plan to fulfill in the lives of the people through us and He cause you and us to get involved in this ministry in the way we can. I Cor. 3:8-"Now he who plants and he who waters are one, and each one will receive his own reward according to his own labor."

In Christ,
Elisha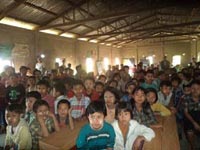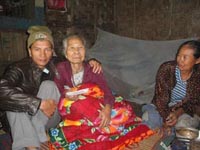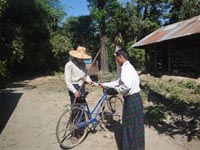 Please Click On An Image To View It Larger
October 10, 2013
Dear Roger,
On the first week of October, we began class with spiritual conference. We have 5 committed students at present. They all are under 20 years old. Pastor Ringa who supposed to come there to be a pastor could not yet received his calling later. So, he is a voluntary warden at present and Donga is a student leader. Monday to Friday, we have regular classes. Wednesday night and on Saturday we have Ministry activities all together with the teachers. And Friday night is fixed for fasting and prayer. Sunday, we have Sunday school for children at morning and noon time we have church service at Shwelinpan afternoon youth fellowship and learning songs and Sunday evening at Neighborhood school.
Not to be famous but to be great in His sight.
Not just to be used by God but to be men of God.
Not just success men but to be men of value.
Not to be success in ministry but to be success in life.
Not to be serve but to serve. Mark.10:45
In Christ,
Elisha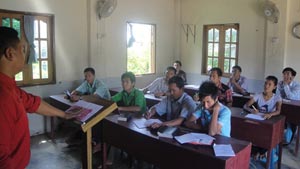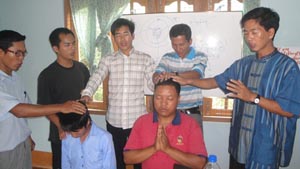 August 3, 2013
Dear Brothers,

Hope and pray that this letter finds you in good health. I personally praise the Lord that I have the privilege of giving my time, my lives to the things of eternity especially by teaching and leading dedicated students who are investing their lives in eternal matters. It is my desire that each student be equipped with a solid Biblical foundation for the ministry. This ministry strongly and deeply committed to the training of the national Christians who have dedicated their lives for the cause of evangelism, and for the cause of contending earnestly delivered to the saints (Jude 3).
The Ministry is committed to the Biblical understanding of the past, present and the future. It stands to defend the historic Christian faith and opposed this worldliness, so call fundamental and so call evangelical, charismatic, ecumenical and all shades of liberalism. The ministry holds that all scripture must be grammatically, contextually, historically, chronologically, and Biblically interpreted. Theologically, we are conservative evangelical. According to me, in this way we can serve best our generation because both preaching and defending the Gospel of Christ is essential in the last day deception. It is well known to all that we are living in a day of confusion in which people who are not deeply rooted in the word of God are being taken away and misled by the wrong doctrines
What we want is to see our students develop a heart for God by keeping Christ central in their lives and have a burning zeal for the lost souls. We also want our students to know that the call of God on their lives is a call to follow Christ and understand that the Christian life is a holy life and that the Word of God teaches that we should be separated unto the Lord and separated from the world. Our students must understand that it is the responsibility of every Christian to be actively involved in obeying the Great Commission by winning souls to Christ and establishing local New Testament churches to be directed by the Holy Spirit and through the Word of God and godly counsel to make Christ-honoring decisions because no two Christians have the same ability or the same opportunity, but that every Christian must meet Christ at the Judgment Seat with what he has done with his ability and opportunity. We want our students to be ready any moment for our Lord's return.
We feel we have serious responsibility. Accountability must be our means for growing and improving. We do not forget the task that lies ahead of us. Making Disciples Ministry will move on until the Lord comes. We have the answer of life in Jesus Christ and it is our goal to communicate that answer and to prepare Christian to go out and share Christ with others. If we, as committed Christian, take a strong biblical stand, we can see the world turned around for Christ and see Revival in our lifetime.
Being a family means that we have compassion for one another. We are not a corporation; we must consider each student, teacher and situation individually; we need to lift the hands of each other. A person lacking love has no business trying to touch lives. May we always communicate genuine compassion
It is God who owns this ministry. So, we give glory and honor to Him alone. MDM knows the very fact that the safest place is to be in the will of God.

Yours by His sufficiency grace and love,
Elisha