Bryce Homes International was founded by Understand The Times as a program to assist widows and orphans around the world. The program is in memory of Bryce Oakland (1974 - 2001) He is our Son. The program was started in Myanmar. It has expanded over the years. The Bryce Homes program is in Myanmar, Kenya (Where we have partner with Lighthouse Trails), Philippines, South Africa, Haiti, Mexico, USA, and India.
100% of each dollar donated goes to the Bryce Home country of your choice or the Bryce Homes program in General. Administration is paid for with other donations. We strive to keep overhead costs to a minimum.
Bryce Homes International Photo Montage


Bryce Homes India
Bryce Homes Philippines
Bryce Homes Kenya
Bryce Homes South Africa
Bryce Homes Mexico
Bryce Homes USA
Bryce Homes Haiti
Bryce Homes Myanmar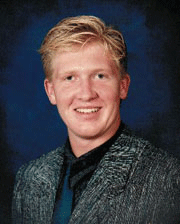 Bryce Oakland
First and foremost, we desire to give them all the Gospel of Jesus Christ'
Credit Card donations by fax
To Bryce Homes, International:
:
Donors who would like to donate by credit card (Visa, MasterCard, American Express and Discovery) can fax Understand The Times at 714-957-3899 and provide us with the details of your card, the amount you would like to donate and whether it is a one time donation or a monthly donation.
To donate by fax with a regular monthly donation or a one-time donation, please click on the Fax Machine image below. When you go to the fax form page, you will see an icon that says "Print This Page". Click on that icon and it will print the form on your printer. After printing the page and then filling it the blanks, please fax it to the number located on the Fax Transmittal form.