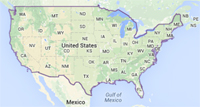 Bryce Homes is expanding to the USA. We have added the first new home to the program. See the picture below.

Go To Bryce Homes Mexico Page
Go To Bryce Homes Myanmar Page
Go To Bryce Homes Philippines Page
Go To Bryce Homes Kenya Page
Go To Bryce Homes South Africa Page
Go To Bryce Homes Haiti Page
Go To Bryce Homes India Page

100% of each dollar donated goes to the Bryce Home country of your choice. Administration is paid for with other donations. We strive to keep overhead costs to a minimum.
Bryce Homes International was founded by Understand The Times as a program to assist widows and orphans around the world. The program is in memory of Bryce Oakland (1974 - 2001).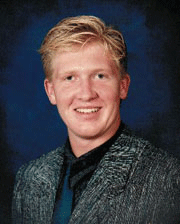 Bryce Oakland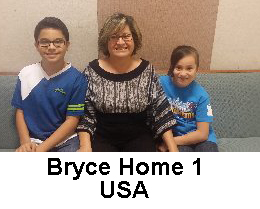 The first Bryce Home in the USA is a Spanish speaking grandmother. She has an unwavering commitment to keep her grand kids under the influence of Godly teachers at a Christian school.

After she was divorced she was left with a house on which there were back taxes to be paid. Last week she went to court and was told they could not wait any longer.

We began praying for a job that would allow her to earn what she needs and continue caring for her grand kids. Her problem is that she is not fluent in English (she is an American citizen and has lived in the USA for over 40 years. As she is near pension age no one wants to provide an opportunity for employment.

The grand kids have been members of a church since 2009. They are excellent students in school. Well behave and liked. They excel in their bible class as well.

The provision from UTT is an answer to our prayers and a confirmation that God is our provider. God uses ordinary, caring people to provide. You have no idea what a heavy burden has been lifted off her shoulders knowing that she has the funds to continue providing for her grand kids.



You can be a part of the work that the Lord is doing with the Bryce Homes program in the USA. We are accepting donations for that work. You can give a one time gift or support Bryce Homes in the USA with a monthly gift. If the Lord calls you to help with a gift, please click on the appropriate button. above on the right.