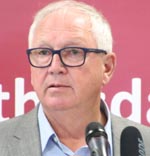 The ministry's founder and president, Roger Oakland, is an author and lecturer who speaks internationally on a variety of subjects from a Christian worldview. His easy-to-understand teaching style provides people of all ages and backgrounds with biblical insights that help them to understand the past, what's happening in the world today, and what's yet to take place in the future.

Understand The Times is a non-profit ministry registered in both the United States and Canada. It receives tax-deductible financial support through donations from individuals and churches, along with honoraria and sales of materials, all of which goes directly towards expanding the horizons of the Gospel of Jesus Christ globally.
Many orders, domestic and international, are shipped from our Understand The Times International Distribution Office

in Saskatchewan, Canada

. We also ship some orders from Peoria, Arizona, with the United States Postal Service, internationally and to addresses in the USA.