Some who have read the previous four parts to this series dealing with Rick Warren's interview with Raymond Arroyo of EWTN may still be asking the question: Why would Understand The Times spend so much time and energy on this topic? What is wrong with "America's Pastor" expressing his support for the Roman Catholic Church and many of their beliefs and practices?
The answer is simple. Bible-believing Christians are called to "contend for the faith" [1] . When a Christian leader publically makes statements or endorsements by saying or doing things that contradict the Bible, the leader needs to be addressed in a public manner so those who have been influenced can be put back on track.
While many professing Christians who embrace full blown ecumenical unity with Rome remain silent and see no harm with the direction Warren is headed, we are compelled to sound the alarm. In the previous four commentaries we have addressed several critical topics indicating Warren is headed down the road to Rome without hesitation. Some of these include:
Endorsement of Catholic saints and mystics and their methods

Endorsement and praise for Pope Benedict – who Warren calls "our Pope"
Unity with Catholics and other religions for the cause of "religious liberty"
The PEACE Plan and the "faith sector" working together with all faiths

Warren and his "spiritual director" and the connection with Jean Vanier

The New Evangelization delegation from Rome to Saddleback
Now, in this commentary we will address what I consider the most blatant endorsement of Roman Catholicism revealed in his entire interview with EWTN. It was so revealing that even Raymond Arroyo expressed surprise when he asked
Warren to comment on the following topic:
Tell me about your—the little breather you take in the day when you watch television. When we first met, you came up to me afterwards—I can't believe you watch Chaplet of Divine Mercy. [2]
In response to Arroyo's comment, Rick Warren expounded:
I'm an avid fan of EWTN. I make no bones about it. I probably watch it more than any Christian channel. Well, you know what? Because you have more, more, uh, shows that relate to history. And if you don't understand the roots of our faith, that God had been working for 2,000 years, regardless of what brand of believer you are, God has been working for 2,000 years in His church. And if you don't have those roots you're like the cut flower syndrome. Or you're a tumbleweed. [3]
Warren's main reason for watching the Roman Catholic Eternal Word Television Network is to gain a knowledge and understanding of Christian history, then there is no question he is getting a biased one-sided view. While I admit I do not watch EWTN as much as Warren apparently does (and certainly not for the same reasons), I do know that a major part of Christian history dealing with the Reformation and the Counter-reformation is not one of the favorite topics presented. Perhaps a quick review of Fox's Book of Martyrs would be a good balance for Warren and a reminder what happened to Christians who stood up against the pope of Rome and his Jesuit enforcers in the past for believing the Word of God rather than the word of man.

Notice carefully that Warren not only stated that EWTN was his favorite Christian Television Network he further offered that he had a favorite program he and his wife watch regularly on that network. When I first watched the entire EWTN interview, it was the statement Warren made at this point that became the motivating factor that triggered me to do this series. If Arroyo was shocked by this revelation, the best way to describe my reaction to his response would be astonished and outraged. In Warren's own words:
One of my favorite shows, which you repeat often is the Chaplet of Divine Mercy, which I love. And when I've had a very stressful day, I'll come home, I've got it taped and Kay and I will both, we'll listen. We'll put it on and just sit back, relax and worship. And in the time of reflection, meditation and quietness I find myself renewed and restored. So thank you for continuing to play the Chaplet of Divine Mercy. [4]
Arroyo responds to Warren's statement, "Thank Mother Angelica." [5] Warren than echoes, "Thank you, Mother Angelica".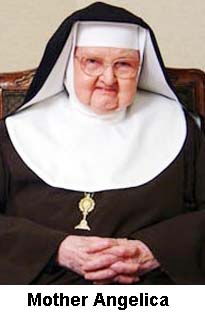 Mother Angelica, as we have previously documented was the founder of the Eternal Word Television Network. Among the programs making up the daily broadcasting schedule is "The Chaplet of Divine Mercy." A description of this program provides background information:
The Chaplet of the Divine Mercy is a Christian devotion based on the visions of Jesus reported by Saint Mary Faustina Kowalska (1905-1938), known as "the Apostle of Mercy." She was a Polish sister of the Congregation of the Sisters of Our Lady of Mercy and canonized as a Catholic saint in 2000. Faustina stated that she received the prayer through visions and conversations with Jesus, who made specific promises regarding the recitation of the prayers. Her Vatican biography quotes some of these conversations. As a Roman Catholic devotion, the chaplet is often said as a rosary-based prayer with the same set of rosary beads used for reciting the Holy Rosary or the Chaplet of Holy Wounds, in the Roman Catholic Church. As an Anglican devotion, The Divine Mercy Society of the Anglican Church states that the chaplet can also be recited on Anglican prayer beads. The chaplet may also be said without beads, usually by counting prayers on the fingertips, and may be accompanied by the veneration of the Divine Mercy image. [6]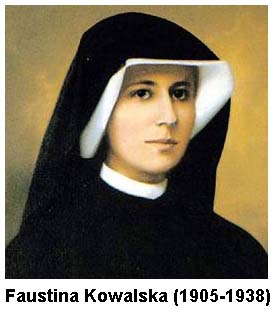 Note the reference to "the veneration of the Divine Mercy image" that is an essential component of the Chaplet of Divine Mercy. Further documentation provides additional information that will clarify that idolatry is the only
way to describe what is taking place:
The earliest element of the Devotion to the Divine Mercy revealed to St. Faustina was the Image. On February 22nd, 1931 Jesus appeared to her with rays radiating from His heart and said, Paint an image according to the pattern
you see, with the signature: Jesus I trust in You. I desire that this image be venerated, first in your chapel, and throughout the world. (Diary 47) I promise that the soul that will venerate this image will not perish. I also
promise victory over its enemies already here on earth, especially at the hour of death. I myself will defend it as My own glory. (Diary 48) I am offering people a vessel with which they are to keep coming for graces to the
fountain of mercy. That vessel is this image with the signature "Jesus, I trust in You." (Diary 327) [7]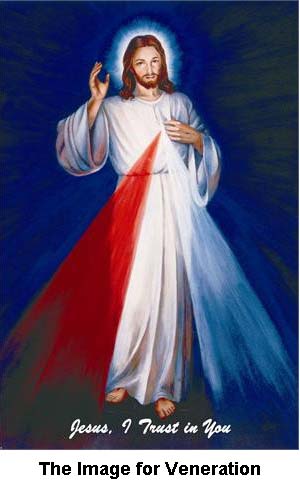 I suppose it would be reasonable to suggest Warren was just "making conversation" with Arroyo when he made the claim that The Chaplet of the Divine Mercy was his favorite "Christian" television program and that he meant it as a joke.
If that is the case then Warren should make a public statement explaining he was not sincere or that that he never views the program. Clearly, if Warren does not, he is defying the God of the Bible and willingly ignoring the
commandment in the Bible that states: Thou shalt not make unto thee any graven image, or any likeness of any thing that is in heaven above, or that is in the earth beneath, or that is in the water under the earth [8].
While researching this issue, I took the time to watch several Chaplet of the Divine Mercy programs posted on the Internet. Staring at images of "Christ" or worshipping a monstrance containing the supposed body of Christ while repeating the rosary apparently brought peace and relaxation for Warren. It does not take a great deal of discernment to realize these unbiblical practices are rooted in paganism. I have decided the best way to confirm this point is to provide an Internet link to an actual Chaplet of Divine Mercy service so you can see with your own eyes what Warren and his wife Kay consider a "Christian" devotional. This is only one of many programs that you can watch that all
show the same thing. Please check out this 8 minute video clip of a Chaplet of the Divine Mercy program.
The Bottom Line
The scientific method provides a useful and practical way to gather facts, present a hypothesis, and then draw a conclusion. My background in science has provided a framework to present the facts in order to present my case.
Pastor Rick Warren is on a dangerous path away from sound biblical doctrine towards an ecumenical apostate form of Christianity with Rome that has the potential to lead many astray.
I am not the only one who sees this happening. When others have pointed out the serious consequences of Warren's departure from the faith, they have been ignored or shunned because of their concerns. Based on the evidence provided
by the facts presented in this series of commentaries relating to Warren's interview with EWTN, I challenge any blind follower of Rome to wake up and consider the consequences.
What does it mean "to earnestly contend for the faith"? If Jude was in our midst today, what would he have written to the church? When he stated that "certain men" had "crept in," what did he mean? Is sound biblical
doctrine being compromised for the sake of unity in the church today? When a pastor endorses a television program that promotes idolatry, shouldn't that pastor be called out or at least asked to give a public explanation?
Are pastors today following men primarily for the sake of success and their church-growth methods? Why are pastors who should know better remaining silent and saying nothing?
t was for this very reason I publically departed from the Calvary Chapel movement. After being part of the Calvary Chapel Movement for over 20 years I had to make a decision based on my understanding of Bible and the Last Days
apostasy the Bible warns about. You can find numerous articles and commentaries we posted on our web site that fell on deaf ears with regards to the direction Rick Warren was headed then and his affiliation with the emerging
church such as "Calvary Chapel and Purpose Driven."

Now, over five years later, the facts presented in this EWTN series confirm we were not unrealistic in the warnings that were sounded then. While not all Calvary Chapel pastors have joined hands with Rick Warren and continue to
teach the Word of God faithfully every week, there are those who are highly influential in the movement who are confusing their flocks by their public endorsements.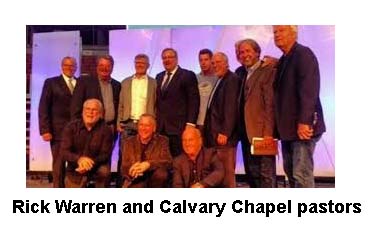 The facts have been presented and a hypothesis can be formulated that leads to a reasonable conclusion, at least for the present. My prayer is that the damage done to biblical Christianity can be corrected though open repentance and public statements that set the record straight by Warren himself and those who follow him.
Video Interview with Rick Warren Part 5 -
Rick Warren And The Chaplet Of Divine Mercy
Transcript of Series 5 - Rick Warren And The Chaplet Of Divine Mercy
[1] Jude 3

[2] Transcript

[3] ibid

[4] Transcript

[5] Transcript

[6] http://en.wikipedia.org/wiki/Chaplet_of_Divine_Mercy

[7] http://www.ewtn.com/devotionals/mercy/image.htm

[8] Exodus 20:4