Bryce Homes Mexico
Bryce Homes International was founded by Understand The Times as a program to assist widows and orphans around the world. The program is in memory of Bryce Oakland (1974 - 2001).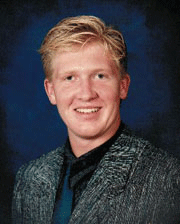 Bryce Oakland
.
Some children, in Bryce Homes, are truly orphans. Some families have to give their children to Bryce Homes so they can be fed. The families can't afford it. We can feed orphans and keep these families together by your gifts to Bryce Homes. First and foremost we want to be able teach them about the saving relationship they can have with Jesus.
You can be a part of the work that the Lord is doing with the Bryce Homes program in Mexico. We are accepting donations for that work. You can give a one time gift or support Bryce Homes in Mexico with a monthly gift. If the Lord calls you to help with a gift, please click on the appropriate button below.
Donations designated to Bryce Homes Mexico can also be made by writing checks and mailing them to our addresses in either Canada or the USA (The addresses are below). If you have a heart to help out specifically for Mexico, your designated support will be used to assist these families and others which will be added later.
Reports From Bryce Homes Mexico
Bryce Homes Reynosa, Mexico.

Pastor Victor Torres and his wife Mary continue their work evangelizing the next generation through a feeding program coupled with a Bible class, every Saturday morning. They feed anywhere between 12-20 children. Two families are now attending church as a result of their labor of love with the children.

Bryce Home 4 is headed by a widow who cares for her grandchild. She faithfully attends church. She is so relived that she can now provide her granddaughter enough for the schooling needs.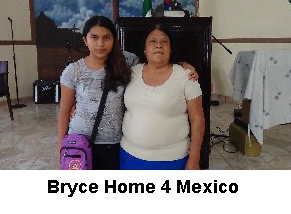 Everyone had tears in their eyes when Mary received the first envelop with the money inside. She just did not know what to say. God is providing for his righteous, and this is proof of it.

In His Love,

Ana

Bryce Homes Border Ministries
Go Back to the top of the page
One Time Donation To Bryce Homes Mexico

Monthly Donation To Bryce Homes Mexico for $10.00

Monthly Donation To Bryce Homes Mexico for $25.00
Monthly Donation To Bryce Homes Mexico for $50.00
Monthly Donation To Bryce Homes Mexico for $100.00


Pastor Salvador Carranco is pastor of a church in San Felipe Mexico of approx. 400 called 'La Gran Comision' (Eng. The Great Commission). The work was established under his leadership in the mid-90's as a church plant out of the mother church in Mexicali. Pastor Salvador has planted churches in Ensenada and Guerrero Negro (both on the Baja California peninsula of Mexico). He has a vision to establish churches in other communities on the Baja peninsula (as far south as Cabo San Lucas).

Understand The Times is accepting donations, on their behalf, for this project. You can be a part of this work of the Lord with your prayers and/or your financial gift. Please click on the appropriate button below.




Go Back to the top of the page

One Time Donation

$10.00 Monthly

$25.00 Monthly

$50.00 Monthly

$100.00 Monthly