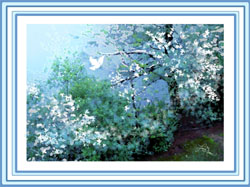 "Be anxious for nothing, but in everything by prayer and supplication, with thanksgiving, let your requests be made known to God; and the peace of God, which surpasses all understanding, will guard your hearts and minds through Christ Jesus." Philippians 4:6-7
When we truly are "anxious for nothing", pray about everything and give thanks to God for all things, we come to know the awesome blessing of this profound peace which surpasses all measure of our finite understanding.
On a cold winter afternoon, a friend of ours was driving with her two handsome young sons, down a winding mountain road. As she anticipated they might encounter patches of ice along the way, she drove cautiously.
During the usual series of twisting turns, at one of the steepest points of the drive, the car began to slide over the icy roadway. Unable to steer, she said: "boys the car is out of control". In spite of the helpless situation, she found she was experiencing absolute calm and peace.
Suddenly, the car stopped; one of the front wheels was hanging off the side of the mountain. They were astounded to see that the wheel was actually leaning against a very small tree, which was jutting up from below. Yes, from all appearances, they were that close to plunging to the ground thousands of feet below. Yes, the little tree God had planted had blocked their fall. They gave thanks and praise to God.
God knows the number of hairs on our heads; God knows the number of our days. Let us be reminded to keep our communication with God open. When we are in touch with Him on a regular basis - in His Word, in prayer and with thanksgiving - His peace, which surpasses all understanding will guard our hearts and minds through Christ Jesus, no matter what our circumstances.
Monthly devotions are written by Robert and Laura Nance, musicians/artists gifted by the Lord. The current devotion features artwork by Laura and music by Robert.

You can view their website by clicking on the link below:
http://www.robertandlauranance.com
Control background music
"New Morn" © - By Robert Nance