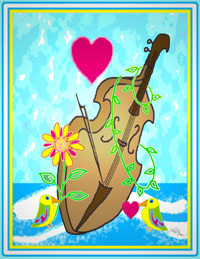 "You shall love the LORD your God with all your heart, with all your soul, and with all your might." Deuteronomy 6:5
Having completed the "welcome aboard" show on the first night of a seven day cruise, I walked through the large, mostly vacant showroom. Suddenly, a voice hollered: "Love me with all your heart". As he made his way from across the room, the passenger kept excitedly repeating the same words.
That evening, I had sung a song, which included the lyrics this man was echoing. As he approached me, he spoke of how wonderful the song was. I thanked him and asked his name. It appeared that "Keller" was possibly "under the influence".
For the next couple of days, different passengers would approach me concerning Keller. He was always rushing, running, yelling and sometimes shouting "Love me with all your heart" when they would see him.
One evening, out of nowhere, Keller came toward me with outstretched arms. He was crying out: "Love me with all your heart", I said: "Do you know that the Word of God tells us to "love the LORD God with all your heart"? (Deuteronomy 6:5) "Do you realize that God loves you so much "that He gave His only begotten Son that whoever believes in Him should not perish but have everlasting life"? (John 3:16)
He broke down and began to sob. Just weeks ago, he had lost his beloved wife to cancer. He had taken care of her for many months and now she was gone. He was not under the influence of alcohol nor was he on drugs, but his heart was aching so intensely that he could not allow himself to be still.
I shared further with him that God was calling him, and that God wanted to fill his heart and his life with an abundance of hope, peace joy and love.
After we talked for a while, Keller asked Jesus into his heart to be Savior and Lord of his life. His tear-stained countenance immediately changed; he smiled and in a gentle voice said: "I feel so refreshed and at peace, thank you." I said "Don't thank me, thank the Lord God for His love for you."
Let's rejoice and give thanks for the abundant love our Lord has for us! Are you trusting in the Lord? Are you mindful that in your weakness He is strong? Is your life filled with the riches of hope, peace, joy and love? Do you love the LORD God with all your heart?
Monthly devotions are written by Robert and Laura Nance, musicians/artists gifted by the Lord. The devotions feature artwork by Laura and music by Robert. You can view their website by clicking on the link below:
http://www.robertandlauranance.com
Control background music
"New Morn" © - By Robert Nance