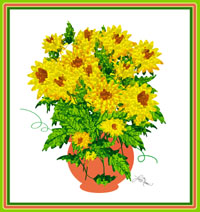 "But the fruit of the Spirit is love, joy, peace, patience, kindness, goodness, faithfulness, gentleness, self-control. Against such there is no law." Galatians 5:22-23
It is amazing to realize that even though we know the Word of God is Truth and the Truth has set us free, if we are not abiding in Christ, The Way, the Truth and The Life - in His Word, in prayer, in praise and worship of Him and in fellowship with Him, then we are not bearing the fruit of the Spirit.
Sunflowers are particularly neat… as they grow they seem to be reaching with outstretched arms to the heavens above. Their cheerful faces greet the morning sun with a smile, and their uplifted heads follow its path of light throughout the day. Oh, that we would do the same.
We must ask ourselves - Is the Word of God planted in my heart? Am I speaking to God in prayer and listening for and to His voice each day? Am I worshiping Him, praising Him and in fellowship with other believers on a regular basis? Am I bearing the fruit of His Spirit?
"I am the vine, you are the branches. He who abides in Me, and I in him, bears much fruit; for without Me you can do nothing." John 15:5
Let the sunflower be a reminder for us to greet the SON in the morning with a smile and to keep our eyes focused on Him every moment of the day!
May you be mightily blessed as you seek His face and bear abundant fruit!
Monthly devotions are written by Robert and Laura Nance, musicians/artists gifted by the Lord. You can view their website by clicking on the link below:
http://www.robertandlauranance.com
Control background music
"Reflection" © - By Robert Nance