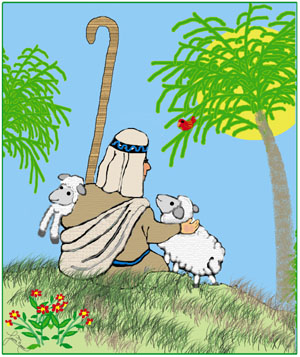 "All we like sheep have gone astray; we have turned every one to his own way, and the LORD has laid on Him the iniquity of us all." Isaiah 53:6
While brushing our little pup Gabby, I picked several pine needles out of his long hair. He seemed very appreciative.
I started reminiscing about a musician with whom we had worked. While growing up in his native Scotland, he had spent many years as a shepherd. I asked what he considered to be the most difficult problem in caring for sheep. He replied: "Sheep are stupid. If sheep wander into a briar bush, instead of backing away from it, they will push themselves further and deeper until they are so entangled and wounded they will die unless the shepherd comes to their rescue to set them free."
The quickest way for us to get ensnared in bondage is to do what we please rather than what God wants us to do. In Isaiah 53:5 it tells us that Jesus was "wounded for our transgressions, He was bruised for our iniquities".
Are you flirting with or involved in a perilous situation? Are you entangled in a web of helplessness, despair and destruction? God instructs us in His Word, Proverbs 14:12 and 16:25: "There is a way that seems right to a man, but its end is the way of death."
Our Shepherd is able to set us free and apply healing balm to our wounds. "…I have come that they may have life, and that they may have it more abundantly. I am the Good Shepherd. The Good Shepherd gives His life for the sheep." John 10:10-11
In Psalm 23:3 we read: "He restores my soul; He leads me in the paths of righteousness for His name's sake." As sheep, we can be stubborn, prideful, indifferent, self-willed. We are prone to wander from the flock, but our faithful Shepherd, filled with loving kindness, will leave the ninety-nine in the flock to rescue me… one stray little lamb. Praise God. Thank you Jesus.
Monthly devotions are written by Robert and Laura Nance, musicians/artists gifted by the Lord. The current devotion features artwork by Laura and music by Robert.

You can view their website by clicking on the link below:
http://www.robertandlauranance.com
Control background music
"New Morn" © - By Robert Nance