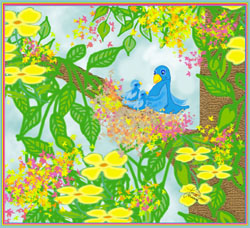 "Put on the whole armor of God, that you may be able to stand against the wiles of the devil. For we wrestle not against flesh and blood, but against principalities, against powers, against the rulers of the darkness of this world, against spiritual wickedness in high places." "Wherefore, take unto you the whole armor of God, that you may be able to withstand in the evil day, and having done all to stand." Ephesians 6:11-13
God's Word instructs us to "put on the whole armor of God" - not just part of the armor, the whole armor - the complete covering. Leave no opening through which the enemy can enter. The devil wants to devour and destroy. The enemy sees our nakedness and vulnerability. He knows where we are weak - the battle is fierce. The enemy wants control of our minds. Sometimes there are tests, trials or attacks. When the fiery darts hit - home… relationships… job… finances… health… etc. we need to use the right weapons. Stay dressed in the whole armor of God - don't let your guard down. If you don't understand it is a spiritual battle up front, you are not going to stand!
When fear hits... it is not of God! The mind of the flesh is death. The mind of the spirit is life and peace. Sometimes in our moment of pain, weakness, anxiety... we lose perspective. Trust God.
When we delight in God's Word; when we seek and trust our God of grace and mercy, we can find rest, even while in the midst of a storm, knowing for certain that God is working everything together for our good! "And we know that all things work together for good to those who love God, to those who are the called according to His purpose." Romans 8:28
"Stand therefore, having girded your waist with truth, having put on the breastplate of righteousness, and having shod your feet with the preparation of the gospel of peace, above all, taking the shield of faith with which you will be able to quench all the fiery darts of the wicked one. And take the helmet of salvation, and the sword of the Spirit, which is the word of God; praying always with all prayer and supplication in the Spirit being watchful to this end with all perseverance and supplication for all the saints." Ephesians 6:14-18
Monthly devotions are written by Robert and Laura Nance, musicians/artists gifted by the Lord. The current devotion features artwork by Laura and music by Robert.

You can view their website by clicking on the link below:
http://www.robertandlauranance.com
Control background music
"Timbrel And Dance" © - By Robert Nance