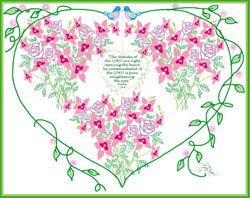 "The Law of the LORD is perfect, converting the soul; the testimony of the LORD is sure, making wise the simple. The statutes of the LORD are right, rejoicing the heart; the commandment of the LORD is pure, enlightening the eyes." PSALM 19:7-8
God's Word is without errors, flawless, faultless, converting the soul. "Therefore, if anyone is in Christ, he is a new creation; old things have passed away; behold, all things have become new." 2 Corinthians 5:17
The Testimony of the LORD is sure making wise the simple. The Statutes of the LORD are right, consistent, moral, rejoicing the heart. The Hebrew word for Rejoice is translated: "Jump up and down"! We can weep over circumstances but rejoice in the LORD! We are to keep our eyes on the LORD; He is in control.
The Commandment of the LORD is pure, virtuous, enlightening the eyes. Matthew 6:22 tells us, "The lamp of the body is the eye. If therefore your eye is good, your whole body will be full of light." We read in Matthew 5 that we are the light of the world and we are to let our light so shine before men that they may see our good works and glorify our Father, who is in heaven. A believer has no inherent light but the reflective light of Christ. We must be a reflection of the Son within us. Some years ago, I shared the Gospel and prayed with my physician in California, and she asked Jesus into her heart. I had witnessed to her, but she indicated to me that she had seen the light of the Lord in my husband's face.
The Word of God has value that cannot be measured against anything else. God's Word is sweet, soothing, healing to the heart & mind. We receive instruction… prophecy tells us of the past, present and future.
At the moment of my own conversion God showed me to never ever doubt a Word of Scripture as long as I have breath! Has God shown you to never doubt His Word? If not, I urge you to seek His face and ask Him to speak to your heart today, as you study His Word.
Monthly devotions are written by Robert and Laura Nance, musicians/artists gifted by the Lord. The current devotion features artwork by Laura and music by Robert.

You can view their website by clicking on the link below:
http://www.robertandlauranance.com
Control background music
"Timbrel And Dance" © - By Robert Nance