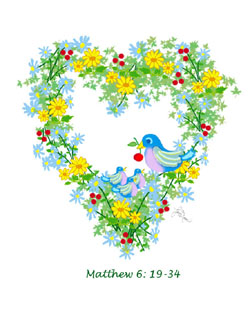 "Lay up for yourselves treasures in heaven, where neither moth nor rust destroys and where thieves do not break in and steal. For where your treasure is, there your heart will be also." Matthew 6:20-21
Millions of people in this world are seeking, searching and longing - hoping the realization of some earthly pursuit will fill the deep well of emptiness that gnaws at them from within.
Material "stuff" causes us to be worried and frustrated, whereas the things of the Spirit bring hope and peace. You may be among the many individuals who have suffered extensive loss due to the financial crisis in the world today, but you say you are still hopeful. Is your hope in man and mammon? Or is your hope in God Who created Heaven and earth?
Shortly after becoming a Spirit-filled believer, as I earnestly prayed for cleansing and the humility to totally surrender myself, God showed me something amazing. I suddenly had a clear picture as to certain things, which needed to be changed or removed from my life. One by one, as these encumbrances were discarded I experienced a sense of freedom and peace beyond what I could ever have imagined.
You can never be satisfied with the "stuff" you collect. Jesus warns us against laying up earthly treasures, which will ultimately prove to be worthless. Whether you invest in earthly treasures or heavenly treasures affects who you are and where your heart is. Do you have something you know God is showing you to surrender to Him today?
We need not waste too much time with temporal things; we need to keep an "eternal perspective".
"Therefore I say to you, do not worry about your life, what you will eat or what you will drink; nor about your body, what you will put on. Is not life more than food and the body more than clothing? Look at the birds of the air, for they neither sow nor reap nor gather into barns; yet your heavenly Father feeds them. Are you not of more value than they?" Matthew 6: 25-26
Monthly devotions are written by Robert and Laura Nance, musicians/artists gifted by the Lord. The current devotion features artwork by Laura and music by Robert.

You can view their website by clicking on the link below:
http://www.robertandlauranance.com
Control background music
"New Morn" © - By Robert Nance