I have traveled the world. Poverty exists everywhere. However in the Philippines the term poverty does not properly describe the condition of squalor many people live in. The situation is not only hopeless it is an insult to the human race.
Is there something that can be done by people who care? If so, what, when and why?
While speaking at a conference near Antipolo City in the Philippines, I met two pastors who told me about the conditions people were living in nearby. Others had told me about this situation before. When these pastors told me, I wanted to go and see it with my own eyes.
Pastor Rusidel and Pastor Richard picked me up early one morning and we went to Pastor Rusidel's home, the same location where his church met on Wednesdays and Sundays. After having some Filipino dishes that had been specially prepared for me by Rose, Pastor Rusidel's wife, we set out on foot so that I could see for myself the living conditions of the street children that they had described to me.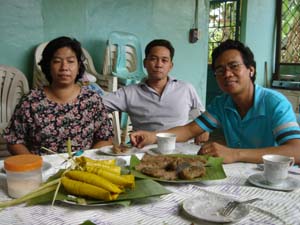 Rose, Pastor Rusidel and Pastor Richard
We had only walked a few minutes when we arrived at a garbage dump. While I am familiar with the smell of garbage, I was not prepared for what I saw next. There were children looking through the garbage and picking out waste. When I asked what they were doing, Pastor Richard said, "This is how many of these children eat."
From there, we moved on. However, things actually got worse. I was told that many of the children did not have parents. Those who had parents were not a lot better off. I stopped to talk with one family. None of the children in that family (they lived in a cardboard shack) went to school. They did not have the $2.00 a month that was necessary. My heart ached.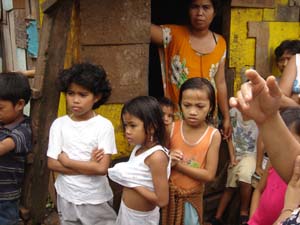 Poor Children in the Philippines
In a few more minutes we arrived at a location where it seemed like a small town had been assembled. There was a gathering of shacks made from anything and everything - mud, sticks, scrap metal and palm trees. Water was running down the mud street. Later I found out the water was actually human waste.
As the people stood there staring at us, the pastors motioned for them to gather together in one place. I was told there were about 30 families in this area, the average family had 8 children. My first question went like this: "Where do you attend church?" One person responded: "Well, we are supposed to be Roman Catholics, but we do not attend church."
"Why don't you attend church", I asked. One lady yelled out, "We can't afford to go there, and if we did they would take from us – we're too poor to attend church!" This response shook me to the core. I blurted out. "We're Bible-believing Christians, not Catholics. What can we do to help?"
As soon as I made this statement, I knew every word I had uttered was recorded in heaven. How can someone make a commitment to people who have been created by God, and not follow this commitment with action. As I spoke, I knew something had to be done. However, what could be done, how and when - that was the question.
First, I asked if I could pray with the people. Pastor Rusidel translated. I prayed Jesus Christ would help us to help them. I prayed these people would be delivered from spiritual darkness and come into the light of the gospel of Jesus Christ. I prayed Jesus would provide a way to show these poor people that He loved them.
The Gospel with Rice
The conditions of poverty and squalor seem to be insurmountable in the Philippines. How could any single person or organization do anything that would make a significant difference?
When I saw the "garbage people" near Antipolo City my mind was full of questions and doubts. What could UTT do to help out? How could I see this situation and not say or do something. What would Jesus say and do if He had walked these streets? It did not take long before the Holy Spirit spoke to my heart.
Following a prayer, I promised the people who were gathered there that as a Christian and someone who believed and followed Jesus Christ, I would pledge to help. After we took a few more pictures and said goodbye, we walked back to Pastor Rusidel's house. On the way I shared a plan. Then I handed Pastor Rusidel and Pastor Richard two hundred US dollars.
My instructions were to buy all the rice that could be bought with this money. They were to gather volunteers from their churches and divide the rice and other commodities they had purchased among the 30 families.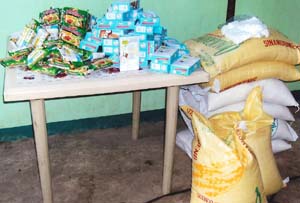 Supplies for outreach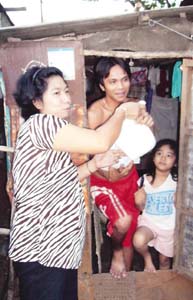 Dividing and handing out supplies
As soon as they had purchased and divided the supplies they were to invite the community to a Bible study and preach the gospel. Following the proclamation of the gospel they were to tell the people the provisions that were being given to them were from born-again Christians in the USA and Canada who were concerned.
From Antipolo City, I traveled to the city of Baguio where I spoke at another pastors' conference. When I returned to Manila to fly back to the USA, Pastor Richard met me at the airport hotel. He brought photos from the Antipolo outreach. He also brought me an itemized bill showing how the $200 had been spent.
As you can understand, I was thrilled. However, the most exciting thing Richard told me was about what had occurred the day following the outreach. Twenty of the children who were part of the garbage dwelling community attended the Sunday school meeting at Pastor R's church. The gospel of Jesus Christ coupled with the handouts of rice had made a difference.
The first Antipolo City outreach is now history. When I showed Kevin, one of my friends in California what had happened in Antipolo, he provided a check for next month's outreach. This, I pray is just the beginning. I pray that as children get saved and come to Jesus, their parents will follow. I pray that eventually Bryce Lodges will be established throughout the Philippines, just like the ones in Myanmar.
Now, I need to bridge the gap from reality towards a spirituality that has a biblical basis. There is a place for proclaiming the gospel along with the provision of rice and clothes for the naked and hungry. This is the difference between purpose driven Christians who work with other religions for a common cause and those who or being Spirit led and always proclaiming the gospel.
Doing good of course is good thing to do - but when it comes to getting to heaven, being good it is not good enough. The social gospel without the gospel of repentance is a road to hell.
Doing good deeds such as feeding the poor must be accompanied by the gospel according to the Scriptures. This is what sets people free. It is Jesus Christ alone who saves the lost from sin and provides a way to heaven rather than a lost eternity in hell.
Will you help us to proclaim this life-saving message in the Philippines and the world?
You can watch a short video that shows the vision for the Philippines by clicking the link below

You can share in this vision for the people of the Philippines with a tax-deductible gift for this outreach.
Help us bring the Gospel of Jesus Christ as well as much needed food to these people of the Philippines.
You can donate online by clicking the button below