The commentary you are about to read has been written with much prayer and thought. I have not written it impulsively or with ill motives but rather believe God has compelled me to testify of things that have gone unspoken of and hidden in secret for too long. For the sake of the body of Christ and the furtherance of the Gospel, the secret things in darkness need to be exposed.
There are a number of low-profile Calvary Chapel pastors starting to ask questions. Chuck Smith, the founder of the movement, seemed to be biblically sound and determined to serve the Lord throughout his many years of ministry. Toward the end of his ministry, it appears there were strange bedfellows planted around him who in earlier years he would have avoided. So what happened? The purpose of this commentary will be to answer that question.
Chuck Smith attributed the growth and the strength of the Calvary Chapel movement to the Holy Spirit and not to man-designed gimmicks or human effort. He never wavered from that position until the day he died. He called Calvary Chapel "His Church." While there were those who had some questions about strange things going on behind the scenes, the Calvary ship sailed pretty well most of the time.
Those who were situated near the epicenter of this multimillion-dollar big business definitely knew about some major problems that were quietly concealed. A number have pointed out that the Achilles Heel of the Calvary machine was Chuck Smith's passion for the Moses Model. Ask anyone who ever bucked the system and dared challenge this style of leadership. The exit plan was the door, and they were given the left hand of fellowship without any alternative.
While the motto around Calvary made the claim that agape love was flowing over, many a disillusioned servant of God was buried in an unmarked grave throughout the network of Calvary Chapels. And what happened at Calvary Costa Mesa did not stay at Calvary Costa Mesa. An enormous machine of abuse was born, and many were maimed throughout the growing movement. Pastors cloned the model, and the spirit of heaviness was exported. Thousands were hurt and then shunned as happens in organizations that use cult-like control tactics.
I was introduced to Chuck Smith and Calvary Chapel in June of 1981 when I was part of a seminar team brought to Costa Mesa from Saskatchewan, Canada. This was over one decade after Calvary Chapel was founded and years after the Jesus Movement spread around the world. While I was not familiar with the actual first generation pastors while the movement was launching, later in my life as the Lord opened doors, I came to know many of the players. I also became friends with several members in the Smith family (including Chuck's brother, Paul, with whom I am still close friends).
In the spring of 1988, I was invited by Chuck Smith to move from Canada to California to join the staff of CCCM. At the time, as I still do, I felt this was the absolute will of God. My family moved from Canada to the USA leaving a small community of less than 1000 people and headed to southern California. We left family, friends, and farm behind and entered a world of mystery. After several months of boot camp, I felt I had missed the will of God. Like Jonah, I ran away back to Canada in the spring of 1989. Later I thought I heard the call of God and returned.
It is not my intention in this commentary to fill in all the details about my relationship with Calvary Chapel. My intention for saying what I am saying is to let others who have similar experiences know they are not alone. My journey has been written in my autobiography Let There Be Light published by Lighthouse Trails.
Following three years on staff, I launched a missionary outreach ministry called Understand The Times based out of Calvary Chapel but financed completely independently. Following this, God opened the doors for me to travel to hundreds of Calvary Chapels and to over 70 countries around the world to take the message that the Bible is true about the past, the present, and the future. While I do not speak today at many Calvary Chapels, I still travel speaking for the majority of the year.
All this to say that I know something about the workings of the Calvary Chapel movement. I knew Chuck Smith personally, and as I have already stated, I know members of his family very well as personal friends. I also sat with him in his office several times and faced him face to face. I felt the liberty, according to my calling, to honestly confront him on a number of items and present a biblical perspective of Calvary Chapel and the direction it was heading.
The Paradigm Has Shifted (Ichabod)
I am a simple person who thinks analytically. As a Christian, I have a passion to see the words of the Bible taken seriously and not ignored. This was the main reason Chuck Smith (and the way he taught the Bible) appealed to me. He was no nonsense and had a passion for the entire Bible Genesis to Revelation.
As I traveled extensively throughout the entire Calvary movement worldwide, I started to see something changing at about the turn of the millennium. After making these kinds of observations, I would share my concerns with some of my board members and close friends. I also shared these things with Pastor Paul Smith who agreed with me not all was well at Calvary Chapel. As he told me one time, he kept a file to show Chuck the apostasy brewing in the camp. He called this file, "the boys on the edge."
For me, the "boys on the edge" needed to be corrected. What was happening was an outright betrayal of biblical truth. It was apparent that the church-growth methods of Peter Druckerism and the blatant edge of postmodernism were invading the movement. When I spoke up, suddenly I was the unpopular voice who had invaded the presence of the "good ol' boys club."
On one occasion, I was approached by a person who was not pleased with my KWAVE radio commentaries. I was told there were many complaints. Apparently, I was offending some who felt I should not be dealing with certain topics. One person actually yelled at me in disgust. I resigned from the radio broadcast that I had been doing for over 10 years by writing Chuck Smith a personal letter. This triggered a meeting with Chuck Smith and his son Jeff. Chuck prayed for me that God would protect me "from the wolves" that were in Calvary Chapel. These were his words.
It was at that point that the light went on for me. Chuck Smith, as powerful and influential as he was, was under the rule of others who had become more powerful than he was. If there were wolves in the movement, why did he not remove them according to the Moses Model, I wondered. There are legal words to describe more adequately what I am referring to when human beings are manipulated and controlled by others and cannot comment in a public fashion. Why would that be?
For now, you can use your own imagination. Maybe this will help you understand some of the strange bedfellows that have crept into Calvary Chapel over the past 10 years. Maybe this will help you understand why those who should stand up and call out the wolves don't. Could Satan be using human pawns to extort one another? Too deep or esoteric you say! Think about it, and pray for insight.
More will be written in the rest of this commentary.
Chuck Smith Was Warned
On June 13, 2005, I wrote the following letter to Chuck Smith. This will document one of the warnings he received from me. This was immediately following a Calvary Chapel pastors' conference that was held in Murrieta in June of 2005. Here is the letter:
June 13, 2005
Dear Pastor Chuck,
I am writing you this letter because I have a deep love and appreciation for you personally and am grateful to God for all He has done through you and the ministry of Calvary Chapel. It is hard for me to believe that it was 24 years ago this month that I first met you and was introduced to Calvary Chapel Costa Mesa. Through those years, the Lord has allowed me to participate in the Calvary Chapel movement, a ministry I believe that God has raised up to proclaim the truth of God's Word to the world in these last days. Through the Calvary Chapel movement, God has opened doors for the ministry of Understand The Times around the world and throughout the United States.
Further, the Lord has used Calvary Chapel and the Calvary Chapel movement as the very core of the ministry I have been called to do. Wherever I have gone, it has been my goal and desire to represent and reflect the foundational principles of the Calvary philosophy that you have instilled in me and in the many pastors and teachers that God has chosen you to shepherd.
It is with a heavy heart that I must communicate to you that over the past several years, because of many firsthand encounters and experiences in various places with numerous Calvary Chapel pastors, that I have observed a change in the Calvary Chapel movement that deeply concerns me. Perhaps some of my concerns have filtered back to you through others. Until writing this letter, I have not formally contacted you with these concerns. I regret now that I have waited so long. After leaving the Pastors Conference in Murrieta this past week, I laid awake several nights contemplating what I should do or say. This letter is the result.
We are living at a critical time in the history of the Calvary Chapel movement and church history. The truth of God's Word is being compromised and watered-down. Obviously, it is not just the Calvary Chapel movement that is being influenced, and it is not all Calvary Chapels that are being impacted. This trend crosses all denominational boundaries.
The comments I will now make are general in nature, but are indicative of the direction that some in the Calvary Chapel movement are headed in spite of your clear warnings to teach the Word of God and not be caught up in trends that lead away from the teaching of the Word.
Ecumenical and unbiblical teachings are being endorsed for the cause of unity and church growth. The gospel of Jesus Christ is being disguised to make it less offensive and more acceptable.
Churches that once taught the Bible faithfully verse by verse preparing the flock for the return of Jesus Christ now are looking for ways to make their services more seeker-friendly and are less concerned about the prophetic signs that we are living in the last of the last days.
Pastors and churches that once believed church growth was dependent on feeding the sheep and equipping the saved to share the gospel, now promote humanistic means to draw in the masses based on a consumer style of evangelism focused on "finding out what people want" to "get them in the door."
Churches once led by pastors committed to biblical truth now are employing experts who use worldly principles borrowed from secular corporations with material goals for success. Rather than following Jesus and His Word, pastors and church leaders are looking to successful men and their methods so they can become part of a movement that is based on principles foreign to the Scriptures.
Further, when concerned believers warn about the dangers of church leaders who promote strategies to establish the Kingdom of God here on earth by humanistic methods, they are labeled divisive. Contending for the faith is no longer considered biblical. A person taking a position for biblical truth is now accused of being critical of what others believe.
Bible-believing pastors that once taught the Bible are now looking for ways to attract people to their congregations by providing extrabiblical experiences and an atmosphere that includes candles, icons, incense and the introduction of Roman Catholic sacraments. When concerned observers suggest this appears to be leading to a partnership with Roman Catholicism, they are considered to be negative opponents of the "new thing" God is doing that is reaching our generation.
It is apparent to some that we are at another crossroads in church history, a fork in the road. Are pastors going to stand up and make their voices known if they have concerns about the direction current trends are leading? While some say, don't be negative – just be known for what you believe, not what you are against – the Old Testament prophets were outspoken when followers of God strayed away from the truths of God and never allowed the sheep to feel comfortable in their sin.
If we truly believe that Jesus may return soon, what position do we want to take? Should we be promoting methods of success that produce big churches with shallow believers who are asleep when Jesus returns? Shouldn't leaders be sounding the trumpet and warning of His imminent return?
I realize you were not present when the panel discussed the purpose-driven question at the Pastors' Conference. Many came away confused or disappointed by what they heard. As you know, the purpose-driven philosophy does not promote the teaching of the Bible verse by verse and does not warn about the imminent return of Jesus because this "takes away from individuals being purpose driven in the present." This is exactly opposite of what I know you believe. Further the purpose-driven movement has linked hands with Chuck Colson to establish the Kingdom of God here on earth. Chuck Colson previously linked hands with Rome and believes that Roman Catholics and Protestant evangelicals can evangelize together.
Many pastors went away from the conference recognizing there was a contradiction with statements made by panel members and the position you have previously stated. Unfortunately, others did not. The applause for Greg Laurie's endorsement of purpose-driven was evident.
Further, while you graciously allowed Another Jesus? The Eucharistic Christ and the New Evangelization to be handed out to pastors when they registered for the conference, at the end of the conference the pastors were presented a dangerously close view of the Roman Catholic Jesus by Jon Courson who left the impression that "Jesus" is present in the wafer and that the wafer is more than a symbol. Many left upset, especially former Roman Catholics. Others were confused and could not believe what was happening.
I know I will not be the only one who contacts you with their concerns. In my travels and conversations with Calvary pastors and missionaries all over the world, I have found there is a consensus among many. There is a current wind of doctrine underway that is leading many astray.
Calvary Chapel is at a crossroads. It is similar to the John Wimber situation in the early 1980s. What does Calvary Chapel stand for and how will it be perceived in the future? What will the Calvary Chapel movement accept or reject? As you made a definitive statement in the past on what Calvary is and what it is not, many are pleading that you would do so again.
Pastor Chuck, I pray that God gives you insight and wisdom to take a bold biblical stand at this time. This is not a time to condemn others should they choose to go in various ways. This is a time to raise a standard by making a clear statement what you, the leader of the Calvary Chapel movement, believe God wants for the Calvary Chapel movement to represent.
If there are those who do not agree, then they should be free to be whatever they believe God is calling them to be. There are many pastors who are waiting for you, our shepherd, to speak and give clear direction. This is a time to proclaim God's Word with boldness. Jesus is coming soon!
Sincerely in Jesus,
Roger Oakland
Cc. Paul Smith C.C.O.F.
Did the Warning Fall on Deaf Ears?
Meanwhile, the slippery slope into apostasy in the Calvary movement continued unabated. Greg Laurie led the way along with Bob Coy. Both were linked at the hip with America's pastor Rick Warren. While Lighthouse Trails and Understand The Times had been warning through online commentaries, the message was largely ignored. [1]
One ray of hope was Chuck's brother Paul Smith. He had been called in Costa Mesa from Victorville to help Chuck monitor the pastors in the mega Calvary Chapel structure worldwide. His job was largely to sniff out apostasy. I was able to give him many examples of what was happening including the connection of Rick Warren (along with his own two nephews - Chuck Smith Jr. and Chuck Fromm) with postmodernism and the emerging church.
Also, while I was in Australia on a speaking tour in 2005, someone gave me an audio message by Brian Brodersen promoting Rick Warren. Brodersen was telling pastors at a pastors' gathering that things would change when he "took over" the leadership of CCCM in the future. I gave this to Paul Smith, and he had the audio transcribed. As this commentary will later show, time has shown that Brodersen's remarks have proven to be true.
In 2006, as the heat was turned up, Chuck Smith sent out a declaration to all Calvary Chapel pastors. This was his first major edict since the John Wimber split. It is so important that in addition to footnoting it, I will quote from it directly.[2]
Parson to Parson,
The time has come for us to restate the position of Calvary Chapel on a number of issues. We do this because Calvary Chapel has become known to represent a fairly definable entity in its approach to sound biblical teaching and approach to biblical doctrine. It's not that we believe we have the "best" or "only" way; it's simply the way we approach God's word within Calvary Chapel. And likewise, if a different approach is to be taken, then all we ask is that the name Calvary Chapel not be attached to it.
First of all, Calvary Chapel is not a denomination; but rather a movement. We often receive inquiries as to whether or not Calvary Chapel has some kind of relationship with a national or international group. We answer such inquiries with our stated position that each church is independent and has established its own set of bylaws. We seek to identify with the true body of Christ in many denominations. We are ministers who hold basic common beliefs, and maintain them within a varied range of practices. We believe that every minister is responsible to Jesus as the chief Shepherd, and will ultimately answer to Him for his ministry and not to us. We love and respect each other and rejoice with those that rejoice, and weep with those who weep. As with the Apostle Paul, we do not feel that we have apprehended that for which we were apprehended, neither are we perfect, but this is what we seek to do. Forgetting those things which are behind and reaching for those things that are before, we press toward the mark for the prize of the high calling of God in Christ Jesus.
Secondly, we hold to the supremacy of Jesus as the head of the body, His church. We look to the Holy Spirit to guide and direct each decision in the building up of the body of Christ. Having begun in the Spirit, we do not seek to be made perfect in the flesh, but seek to continue to be led by the Spirit. We believe that the Bible is the inspired word of God and is infallible and the final authority for our faith and practice. We believe that God established the model for the church in the book of Acts, and seek to follow that model as much as is possible. We feel that church history is for the most part a sad commentary of the failure of men who sought by human genius and resources to perfect that which was begun in the Spirit. The messages of Jesus to the churches in Revelation 2 and 3 show how early in the history of the church problems developed for which they need to repent. So much for church history, but something that we must not simply disregard. We must realize that it shows us so clearly how the enemy has, is, and will continue the attacks upon the church and upon our individual ministries. How our heart grieves for the many who have started the race but have failed to complete it.
In the book of Acts we see that the activities of the church were described as:
1. Continuing steadfastly in the apostles' doctrine, which we understand to be a systematic teaching of the Bible.
2. Fellowship, which we understand to be a loving and caring relationship with each other. As John wrote, "That which we have seen and heard, declare we unto you, that you may have fellowship with us and truly our fellowship is with the Father and His Son, Jesus Christ."
3. The breaking of bread. This to us is a tangible representation of the unity that we share in Christ for we understand that the bread speaks to us of the body of Christ which was broken for us, and as we all eat the bread and it is assimilated into our bodies, we are spiritually united through Jesus with each other; in the fact that the bread that is nourishing me and is becoming a part of me, is also nourishing you and becoming a part of you. Thus, we are united together in Christ. He dwells in me; He dwells in you.
4. Prayer. Through prayer we unite our hearts with the heart of God that we might see His will accomplished in the church and throughout the world.
We believe that when the church will make these four things the major activities of the church, that happened in the book of Acts, the Lord will add daily to the church such as should be saved. Thus, we do not look to the myriad of church growth programs that are being promoted for the building of the church but to Jesus Himself, who said that He would build His church. We do watch as the many programs come and go in which man by his wisdom tries to do the work of God more effectively, but rather than entering into the programs of man, seek to continue to be led by the Spirit of God. We realize that the Scriptures warn us of aberrant doctrines that would come into the church, even going so far as to deny our Lord Jesus. Second Peter chapter 2, verse 1 tells us, "But there were false prophets also among the people, even as there shall be false teachers among you, who privately shall bring in damnable heresies, even denying the Lord that bought them, and bring upon themselves swift destruction." Likewise in Jude, chapter 1, verse 4 we read, "For there are certain men crept in unawares, who were before of old ordained to this condemnation, ungodly men, turning the grace of our God into lasciviousness, and denying the only Lord God, and our Lord Jesus Christ."
We see a tendency toward this in what is commonly called the "Emergent Church" teachings. Some of the concerns that we have are with the speculations and positions that they are suggesting:
1. That Jesus is not the only way by which one might be saved. It seems that they are postulating a broader gate and a broader path to heaven, a sort of "all roads lead to heaven." That good people by every religious persuasion may be received into heaven. We feel that this goes against the plain teaching of the Scriptures and negates the need of the cross for the expiation of our sins. Paul wrote of those men in his letter to the Philippians and called them enemies of the cross of Christ. Jesus said, "I am the way, the truth and the life, no man can come to the Father but by Me." This is not relative truth, but absolute truth. Calvary Chapel Outreach Fellowships 3232 West MacArthur Boulevard, Santa Ana CA 92704 714.540.4155 • Fax 714.540.4160 • E-mail ccof@calvarychapel.com
2. The soft peddling of hell as the destiny for those who reject the salvation offered through Jesus Christ. There are suggestions of universalism in their teaching, that all will ultimately be saved.
3. We have difficulty in their touchy-feely relating to God. Where the experience of certain feelings become the criteria for truth rather than the word of God.
4. We have great problems with the use of icons to give them a sense of God or the presence of God. If they want to have a tie with the historicity of the church, why not go back to the church in Acts, which seems to be devoid of incense, candles, robes etc., but was filled with the Spirit.
5. We do not believe that we should seek to make sinners feel safe and comfortable in church. Is it right for me to speak comfortable words to a man who is going to hell unless he turns from his sin? If I fail to warn him of the consequences of his sin, and he dies and goes to hell, will God require his blood at my hand? When is godly sorrow and conviction of sin such a wrong thing?
6. Should we seek to condone what God has condemned, such as the homosexual lifestyle? Should we tell them that their problem is a genetic disorder rather than a blatant sin that God condemns over and over in the Bible? How long before they tell us that they have discovered that rapists, pedophiles, and adulterers have a genetic disorder and need to be understood rather than condemned?
7. Should we look to Eastern religions with their practices of meditation through Yoga and special breathing techniques or repeating a mantra to hear God speak to us? If this is needed to enhance our communication with God, why do you suppose that God did not give us implicit instructions in the Scriptures to give us methods to hear His voice? Is it the position of my body or my heart that helps me to communicate with Him?
8. The great confusion that exists in the divergent positions of the Emergent Church results from their challenging the final authority of the Scriptures. When you no longer have a final authority, then everyone's ideas become as valid as the next person's, and it cannot help but end in total confusion and contradictions. There are those who say that Emergent movement has some good points, but so does a porcupine. You are better off if you don't get too close! So, let us not turn to our own understanding, but rather return to our own first love; and teach that the Bible is indeed the true word of God; and teach it in its entirety; nothing less and nothing more.
Calvary Chapel Outreach Fellowships
3232 West MacArthur Boulevard,
Santa Ana CA 92704
714.540.4155 •
Fax 714.540.4160 •
E-mail ccof@calvarychapel.com
This document was later removed from the Calvary Chapel Costa Mesa website. To declare who had the authority to remove it would be speculation, but I can tell you that it was not Chuck Smith. If he did, it was because he was threatened by someone close to him who had another agenda.
In addition to the Parson to Parson letter above from Chuck Smith, in June of 2006, the following notice was placed on the Calvary Chapel Distribution website depicting Chuck Smith's rejection of the Purpose Driven movement:
"The teaching and positions of Rick Warren have come into conflict with us at Calvary Chapel. Pastor Chuck has directed us to discontinue this product effective immediately."[3]
This too was later removed from the Calvary Chapel Distribution website.
The Wolves Become Evident
Chuck Smith's final years were difficult to watch by those who understood what was going on. It was as if he was being held captive in his own house by men who were dangling him on a string. How could such a powerful man who was known as a Bible teacher end up like this? Why would he say one thing from the pulpit but allow other things that contradicted what he was saying? Who were the wolves in Calvary Chapel, or were they from outside sources who had more grandiose goals?
In order to understand what I am saying with a broader perspective, I challenge you to read Paul Smith's book The New Evangelicalism: The New World Order with a foreword written by his brother Chuck. This book provides the basis for the postmodern invasion into what was evangelical Christianity.[4]
<![if !vml]>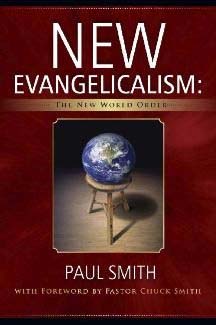 <![endif]>
Paul, by his own education, is a historian of church history. As the book unveils, he lived through much of the modern era and saw the birthing of postmodernism that was touted by Peter Drucker, Bob Buford and others. He experienced first-hand in his own family who that happened to.
For the record, I saw the original manuscript of Paul's book before it was edited. He included his own two nephews as key players in the bridge that was designed to join Chuck Smith and Calvary Chapel with the coming New-World Order and the One-World Religion through the handiwork of Rick Warren who was under the mentorship of Drucker. All this (except for what has been edited out) is found in Paul's book. I challenge you to get a copy and read it. Look carefully at the graphic on the front cover. Note the three-legged stool made popular by Drucker and Warren.
So that my readers don't accuse me of making unsubstantiated claims, I will add a few more details at this point and ask a few questions for my critics to answer. Why would Chuck Smith remove The Purpose Driven Life from Calvary Distribution and then a few years later start appearing with Warren here and there for photo ops that were spread worldwide on the Internet? Is this not a disturbing paradox? What was going on?
<![if !vml]>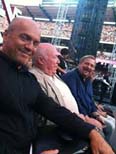 <![endif]>
<![if !vml]> <![endif]> <![if !vml]>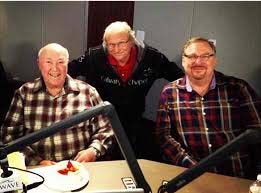 <![endif]>
<![if !vml]> <![endif]> <![if !vml]>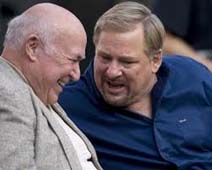 <![endif]><![if !vml]><![endif]><![if !vml]><![endif]>
Why did Warren suddenly rise from obscurity in the Southern Baptist denomination to become "America's Pastor," with his books selling well over 30 million copies and translated in hundreds of languages? Was this because the book was so good, or was there something behind the popularity? How is it possible that his P.E.A.C.E. Plan to unite all religions of the world together for the common good of man went unchallenged and even promoted by evangelicals?
Then of course, there is the Pope, who has become a best friend to Warren. Warren addresses the Pope in Rome and the Pope and Warren address the world. "We have so many things in common," they say that one wonders if Warren and the Pope have declared the Reformation over.
<![if !vml]>
<![endif]>
Finally, as I conclude this commentary, do you not think there is something wrong in the Calvary Chapel movement? What about Brian Brodersen himself? What about Cheryl Brodersen, Brian's wife and Chuck Smith's daughter. Do they echo words of warning about the coming onslaught of ecumenism and the march to the Coming One World Religion? Are the cardinals of Calvary Chapel speaking out?
Their silence is deafening
<![if !vml]>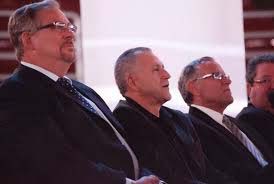 <![endif]>
Would someone please stand up and uncover who the real wolves are?
---
<![if !vml]> <![endif]>
<![if !vml]> <![endif]>
<![if !vml]> <![endif]>