Some people will do anything to come up with a big fish story like the person below with the rubber fish.
As you know, with the use of trick photography, it is possible to manufacture any background in front of a person in order to make any scene. A scene can be doctored up to make it look like you went fishing when you actually never left the dock. While fish the size of the one you see in the photo have been known to be caught on a hook, you can easily see that the one in this photo was not actually caught but may have been taken out of a fish net on a lake where netting may not have even been permitted. I know this as I have known others who have done this before. While you can fool some of the people some of the time you cannot fool all of the people all of the time.
If the fisherman in the photo thinks his gar-like alligator is big, let me show you a "big hoax" caught in the Tyrrell Museum a few years back. This specimen made the news.
Now for the rest of the story:
Have you ever heard of the "dinosauroid" model once located as an exhibit at the Tyrell Museum at Drumhellar, Alberta, Canada? If not, then you may find this very interesting.
Please note the following documentation that explains the "dinosauroid":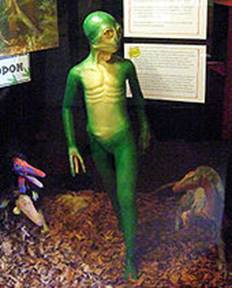 The "Dinosauroid"
In 1982, Dale A. Russell, then curator of vertebrate fossils at the National Museum of Canada in Ottawa, conjectured a possible evolutionary path for Troodon, if it had not perished in the Cretaceous–Paleogene extinction event 65 million years ago, suggesting that it could have evolved into intelligent beings similar in body plan to humans. Over geologic time, Russell noted that there had been a steady increase in the encephalization quotient or EQ (the relative brain weight when compared to other species with the same body weight) among the dinosaurs. Russell had discovered the first Troodontid skull, and noted that, while its EQ was low compared to humans, it was six times higher than that of other dinosaurs. Russell suggested that if the trend in Troodon evolution had continued to the present, its brain case could by now measure 1,100 cm3, comparable to that of a human.
Troodontids had semi-manipulative fingers, able to grasp and hold objects to a certain degree, and binocular vision. Russell proposed that his "Dinosauroid," like members of the troodontid family, would have had large eyes and three fingers on each hand, one of which would have been partially opposed. Russell also speculated that the "Dinosauroid" would have had a toothless beak. As with most modern reptiles (and birds), he conceived of its genitalia as internal. Russell speculated that it would have required a navel, as a placenta aids the development of a large brain case. However, it would not have possessed mammary glands, and would have fed its young, as some birds do, on regurgitated food. He speculated that its language would have sounded somewhat like bird song.
However, Russell's thought experiment has been met with criticism from other paleontologists since the 1980s, many of whom point out that his Dinosauroid is overly anthropomorphic. Gregory S. Paul (1988) and Thomas R. Holtz, Jr., consider it "suspiciously human" and Darren Naish has argued that a large-brained, highly intelligent troodontid would retain a more standard theropod body plan, with a horizontal posture and long tail, and would probably manipulate objects with the snout and feet in the manner of a bird, rather than with human-like "hands." [1]
The description above is taken from Wikipedia. For those reading this who do not accept Wikipedia as a scientific source for reliable information, we are providing further documentation. Please check out the following articles written by Darren Naish, a "science writer, technical editor, and palaeozoologist" affiliated with the University of Southampton, UK.[2]
Recent Articles by Darren Naish
· How Dangerous Are Cassowaries, Really?
· The Integrated Maniraptoran, Part 3: Feathers Did Not Evolve in an Aerodynamic Context
· The Integrated Maniraptoran, Part 2: Meet the Maniraptorans
As I conclude this commentary, I want to let you know about my own hands-on experience with the "dinosauroid" at the Tyrell. In and around the summer of 1986, I was part of a team that was filming fossils and scientists regarding the topic of the "Evolution Conspiracy" at the Tyrell Museum. At that time, I noticed the "dinosauroid" and wrote a letter of concern to the curator of the museum and copied the Calgary Herald. Obviously, I was troubled by the display of science fiction at a world-class museum in my own country that was not labeled as science fiction but instead was deceiving children into believing "a lie." As you know, children are very open to deception when it comes to the topic of dinosaurs.
I received a note from the curator of the museum, and an article was published in the Calgary Herald condemning me for being a creationist from Saskatchewan and for asking a scientist from Alberta a legitimate question. Not long after, I received a call from CBC radio asking me if I would debate a scientist from the Tyrell Museum on National Radio regarding the "dinosauroid."
And so I did.
This interview can be documented by the Calgary Herald and the CBC who will have the records.
The debate went very well from my perspective and also from the perspective of the host for the CBC. As I was a farmer and the curator was a scientist, it made for an interesting controversial topic. When some people called in they were excited too.
What I can tell you now is this. While I was in the Tyrell Museum visiting on June 9, 2016, I asked numerous Tyrell summer students to show me the "dinosauroid." Not one of them knew a thing about the "dinosauroid" until I had them google these three terms: "Russel," "dinosauroid," and "fraud."
Now everyone in the museum will know what happened to the fiberglass model called the "dinosauroid." The model even made an appearance in the Smithsonian Museum in Washington D. C. You won't find it there now either, at least to my knowledge.
You see, there is a moral to this story: When it comes to models and fish, it is always better to tell the truth than to make up a story in order to become famous or to show "evidence" of that which is false.