Bryce Homes Reynosa, Mexico.

Pastor Victor Torres and his wife Mary continue their work evangelizing the next generation through a feeding program coupled with a Bible class, every Saturday morning. They feed anywhere between 12-20 children. Two families are now attending church as a result of their labor of love with the children.

Bryce Home 4 is headed by a widow who cares for her grandchild. She faithfully attends church. She is so relived that she can now provide her granddaughter enough for the schooling needs.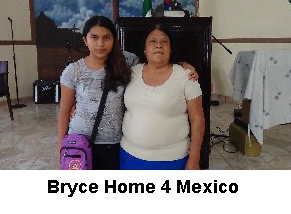 Everyone had tears in their eyes when Mary received the first envelop with the money inside. She just did not know what to say. God is providing for his righteous, and this is proof of it.

In His Love,

Ana

Bryce Homes Border Ministries