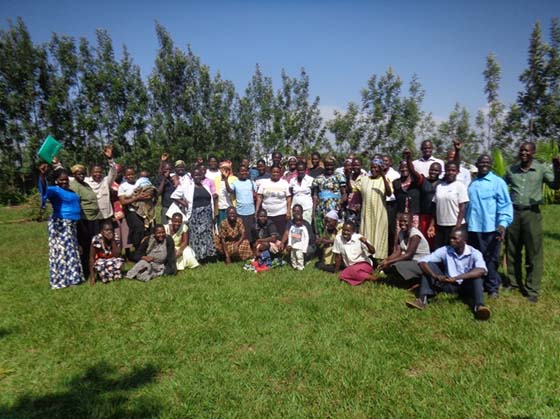 Each Bryce Home, comprising of widows and orphans who through the grace of God had been receiving monthly regular support, were highly expectant to receive their visitors. As the Lord enabled the team, Roger was accompanied for the Kenya trip by Kevin and Brent. This God chosen team properly used the time throughout the days of their visit to minister specially to the souls as the Almighty God enabled them. Among the targets groups of people who were ministered to included widows, pastors and church leaders, orphans and other vulnerable persons.
DAY ONE

Meeting Bryce Home Widows and Distribution of Support.
Over fifty-eight widows and Bryce Homes gathered to receive the visitors and partake of the teachings in a conference hall. Roger led the team with a word of encouragement from the book of Isaiah 55:8 – 12. This brief sermon exposed broadly the mission of the Bryce Home program. It came clear to all in attendance that Bryce Home program was a mission of God Himself and that it is God Who continues to provide support for the needy in the society. Both spiritual and physical foods were realized to be on high demand for every Bryce home
.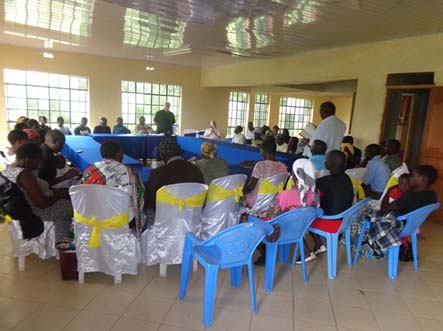 Roger Addresses the widows' conference Day 1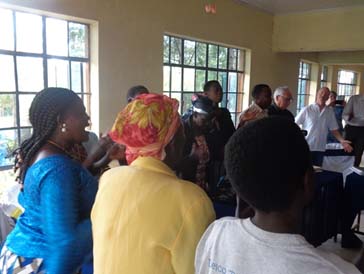 Josephine leads the widows' conference in praise and worship
By describing this program as the way of the Lord and not man, it was emphasized that our primary objective should be to lead people to the love of Jesus Christ hence each person should pray and plan how they can also help others.
It was a touching message to learn from Roger that by simply sharing the testimony of what the Lord is doing in Kenya, many people readers / donors have always been touched to stand with this program to continue
Brent was greatly used by God to minister to the widows on the need to live a Godly life as manifested by many women characters in the Bible. The fact that each one of us has a calling to do the good work of the Lord was greatly emphasized. Using Ann as a woman who lived a life characterized by prayer and with great faith, all the widows were encouraged to bring completion to their families.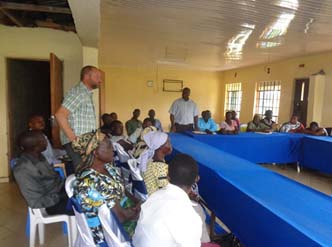 Kevin gives a word of encouragement to the widows' and pastors in the Bryce Homes.
The following widows gave testimonies:
1. Leah – she gave a touching testimony before the gathering and this touched many including Roger who wept. Leah had struggled with life the moment she became a widow until she got an accident at one point. It then became her daily routine to wake up and pray daily at 3.00 a.m. during such prayers Leah persistently asked God to help her as He helps birds of the air to feed on a balanced diet. It then happed as a miracle to her the moment she received her first Bryce home support; this made her cry in a prayer from 11.00 a.m. to 6.00 p.m. in thanks giving for the miracle. She now believes that when one worships God in Truth and in Spirit then God provides for every need. Leah's great prayer now is for God to continue blessing the servant of God facilitating Bryce home program.


Leah, sixth from left, keenly follows the teachings during the
widows'conference
2. Jane (a mother to a young boy who was named after Roger)
She took her time and explained how she miraculously came to meet Roger when her young son (now Roger) held up Roger's hand when he visited them. She expressed her sincere gratitude to the Bryce Home Board in USA and Canada as well as all those who have been ensuring they get monthly support.
She expressed how her son Roger has since developed up with the memory of God-sent visitors to their home. She said that her prayer is to see them become self-sustainable and also help people in future since it is more blessing to give than to receive.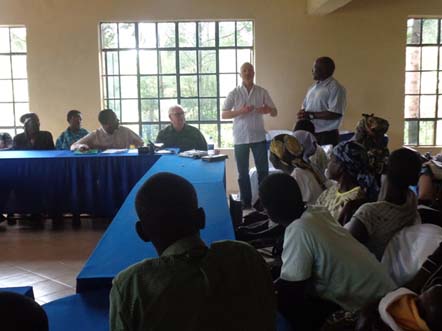 Brent challenges the gathering to have a heart of giving since it is more blessing to give than to receive; a message that was taken positively by all.
3. Rusalina II – as a widow in her old age, her testimony shocked many who had for the first time given that she began receiving support after developing ill-health. She says she nearly died due to malnutrition and chronic starvation. She spoke out this testimony while in an elated mood as she attempted to jump as a proof of her good health as at now. Her hope to live longer has been renewed.
4. Elizabeth – She is a very old widow and her testimony which revolved around how desperate she lived in starvation and hardship having been abandoned by relatives and members of her former place of worship (Catholic) surprised the gathering. She says that her introduction into the Bryce home program became a turning point to her both physically and spiritually. She has gained weight and has become a bread winner to her grand-children. She currently enjoys worship and service to the Lord in a Godly fellowship of brethren.
As it was a practice of the New Church, fellowship and dining together of brethren was given time and the entire gathering of widows, some servants of God, Bryce Home-Kenya Board and the visitors had an ample time to take some meal together: During this session, a lot of sharing went on as the widows fellowshipped with each other as they partook the meal. To many, this was their first time to be in such kind of fellowship. They admired it and felt like they should have such gathering at least once a year.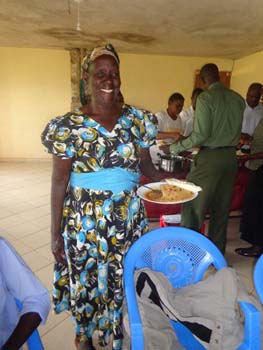 One of the widows jovially displays her meal after being served.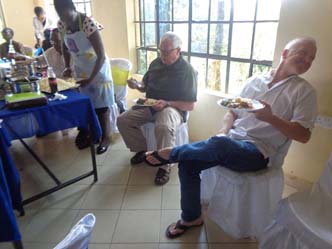 It is a lunch break for everyone after the noble task
Distribution of February Support: At the end of the fellowship and widows' conference, all were led outdoors where each was to receive her support of the month. Very jovial faces and energetic movements came into play as all got elated to receive their share of support. Due to much appreciation and hearts full of thanks giving, almost every widow uttered words of appreciation as they posed for a joint photo with their support.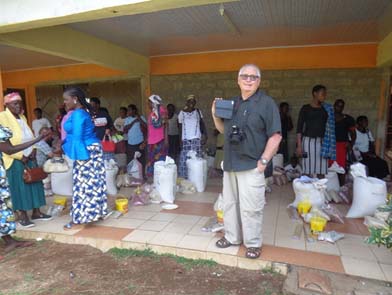 Each Bryce Home has got a share of the month's support and are about to gather for a group photo before they live for home
DAY TWO
Trip to Various Bryce Homes and The Proposed Discipleship Property

The team paid visit to various Bryce homes in different regions in Kenya. During such visits, there were a lot of interactions with the widows who were in many occasions found busy taking on various family errands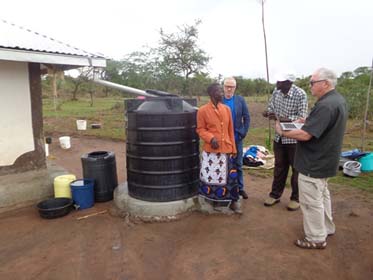 Roger and Brent in one of the Bryce Homes. The widow is giving her testimony on how she has been progressing since she was introduced into the Bryce Home program.
The team also made a visit to a proposed site for the future establishment of the discipleship center.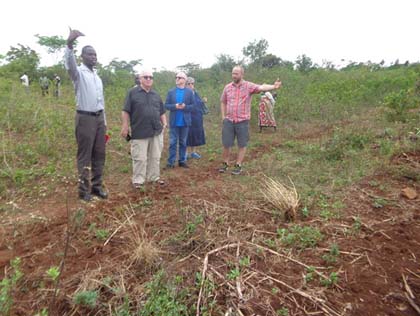 Lukio, one of the Bryce Home-Kenya board members shows the team the property proposed for the discipleship centre.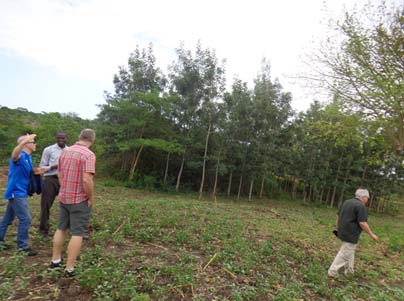 The team takes a walk off the property as Brent and Kevin inquire for the possibility of extending up to the road for accessibility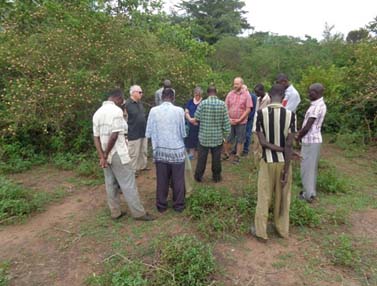 Roger leads the team in a prayer as the team put trust in God to accomplish the vision of the establishment of the discipleship centre on the property.
DAY THREE
Meeting with Pastors and Church Leaders

This day was mainly set aside for pastor's and church leaders' conference. Also the board of Bryce home Kenya was present and followed the event throughout. Pastors and church leaders from various churches gathered as early as 9.00 P.M. with great expectation of what the day had for them. Praise and worship in English, Kiswahili and Luo Language spiced the conference.
The topic of discussion revolved around "THE PERSON GOD USES" (1 Timothy: 1-13) and "HOW TO TEACH THE WORD APPROPRIATELY".
The conference which had two sessions, one in the morning and another in the afternoon was facilitated by Brent.
By the end of the first session, all the pastors and church leaders had learnt the following;
i. 1. That God uses a broken vessel
ii. 2. God uses an available vessel
iii. 3. God uses a chosen vessel
iv. 4. That servants of God are called;
- to preach the good news to the poor.
- to proclaim freedom for the prisoners
- to proclaim the recovery of sight for the blind
- to release the oppressed
- to proclaim the year of Lords favor
yyyyyThe second session focused on teaching the word of God respectfully by:

O - Observing the word
I - Interpreting the word
A - Applying the word

These sessions went to a great depth and it left all the servants of God in a revived spirit of service to the Lord. In fact many longed for such teachings to go on so as to avoid misinterpretation of the Gospel of Christ. There was a great desire for a yearly pastors' conference of such kind.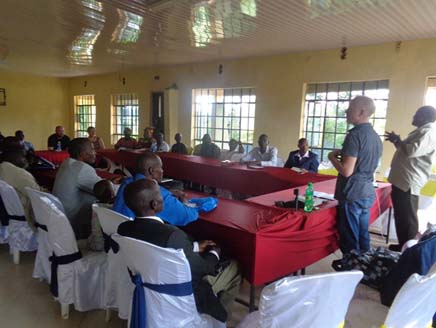 Pastors and leaders are keenly following the teachings presided over by Brent
bbbbb DAY FOUR
Time with the University students (Lydia and Christine)

Roger, Kevin and Brent had a good time with the two out of the three girls who have always got financial assistance from the Bryce Home program to help pay school fees and upkeep. The two girls, Lydia and Christine gave their testimonies in details regarding their humble family backgrounds. While Christine is a total orphan whose both parents perished when she was still very young, Lydia painfully fell a victim of Female Genital Mutilation (FGM) which made her leave their home some years back. Lydia became lucky to be assisted, alongside other twelve girls, as Bryce Home # 12 in the year 2012. Through the program the girls were fed, clothed and sheltered as they pursued their secondary school education at Glory Christian School in the neighborhood. Precisely, Bryce Home became a stepping stone for the girls to be what they are today.
Their main desire as they proceed with their education at the university is to complete their education and become a blessing to other needy children of God in the society.
The Joint Board Meeting;
It was so exciting to be involved in a joint board meeting comprising of the U.S.A, Canada and Kenya board representatives. Among the agenda of discussion were;
a) Teamwork of all the Bryce Home Board Members.
b) Addition of new pastors in the program.
c) Bryce Home Policies on widows and their support.
d) The Discipleship Centre and the Vision in Kenya.
Prospects of Board members regarding the Discipleship Centre were very positive and the idea was highly welcome. It was recommended that the Discipleship Centre would help in the following areas:

i) Training of pastors and church leaders to minister to the sheep of Christ effectively.
ii) Training of widows and other vulnerable groups on agriculture and to help them achieve self-sustainable future.
iii) To provide guidance and counseling for the school going Bryce Home children to embrace education and Christianity.
iv) To encourage and train people, especially the Bryce Homes, to be responsible in environmental conservation.
v) To strengthen the Small Business Opportunities (SBOs) for the Bryce Homes to become self sustainable.
GOD BLESS BRYCE HOMES, SHALOM!