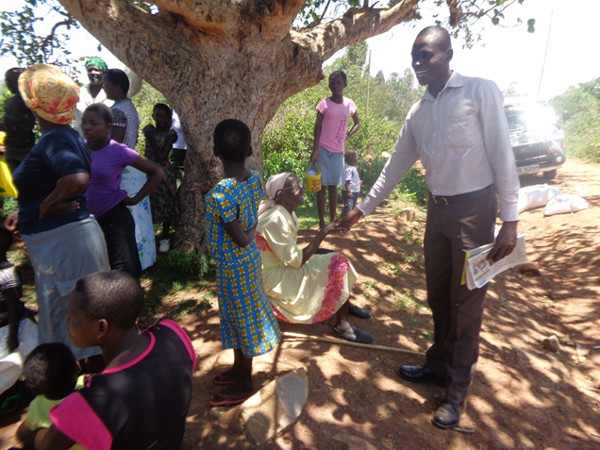 Benedetta speaks to Lukio concerning her painful humble life in the past before the Bryce Home program came to her rescue .She is so grateful and speaks well about the donors.
Bryce Home - Kenya continue to grow every day, some days are wins while others seem to be rocks that seem impenetrable. This is owing to the fact that human needs are insatiable and always every new day usually comes with its new demands and social pressure. However, whatever God had begun must be brought to completion.
I am persuaded to dwell much on the gains that Bryce Home program has registered, my focus will revolve around the oldest widow in the program. Her name is Benedetta.
I came to know Benedetta five years ago when I was working as a voluntary staff (head/teacher). The school happened to be located in the same village where Benedetta lives. As old and exhausted as she looked, many people rated her as the most blessed female elderly as many hardly grew past 70 years of age. Actually in many rural homes in western Kenya, relatives always begin to arrange for any sudden demise of the elderly as soon as they hit 70 years.
Starvation and lack of care for the elderly has always resulted into their sudden death robbing them of bonus years of life. Even though friends and relatives would wish to provide adequately to such vulnerable persons, they are economically challenged to do so due to high level of poverty. The majority of the people live below one dollar per day.
The intervention of Bryce Home program in Kenya rescued the lives of such innocent souls like Benedetta. Widows have been able to receive monthly support in form of food stuff and other households items such as soap among others. God continually touched the hearts of donors through UTT to stand with these starving widows. As if this was an experiment, I watched keenly and realized the then exhausted lives of widows like Benedetta began proliferating. They looked healthier and stronger. This dispensation made me become a secret disciple of Bryce Homes program. I closely monitored the trends in the lives of such widows and drew a conclusion; God is good! This was back in the year 2012.
As I write today, there are many untold stories worth testifying about as a result of Bryce Homes. It is no longer foodstuff alone but a holistic provision to the widows. From durable houses to clean pit – latrines, large water reservoirs to improved kitchen stoves the widows have realized a new lease of life.
This month as we reached out to the widows to distribute the April support and donations, my attention was drawn to one widow, Benedetta (Bryce Home No. 5). I first thought it would be a one minute greeting only to realize that she had a lot to share with me regarding her humble past and what God has done in her life today.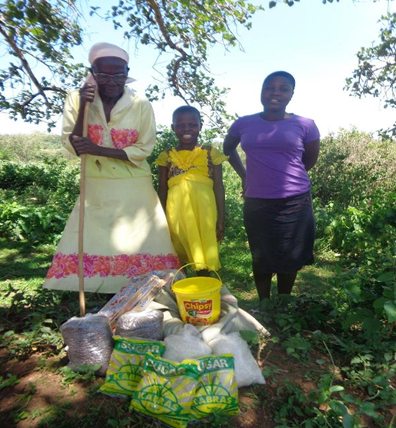 Benedetta accompanied with her two grand children. They now look healthier.
She had the following to share with me:
i) That she used to live a pathetic life in a dilapidated house that was infested with parasites (bugs).
ii) That she, throughout her life, relied on open defecation as she had no idea of what a pit latrine (leave alone a toilet ) looked like. Her bedding (mat) was full of dirt.
iii) That she never knew of breakfast, lunch and dinner. She says anything that came her way in the name of food in whichever small portion would be the sole day`s meal.
iv) She worst shocked me when she said that she longed for her last day in this precious planet.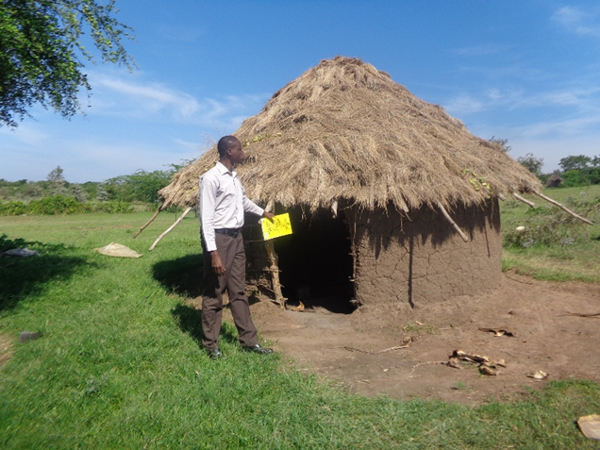 Lukio inspects one such houses in which some of the widow`s like Benedetta lived before the intervention of Bryce Home.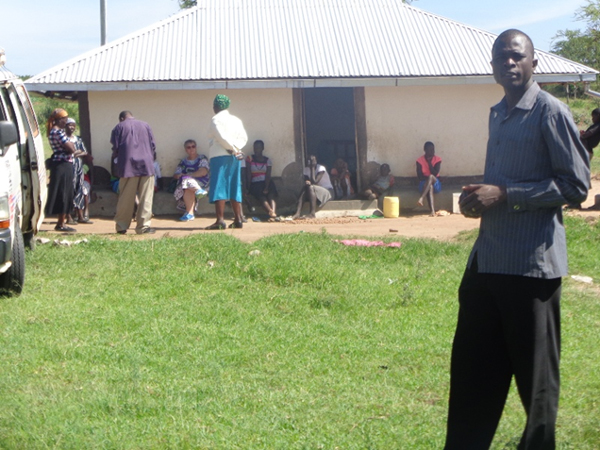 The current look of the descent houses that have guaranteed comfort to the widows like Benedetta.
Having walked me through her touching history of the past, she asked me more about Bryce Homes. I explained the program to her in her mother tongue. It sounded so good to her to learn that God has always touched men and women across the globe to donate so as people like her can get food and live an improved life. Her conclusion was as follows:
``MAY GOD BLESS MY SONS AND DAUGHTERS! `` By this she meant whoever has been touched and donated to support her qualifies to be her son and/or daughter.
As it is a tradition that the elderly are always provided for by sons and daughters , she meant that what her biological son could not do due to poverty is now being done to her by `unknown` sons and daughters across the globe.
This brief engagement with one of the widows has triggered my thoughts of how significant the program has been to many.
Today we have over 56 Bryce Homes each receiving regular monthly donations in form of foodstuff and household items. Also, a few pastors who have always provided spiritual nourishment to these homes have been assisted as God has always provided. At least three students are now able to pursue their university education through sponsorship by Bryce Home Program. A few widows have proven to be successful in running small businesses – this would spur growth and ensure self sustainability of such homes.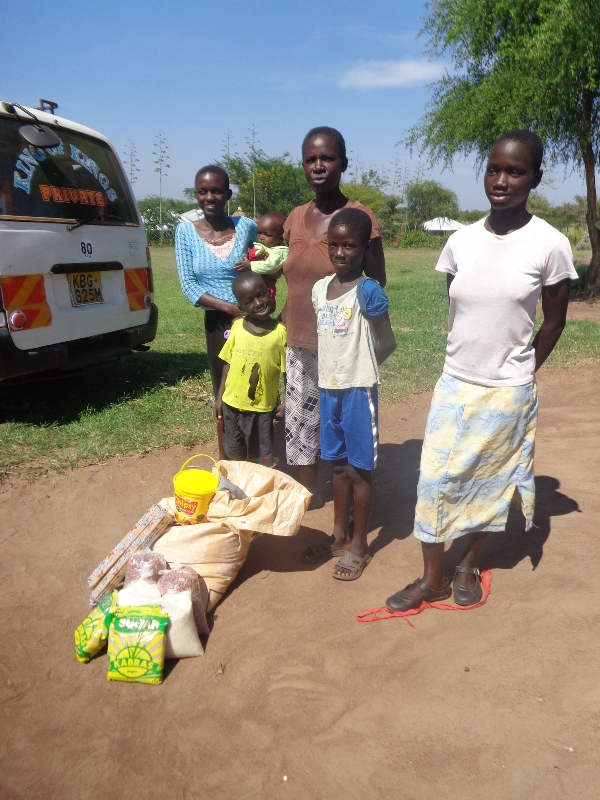 Cynthia (carrying a baby) is a daughter to Gaudensia. She was lucky to get sponsorship who has offered to pay for her school fees at a Christian School. She needed at least $25 per month to go to school. The mother will therefore remain with the little baby at home as Cynthia stays in school.
I have noted that in most of the Bryce Homes, there are children who may not persue their education due to lack of school fees. Such children especially girls succumb to unwanted pregnancy at tender age. This adds a burden to their mothers (widows) who may not be able to take care of the grand children. Ensuring these girls go to school is a priority for future sustainability of these homes. It has been an area of concern and could be, as the Lord enables us, funds may be available to consider a few girls down the road.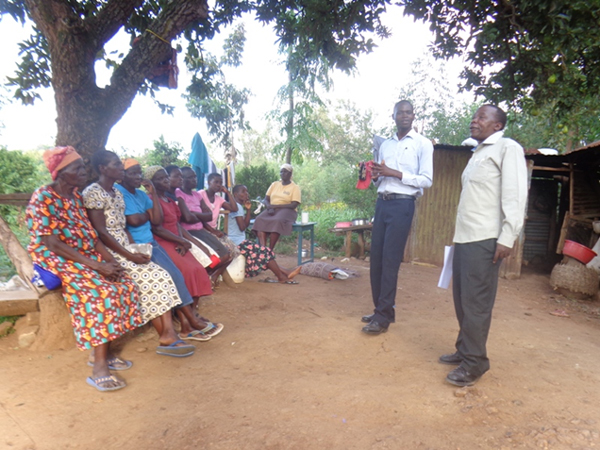 A group of widows living in one village keenly listen to Board Members as we paid them a visit early this month. They highly value the support being provided and pray for the opening of more doors to sustain the program