Dear donors,
Thank you very much for your patient support because of a loving God.
This is the 3rd quarter update from Bryce Home 3. In March, five of our children wrote their High school final exam. It is a very difficult exam for the average student. Only 30% passed in the whole Myanmar. In Bryce Home 3 there were three that passed and two that failed. So, 60% passed from Bryce Home 3.
This Summer we sent back some of the children to their hometowns as some members of their related families asked for them. Some of them stayed back. I want to confess that this is the hardest thing for us since we have been training them and standing as parents for years. We are responsible in times of need but when they become mature or admirable, their relatives want to call them back for their family.
For example, we trained Christopher for 10 years. It was because his mother passed away when he was 5 years old. His father could not care for him. His grandmother and sister brought him to us. He is very gifted in Software and hardware computer. This year, he passed High School board exam. But now, his grand Ma and sister took him back to support their family.
Nawmai also went back to his hometown after writing his exam. His father passed away when he was a small child. He has a twin brother in Myitkyina Kachin state who lives with his Aunty (Father's sister). As he failed High School final, his Aunty wanted him to rewrite High School next year. So, he stayed back.
Zin Ko Thet also passed and studies the Bible.
Hmingsangi passed and will continue further study college from here with us. Now, she is learning computer.
Sarah failed and is learning tailoring at the same time a helper of Christina.
Nathan also went back to his hometown and will not come back. His family back at home is in the situation to support him, so now he is in boarding school.
Please pray that they might be useful for the Lord whether they continue to stay with us or not.
Please pray for the 8 Bible students as well. By name- Mama, Nenawi, Zin Ko Thet, Rodi, Enny, Thian Thian, Sa K Phaw and Aye K Phaw.
The rest children are doing well with us. Joshua seriously got Chickenpox but now by God's grace, is good.
We are nothing but His grace is sufficient for us by which alone, we can move forward to show His love to others. We always thank God for using you as part of this ministry.
In Christ,
Elisha


Group photo – Bryce Home 3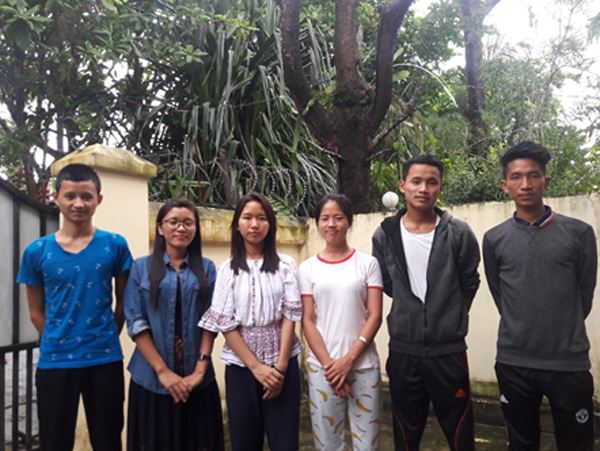 Six Bible School Students