Dear Respected brothers and sisters in the Lord,
I praise God for allowing me to serve Him in obeying His call.
I would like to express my heartfelt thanks to UTT and the supporters as a God chosen organization that we might continue the works set before us till today. I am a pastor at New Bethel village Church for 8 years, caring the needy children. You stand alongside with us by prayer, financially, and by encouraging with the Word of God. That means a lot to us. We see not only the growth of our church members but also reaching the neighborhood villages with the Gospel of Christ.
Please continue to pray with us that
1. We might continue reaching Lahu tribal Anamist villages with the Gospel of Christ.
2. We might feed the flock with the pure word of God and to train them to be good disciples of Christ.
3. We might be faithful till the end of our lives or till the rapture.
May the peace of God be with you all.
Timothy Bryce Home 12
Greetings all of you who take parts in the ministry of UTT.
We give thanks to God for all that He has done in 2019 and also for the new year 2020 with a good health to be able to continue in the ministry.
Your financial support is very useful and meaningful for our family ministry in so many ways. Because of it, we could care 51 children whose parents are idol worshipers, and the needy children of "name sake Christians". Daytime they go to government school and nighttime and morning, they study their school lessons and we have prayer meeting and Bible reading in our home.
When we see the changes from their lives, good character and the knowledge of our Lord, we cannot stop praising, but when one or two persons disobeyed school and our family disciplines, we felt very sorry for that. Once we were called from school and give warning for those children. But I hope they will be changed one day. Sometimes, they are the disturbance for the rest of the children.
Our plan in this summer is to visit their native place to share the Gospel to their parents and people and also three months Bible training for the elderly people.
As we stand for the Gospel of Christ, please pray that their lives might be rooted insight the word of God so that they might be useful and meaningful for the extension of His kingdom.
Our desire is to get God's favor, and to be men of God's own heart like king David in every situation.
May the God of peace be with you,
SKLian Bryce Home-11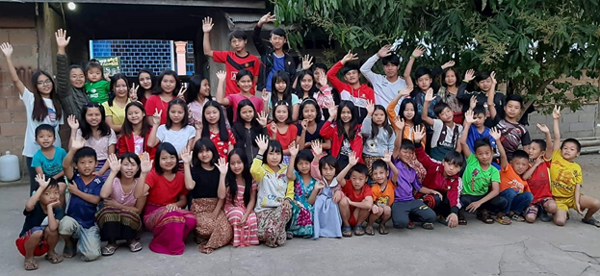 Dear UTT supporters,
Greeting to you from me and my family. I am so grateful to God for giving me the privilege to involve in His ministry with you till today, and say thanks to you for your sacrificial love and support for my family.
I am now evangelizing the Lahu people who are living in Nang San Village and other remote areas. I sometimes do street preaching at the entrances of the market. God also gave me 2 times to do street preaching at Mong Phyak Township's market where is about 1 hour from my home by motor bike.
In Nang San Village, there are two householders who want to come to Christ but they dare not. So, my prayer request is to pray for those two householders so that they may accept Christ Jesus boldly.
I didn't get any responses from the people when I was doing street preaching but I believe that God's Word never comes back in vain. I am just an instrument that brings the Good News to the lost.
I also participate in the church through leading songs and preaching sermons.
My vision in 2020 is to bring God's love to the lost as God loves me. Therefore, please, pray for me and for my family to be able to serve Him faithfully. I want to say that I was able to do the ministry more than before through your support and prayers. I would like to conclude by saying this: "I pray to you to be blessed upon each of householders and used effectively in His works more than 2019" Amen! Thank you very much!
In Him,
Ali Juju BH 13