Dear Roger and Tom,
Greetings from Bryce Home 5 Myanmar. We thank God and praise His name for His never-failing love and care through all who participate in this great ministry. We are very much thankful to you for your faithful service in the ministry. We understand that the task is not easy since it is a building up of human life from childhood to the grow into Christian character. Your commitment to His ministry with a deep concern never goes in vain as God counts every deed you have been doing as we now have eight years partnering together.
We would like to extend our heartfelt thanks to you and all supporters to our family. It is only with your help that we could involve in such a great ministry. By your help as a tool God allows us to enjoy good accommodation, education, clothes, food and drink we all need for our everyday lives. It is a great thing to see much improvement in the lives of our children as we live under his care. God has directed children to us from many different backgrounds.
- Ms. Ruth van Rin Hnem has finished her first-year course in Bible school.
- Mr. Myo Naing has retaken his matriculation exam
- Lal Din has written his exam for Grade 9
- We have 5 who completed grade Eight; Rebacca, Cung Nawl, Esther, Ngwalay and Lal Tha.
- Cung Nei Thang and Lal Cung Nung have finished Grade Seven.
- Joel has finished Grade Six.
- Ezra has finished Grade Five.
- Tluang A has finsihed Grade Four
- Tluang B has finished Grade One
- Our youngest daughter Elizabeth will turn this May 21st.
We would love to see you here in our midst as our kids often ask me when you will be coming. I herewith attach our family photo so that you can still recognize us and remember us in your prayers!
Yours in Him,
Habakkuk
Bryce Home 5
Myanmar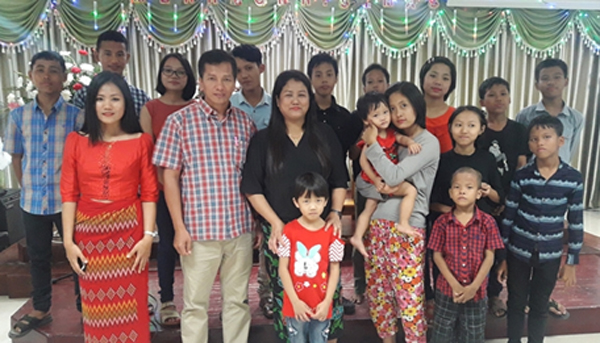 Bryce Home 5 Family - Myanmar