Dear Roger and Tom,
I would like to express my heartfelt thanks for His wonderful works throughout 2018-2019 academic year. During this academic year, we saw a lot of progress in the ministry and in the children's lives.
I would like to share the recent special events that give us new strength to go forward in the ministry. By God's grace, all the Sowing Circle, Bryce Home 3 children did well in their final exams. My Son Joshua received two awards from his school. One was a special award and the other a music award. I should say this is the results of my dear wife Christina for her hard work for her son.
Zin Ko Htet, first year Bible Student received the best character award out of 130 students. Out of 8 Bible students, David Mama and Nenawi graduated B.Th and Nenawl will be assistant pastor in their hometown church. also
David Mama is praying to learn more about music and recording plus computers. During his Bible school years, he was charged to take care of all the computers of their school library for repair. He was piano player in their Bible school worship service. This year Mama and friends designed a Sunday school series. Since they did not have funds for recording in studio, they used the keyboard that Sowing Circle bought for our church. They made a record of their own composing songs with actions.
Liana and Lydia began tuition classes. They are going to be taking their High School final. They will face the board exam in 2019-2020 academic year which is the hardest exam in Myanmar school years.
Now, they have summer vacation from March to May. Valthawm, Thian Thian and Joel are learning basic computer. Samuel, Joshua and Moses are learning piano player. We sent the rest children back to their hometown to make identity card which is required for the rest of their school years.
This year, as we have been contacted from the remote areas of our country. We are praying to care for some new children. Two of them are from Kachin, the battle ground of Myanmar armies and KIA (Kachin Independence Armies). They are orphanage children from the very remote area.
"Psalms 127:1 Except the LORD build the house, the labor in vain that build it: except the LORD keep the city, the watchman waketh but in vain."
As we see here in this verse, unless the Lord protects and blesses our labor, everything is in vain. So, we praise God for allowing us to see his marvelous works throughout the years. At the same time, we would like to express our heartfelt thanks to everyone whom God used to support us financially, by prayer and standing alongside us to encourage us with words.
Lastly, I want you to know that God has richly blessed your faithful participation to equip many children in Myanmar to be good witnesses of our Lord Jesus Christ. We pray and believe that God will continue to bless and use you more and more. Amen
In Christ,
Elisha, Bryce Home Three, Myanmar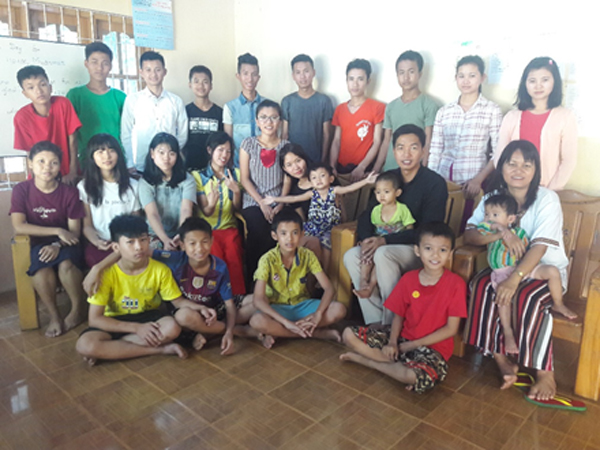 Bryce Home 3 – Sowing Circle House - Myanmar