World over, every season comes with its unique challenges. Kenya is no exception. After a five-month prolonged dry spell, it has now started drizzling accompanied by cold weather here in Kenya. It is during this season that many households, especially those with young children, struggle with communicable diseases associated with cold weather.
We thank God for Bryce Homes Kenya. This program has made it possible for hundreds of children in the Bryce Homes Program to get access to an environment that keeps them away from the cold. Cases of flu have therefore conspicuously dropped in these homes. Apart from the physical protection because of the durable houses, the administration of this program in Kenya provides guidance and counseling on how to live responsibly. This has enlightened these homes, mainly headed by widows, to take care of their children accordingly.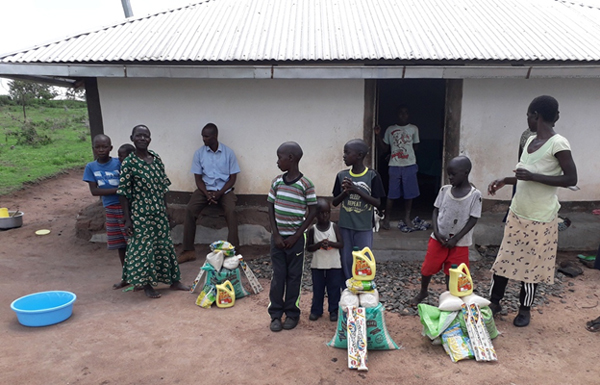 During cold weather durable houses provide comfort for the children.
This month our focus was on the children and we continued to seek new approaches for better results for the future. Our Board realized the need to invest proper knowledge in these children so they can become the future breadwinners for their homes. This brings us to the need to address self-sustainability. For this matter, we have the separated them into groups according to their age including early grade, teens and the youth.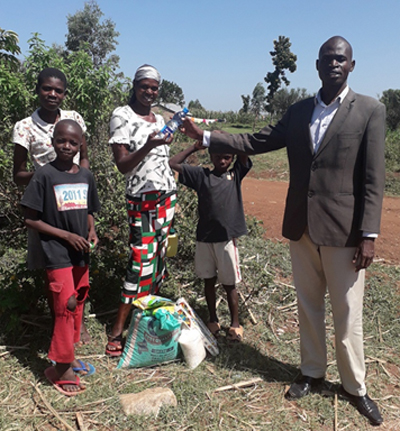 We are encouraged to hear a good report about these children from the mother
Bryce Homes children get life skill education through the experts who occasionally meet with them during vacation. For instance, during the month of April schools were closed for a one-month holiday which we made good use of. Since almost all the children in this program are growing under the care of single parent, they feel different from those who have both parents living. This makes some of them behave badly and even escape from their homes. We have realized the value of playing a pivotal role in upbringing these orphans. So far, we have been able to get assistance through voluntary services of licensed experts in guidance and counseling. We look forward for the best to make these children excel.
Since most of the teenagers in the Bryce Homes are in High School, we have received calls to intervene whenever they are discontinued from school due to insufficient school fees. Whenever such bad news reaches us, we can only do what we can. To some we plead with the management of Glory Christian School which may allow them to learn. For others, the condition becomes so difficult that they drop out of school. As a board we still have a prayer item for God to provide a solution for the education of the Bryce Homes Children. This way, the future of these households is deemed to be self–sustainable.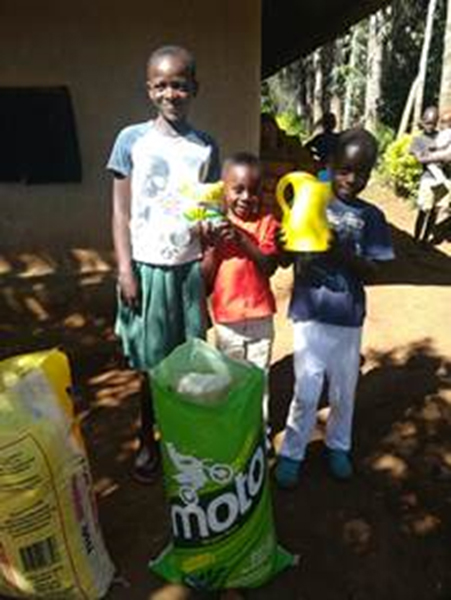 Support brings smiles to these children.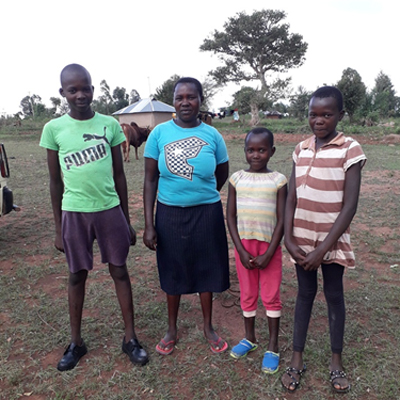 This boy has grown taller than his mother thanks to the Bryce Homes Program
Bryce Homes Kenya consists of 37 Homes. Of the 37 Bryce Homes, 33 of them are widows or vulnerable single mothers; three are pastors who are the custodians of the Program while one is the Secretary to the board. These homes accommodate about 150 children ranging from the age of 2 years to 18 years. Except for the four Bryce Homes who are now fully reliant on their Small Business Opportunities, the remaining thirty-three regularly receive monthly support including foodstuff and clothes. The lowest receive a budget equivalent to $43 while the highest receive a budget worth $50 per month. Other areas of support include multivitamins to help address health related challenges , as well as transportation costs to ensure the foodstuff is delivered to their doorsteps in good condition. This has really impacted their lives positively. We therefore encourage the readers across the globe to continue standing with these homes spiritually and materially.
As a Board, we remain dedicated to the task in ensuring Bryce Homes remain to be a testimony in Kenya and beyond.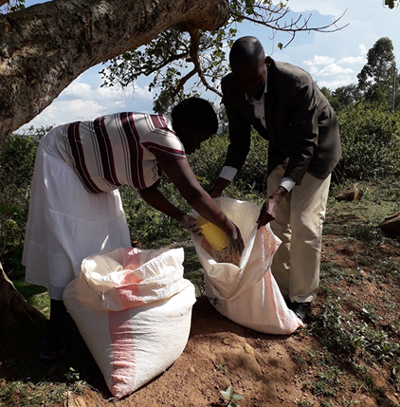 Benter, BH5, helps measure the grain to ensure every Bryce Homes receives the correct portion.
All the Bryce Homes are very grateful for the support