I went to Kenya on behalf of Bryce Homes in November 2018. I left home with some apprehension, not sure what to expect. It had been almost two years since I had last been there with Roger Oakland. I came home in February 2017 very sick, as I had contracted malaria on my trip. It took months for me to fully recover.
On that trip we had also discovered some problems in the leadership, we had to make substantial changes to the Kenyan board in personnel and the way they operate. As you can imagine, it is hard to know how things are really going if no one is there to observe first hand. Email is a wonderful tool but there has to be a lot of trust in those left in charge.
On arrival this past November, I could tell very quickly that the program was doing well. The leadership that we had left in place on our last visit was working very well together. They had a genuine love and care for the widows and orphans in the program.
I was encouraged as we traveled and met each widow and child, the changes in their physical appearance was very evident. Many of the widows, before joining Bryce Homes, were very skinny and quite sick. The thing that blessed me the most was the change in their mental and spiritual health. Their appearance was different. There was a brightness on their faces that was not there when they joined the Bryce Homes family. Many who had been very sick, look healthy. My words fall short when trying to explain the unbelievable change that has come about in the lives of these widows and orphans through this ministry.
I would like to tell you about one widow and her family. Her name is Phoebe. She was a lonely, destitute woman when we met her in 2015. She was widowed and had no hope for herself or her children. Her living conditions were deplorable. She was left with six children and no means of support. She was skinny and untrusting. The children where dirty and also untrusting. As we surveyed her living conditions, we quickly saw that her house was unlivable by any standards. It was a small hut with a dirt floor. The roof leaked badly when it rained.
When I looked inside it became clear why the children were all so dirty. It had rained recently, and the floor was mud. 4 to 6 inches of red mud. They had nothing to sleep on but one small bed. Not nearly big enough for all seven of them. So, they took turns sleeping on the bed and on the mud floor. It broke our hearts for them.
Roger decided that the house was unlivable, and plans were made to add her to the program and build her a new house. Over the next few months the money was raised and sent. One of the pastors was a carpenter and he built her a new home with a small indoor wood stove for cooking. There was also an outhouse and shower house built. No running water or indoor plumbing but it was dry and there was enough bed space for everyone. Still 2 or 3 to a bed, but a vast improvement. The family was put on monthly food support to help ease some of the burden that life had thrust upon them.
Fast forward to this visit in 2018. When we approached the house, the kids where in front of the house singing. They were clean and happy. The distrust that I had seen a few years before had changed to gratitude. They proudly told me their names and that they were attending school. They had been unable to attend before because of lack of school fees. Now because of the support from Bryce homes, their mother was able to earn enough money to pay their school fees. Before Bryce homes, every cent she made bought food to keep her family alive. She couldn't afford the luxury of providing an education for her kids. Her oldest son told me how he planned to go to university and become a doctor. Was this the same family I had met 3 years ago? These kids had hope and a bright future. Such a different perspective than they had just a few years ago. They sang some songs they had learned in Sunday school.
Phoebe discussed a business plan that she had made to make herself self-sufficient so she could graduate from the Bryce Homes program; So that someone in even greater need could be helped. I did my best to encourage them to serve God and to be thankful to Him for all the wonderful things that had happened in their lives. I prayed with them and we left with full hearts knowing that God is in control and cares about even the least of these.
This story repeats itself over and over. Widows without hope turning to the Lord; praying for an answer to their terrible circumstance. Then thousands of miles away on another continent, someone is prompted by the Holy Spirit to give a little to help those less fortunate. Every widow and orphan I talked to asked me to thank all the people that have given of their resources so that they can have a life.
THANK YOU SO MUCH!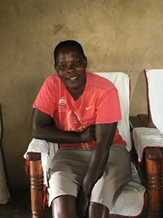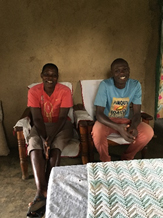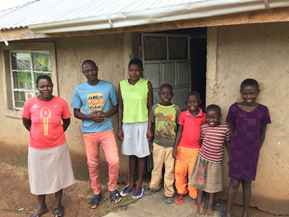 Phoebe 2018 - The change in her life is evident.