Before arriving in Kenya, I had decided to hold all reports until my arrival back home. There has been a change. I have now decided I cannot contain myself for that length of time in order to bring our supporters up to date. For the safety of our Kenyan brothers and sisters who are part of the Bryce Homes Kenya program and for ourselves, I will not be mentioning any names or locations. As you can understand, the world was in turmoil before we arrived. Now current events have catapulted fear to new and higher levels. Life around the world is not, and never will be, the same.
When I say we, this is to let our readers know that I am not alone. With me is a friend and a man from Canada who has a heart for missions. It is exciting for me when I see others I know catch the vision to reach out to widows and orphans. This is what the Bryce Homes Kenya program is all about.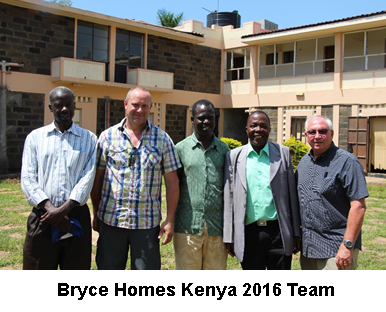 Yesterday was another day in Kenya, but it was more than just another day. I have been travelling here since 2011. The program continues to expand each year as God provides for His family here through His family around the world. Perhaps what people in the western world fail to understand is the fact that more than half the population here in this location are either parentless or have only one parent or grandparent to care for them. Many live with elderly grandmothers who have nothing and already have trouble supporting themselves.
There are other problems related to culture that also play a factor. When women lose their husbands to AIDS (usually because of promiscuity), they are not only left without a breadwinner, the husband's family threatens the young widow in an attempt to get her and the children off the family property. Barbaric acts take place according to tribal tradition, and often the government does nothing. We have had to deal with this situation on several occasions; it has become an ongoing process with new widows we take on.
Obviously, a foreigner from the west does not catch on to what is going on at first. Not claiming that I have any expertise in this area, I can tell you when I discover there is a problem, I will do everything with the strength God has given me to intervene for these widows.
Not all reports from where we are located fit in the category of despair. God is working in this dark place in a wondrous way. Yesterday we saw the fruit first hand. At least two of the widows we met have been in the program from the beginning. They are now both self-sufficient and have their own vision to employ others who need work and also to train up other widows to show them how God works through human hands.
What is even more exciting is to hear the testimonies of the widows from their own mouths. They were destitute and without hope. They heard the gospel through one of our leaders and were introduced into the Bryce Homes Program. They saw their prayers answered in real time. God is very real to them. For them, prayer is talking to God face to face, unlike the way many pray in other places by manipulating a spiritual environment through eastern meditative practices. These young ladies and grandmothers, who have suffered so much loss, know God. No wonder James tells us "real religion" is manifest when widows and orphans are involved.
It is also apparent here as it has been in other countries that the success of the Bryce Homes Program depends on the people God connects us with on the ground who remain behind when we leave. Coming once a year and visiting each home for a small part of an afternoon is good, but not good enough. Our team here in Kenya plays a vital role. They know the culture. They know the needs. They do the heavy lifting. We come and reap the joy of seeing lives that are changed.
At this point, it is time to stop, eat breakfast, and prepare for the day. Last night the band on the street made a lot of noise until 3 AM. I always get up at 4 AM so you can calculate for yourself how long I slept. When I say noise, that is exactly what I meant to say. Even though I am slightly deaf, the constant repetition of bellowing drums cannot be softened even by two pillows, a stack of clothes, and a few books propped on one ear while the other one is buried in the mattress. As a side note, even with all that weight on one side of my head, the mattress did not give an inch.
Tomorrow we will send another report. We will be busy. I hope I can stay awake when I am speaking to a group of local government leaders. By the way, I have been asked to present an encouraging message from the Bible. This would not happen in Canada or the United States – at least as far as I know.