Dear Beloved,
Greetings in his holy name! I hope you all are doing good and safe as we are here under His grace.
Thanks
First and foremost, we praise God for His grace for allowing us to be a part of the ministry (UTT) for ten years. God is so good to our family in every circumstance that we have come across with all those experiences and so we can enjoy His blessings in all areas of our need for one's life.
Our present situation
Our new rent since March 8 is small but we can adjust the rooms and we get enough water and so far convenient, we praise God for that also. We were safe from the Coronavirus infection. Our government has extended its covid-19 preventive measures from June 30 to July 15, we don't know how long it will last still. We take advantage of this covid-19 lockdown and quarantine period to have Sunday worship service at home though some of our kids are sometimes away to visit their native place.
Daily life
For now three of them learn music in piano and keyboard as Ruth is also teaching outside of the piano centre. And three of them also learn computer basic courses. And we have them all get by-heart the Bible verses this time on Psalms 119 of the whole chapter (Verses 1-176). As we have time I also teach them English grammar and some other Bible stories lessons.
Prayer request;
1. Please give thanks with us and praise God for His uncountable blessings that we do not deserve.
2. Please pray for us that we all might grow in the knowledge of the Truth and to serve Him faithfully for long life to bear fruits for His kingdom sake.
3. Please pray with us for our present need of computer laptops.
4. Please continue to pray for our people whose souls are perishing
5. Please pray for the government's rule and administration as there has always been fighting between the Myanmar and Arakan armies this causes so many people and families of Paletwa (Southern Chin) have been wandering, many have lost their parents, and siblings.
God bless all for His glory.
Yours in Him,
Habakkuk.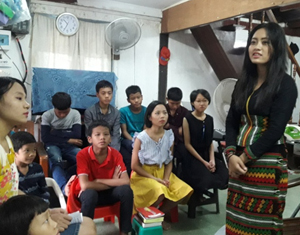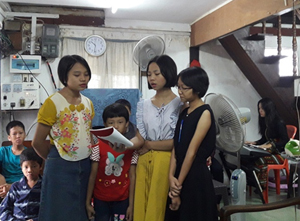 Today Habakkuk and I visited to Bryce Home 1. The younger children recited Scripture portion and sang some songs with actions. One by one they shared and count the goodness of God, protection to be in good healthy, and guidance that they experienced in Covid 19 period.
Actually, Myanmar authority banned on mass gathering, some believers come regularly on every Sunday. That's why could continue to have Sunday worship.
We pray together and then we take a group picture and came back joyfully.
In Christ,
Elisha