In this 9th month of the year, the Bryce Homes Kenya Board is glad to update you on the ongoing Bryce Homes Kenya program. As always, our duty is to serve and our plan for the month involved the following:
Visiting every Bryce Home

Interviewing the Bryce Homes children to find out how they are doing

Follow up activity on the Small Business Opportunity program
A. Visiting every Bryce Home
As we reached every home, we witnessed a lot of improvements from presentation in the house, care for the children and maintenance of household equipment to establishment of kitchen gardens. However, it is worth noting that we experienced a few areas which call for some attention either from the individual Bryce Homes, Bryce Home board in Kenya or any concerned reader (if possible). We realized that a few of the Bryce Homes have experienced some wear on equipment such as the gutters which collect rain water, pit latrine repair and application of disinfectants.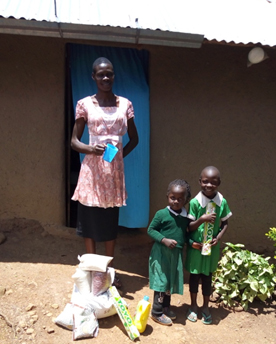 These two children are indeed a blessing to their happy mother, Pesila, who is
BH #38. Bryce Home – Kenya now focuses more on children support.
B. Interviewing Bryce Home Children to find out how they are doing
We found that the majority of the Bryce Home children are now grown, compared to when the program began. For instance, those who are in lower grade school are now in high schools and more are graduating this year from lower grade to high school. There is a great improvement in their lives compared to other children in the neighborhood which are not in the Bryce Home program. To be precise, they have improved holistically, that is nutritionally, hygienically, physically and spiritually. We are confident that these children are going to become a unique generation that is favored and well equipped for the future sustainability of their community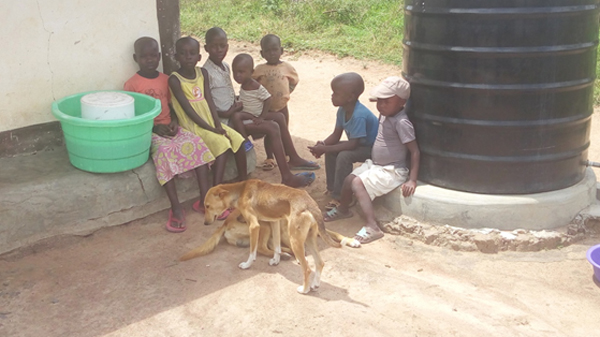 These children are in the neighborhood of Bryce Home Number 11. Every
month when we visit, they never miss being there..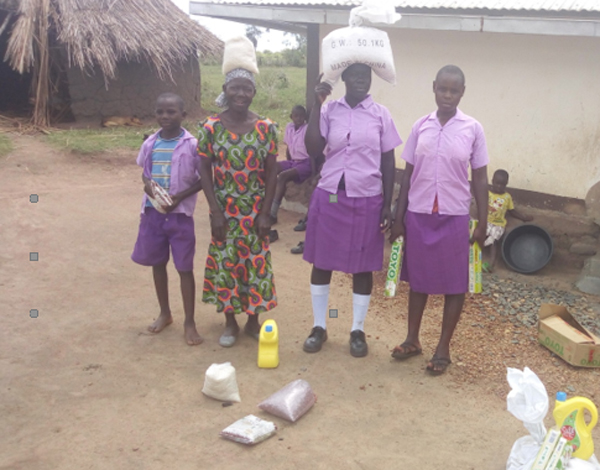 It is such happy faces full of hope in Bryce Homes that attract their neighbors
in need to be part of this program.
C. Follow up on the SBO program
We took our time to do a follow up on the four women / widows who recently benefited from the seed capital to establish their Small Businesses. One case which is really inspiring is that of Elida who has stocked a number of sacks of maize which she buys wholesale at a relatively cheaper price and sells retail right from her door step to earn some profit. Her business is a game changer and we have encouraged the rest of the Bryce Homes widows to emulate. I would not conclude without mentioning Josephine who has also experienced some success in the gospel music industry as she produces more DVD's for sale and it has began working out so well. Irene and Maren are equally doing well in their SBO's.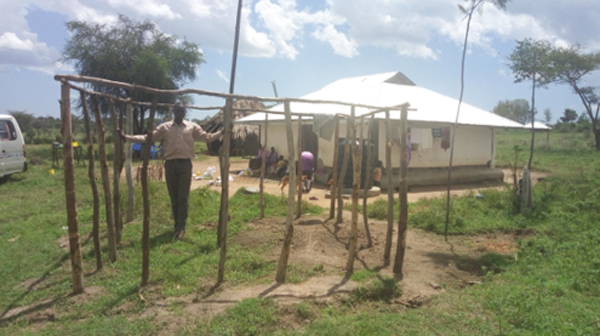 This structure of a house is being built by Lewnida to keep her goats and in need to be part of this program.
sheep. This is going to be a boost in her SBO Program.
In general, our board (Bryce Home – Kenya), is pleased with the achievement / growth experienced in this program. As we speak, the rains are here and almost every Bryce Home is now empowered to do some planting. In future, we may recommend to our regular concerned readers to keenly look into such sustainability aspects and come up with a way to motivate such worthwhile programs in the Bryce Homes. We continually pray for the future prosperity of our plans for these wonderful children of God.