As a Bryce Home family in Kenya, we had a noble duty this month as we took good time to visit three elderly widows in the program. These included;
1. Benedeta
2. Rusalina
3. Syprina (Pastor Achilla's mother)
We noted that the mentioned widows are of 80 years and above and the Lord has continued to give them strength to move on. They have also been a role model to many widows in this program and beyond.
During the visits, all Bryce Homes in their neighborhoods had an opportunity to give out gifts since it is more blessing to give than to receive. This is the day we came to realize that fellowship is of great value to the elderly. The fact that grey hair is wisdom was manifested when each of them took time to address us. The lessons from each of them were as follows:
1. Benedeta; Her message to us revolved around love for one another as enshrined in the Holy Bible. She says that Bryce Home Program, since it reached them in Kenya, it has practically manifested how far love for neighbors can go. That love knows no physical boundaries like mountains and oceans. This is due to the fact that God has touched the hearts of donors overseas to reach them in their humble villages in Kenya.
2. Rusalina; She emphasized the unique nature of God in working in ways that we cannot understand. She says that through Bryce Home Program, she has for the first time in life been able to acquire foodstuff in bulk. That even before she was widowed and was privileged to be married to a husband with basic employment, the favor that God has done to her at old age is worthy of His honor and praise.
3. Syprina; Since she is the oldest of all, her massage was very simple: Let us fear God for He is the King of kings and the Lord of lord.
We also had a wonderful session of teaching. God ministered to the groups of Bryce Homes through Pam who is a missionary in Kenya. Her teachings revolved around involvement of God in everything we do. Since most of the Bryce Homes have been struggling with their SBOs, this teaching was quite timely as some Bryce Homes rehearsing to start poultry keeping as SBOs
Benedeta, seated, is accompanied by younger widows for a grouped
photo when they visited her.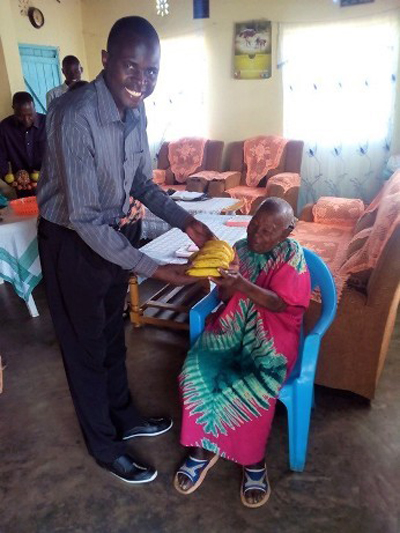 Pastor Lawrence presents a gift (fruits) to Pastor Achilla's mother.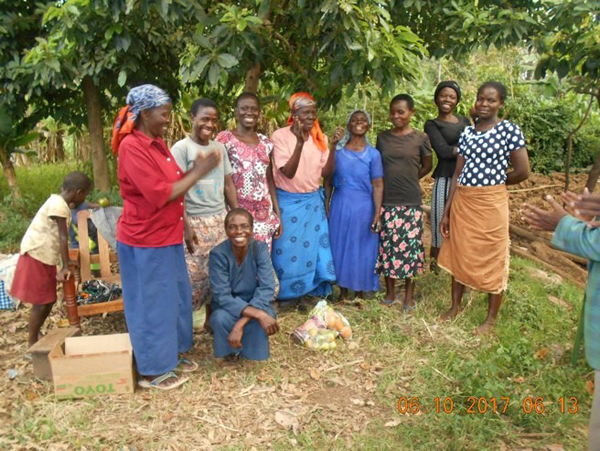 Rusalina, fourth left (standing) leads in a chorus of thanksgiving in the
accompaniment of other Bryce Home widows.