To our esteemed readers, the Bryce Home Board in Kenya would like to update you on the recent developments from our side over the last two months. In May, we experienced heavy rains that caused floods and the badly spoiled Murom roads developed into gullies. Almost all the Bryce Homes became inaccessible hence we had no alternative but to postpone the visits.
As soon as the rains calmed, there was a great scare in Kenya regarding contraband sugar that suspiciously contained poisonous metals. We had to hold on until the menace was sorted out and that is when we reached out to the Bryce Homes with food. We are very humbled as we regret the delays caused. We promise to remain to the task and give timely updates and reports accordingly.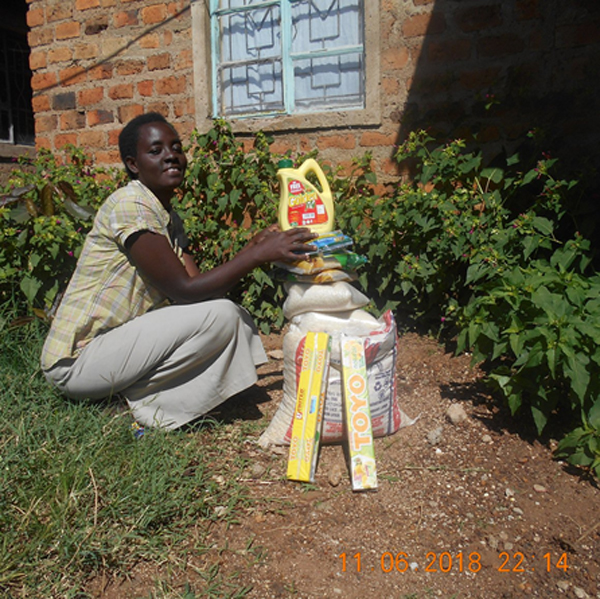 Molly Bryce Home 29 receiving Gifts
As the Lord takes us from one month to another, we remain dedicated in the noble duty of ensuring all the Bryce Homes are reached with foodstuff accordingly. In addition, we have remained steadfast in the provision of free guidance and counseling to ensure healthy living. Spiritual nourishment has also been given a place as the thirst for the sound doctrine has been realized continuously.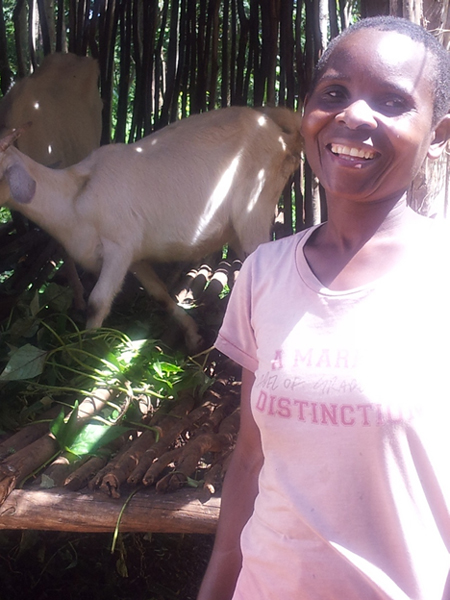 Millicent, Bryce Home 43, poses besides her Small Business program in great joy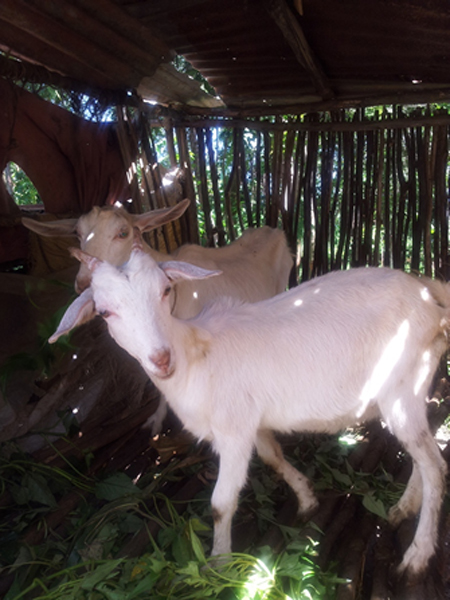 Dairy Goats
During the month of May, we decided to put our focus on the Small Business Opportunities (SBOs) and a lot of progress were recorded. In this area, some Bryce Homes have tried to rear chickens, goats and some cows. Others have established small stores where they sell vegetables while a few process ghee locally. Through these SBOs, they have responsibly used the proceeds from sales to supplement what Bryce Home provides to them every month.
Lately, there is a growing ministry among the Bryce Homes in which they reach out to other needy persons and the sick in the society. This they do in groups and it is already taking shape. The Board in Kenya is providing them with the necessary support for the proliferation of their activities.
In the area of the foodstuff and regular support, the Bryce Homes continue to express their sincere thanksgiving. We continue to evaluate the impact of proper nutrition in the entire Bryce Homes community and this has spurred our Board to start a Gardening Program in which vegetables of different varieties are planted and provided to every Bryce Home on an occasional basis. This includes cucumbers, lettuce, pumpkins, and coriander among others.
We have realized a lot of improvements in the lives of children under Bryce Homes. This has had a very positive impact. The widows now experience peace with their children who initially gave them problems when they encroached into their neighbors' properties in search for food.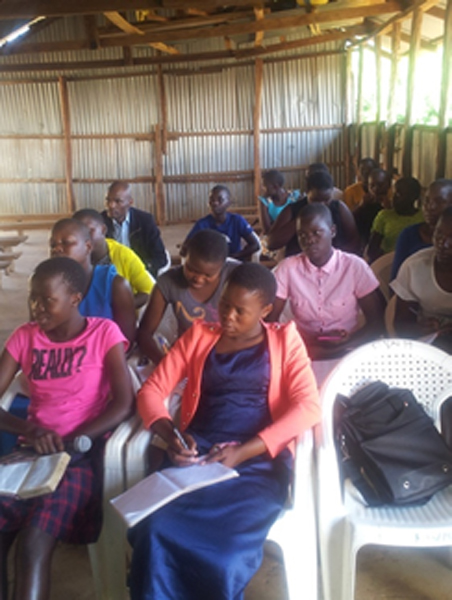 Bryce Homes children in a training session. There is a great improvement in their lives.