As the year 2018 began, the Bryce-Homes Kenya ushered in the seventh year under this program. Ranging from durable shelters to variety of foodstuff, long-lasting water tanks for harvesting rain water to provision of multivitamins, these once needy families have transformed into a haven of hope. The birth of this program came at a time when their majority were at a brink of death because of uncurable diseases. Their lives have since improved and have continued with life normally. Particular widows (names withheld) who were infected with HIV/AIDS miraculously got into this program while on their deathbeds. Today, as we speak, it is not easy to tell any difference between them and healthy people in the society.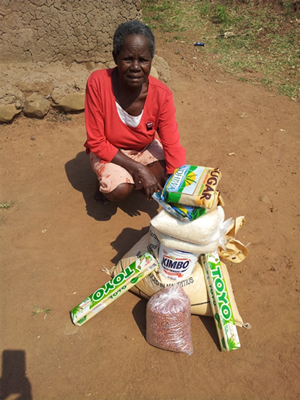 Rusalina displays what she has received as support for January. In her old age, she is not able to toil for her daily bread hence the reason why she has been chosen as a Bryce-Home. We pray for more support for the elderly widows.
Bryce Home Program, being concerned with the posterity and sustainability of the households, did not just concentrate on feeding the hungry but also reached out to school-going girls, especially in colleges. Through this, three girls namely; Lydia, Christine and Laura have consistently benefited since their First and part of Second Years of studies. They will begin their Third Years from May this year. If not the unwavering support these young women have received so far, some of them would have been engulfed by the spirit of hopelessness today.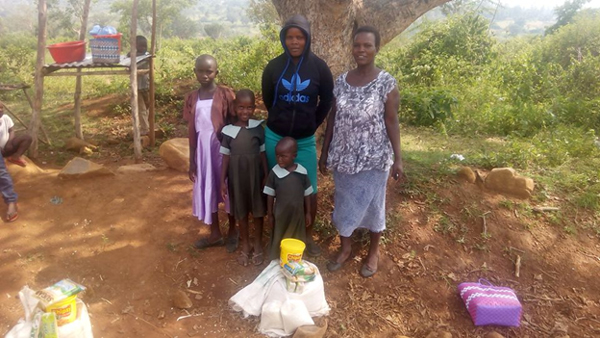 The eldest daughter of Mereza (in black top) is set to begin her studies in the High School. Such are the future hope for their widowed mothers.
Another aspect of this program that is key for its future sustainability is the establishment of Small Business Opportunities (SBOs). This involves young and healthy widows being introduced into Small and Micro Enterprises that can enable them earn a living in the near future. So far, with the guidance of the Bryce–Home Board in Kenya, some of the widows such as Finter (BH# 13) and Lewnida (BH# 11) have successfully proved that the SBO idea is workable. The two widows have, from the farming of potatoes and sale of sisal fibres respectively, been able to save the proceeds and purchase cows. These cows in turn produce milk which they sell on a daily basis.

As time goes by, by the grace of God, we will recommend that the Bryce –Home Program identify and nurture at least one child from each Bryce-Home and support their education. This would be a lasting solution to families whose only breadwinners are already infected with diseases and are desperate for their future.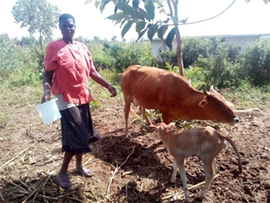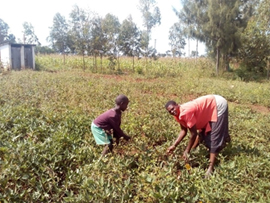 Through SBO program courtesy of Bryce-Home program, Finter has been able to produce potatoes that she sold and bought a heifer. Now it has calved and the future is good for BH#13
As we all know that human life is incomplete without God, therefore we have emphasized spiritual nourishment for every Bryce-Home. At least each Bryce-Home has been attached to a Bible believing Church where they are taught the Sound Christian Doctrine. In the Churches, children are taught in the Sunday School ministry and are given the much needed attention.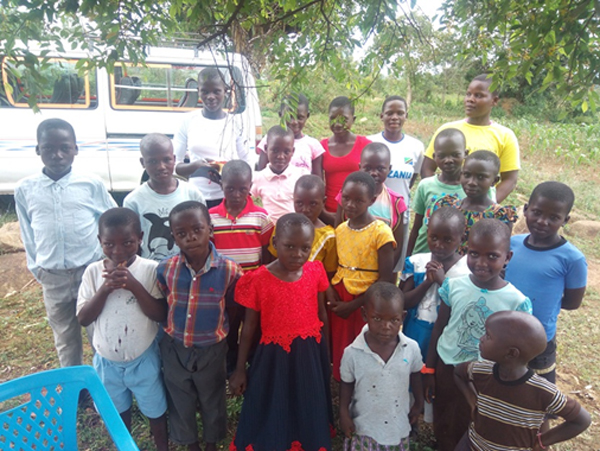 Without Bryce-Home program, these children would not have had an opportunity to be happy as portrayed. The gain a lot spiritually through Sunday School Ministry
In conclusion, the testimonies from the existing 37 Bryce-Homes are touching. This gives the befitting glory to the Lord God Almighty. We therefore encourage the readers of these reports to continue with the noble duty of serving such humble and lowly children of God. As the Board in charge of these lowly families in Kenya, we will always be there when duty calls to serve these children of God.
Thank you all and may God bless all.