Following is the Bryce Homes Kenya August 2019 report. We are excited to share about the growth and development of this program that was established November 2011. We want to extend greetings to all our readers from our larger Bryce Homes Kenya family. As we have reported in the past, every Bryce Home is a developing story. We are very grateful to our supporters who have been faithful to provide for our basic needs. It is important to note that Bryce Homes Kenya currently oversees 33 separate homes. These homes, on an average, consist of four children who are mainly partial orphans. In cases where there are total orphans, grandmothers, who are also widows, take charge of the homes. Through the provisions that supporters give every month, we have always been able to supply food for these homes. This means they depend on this program for their daily bread and survival.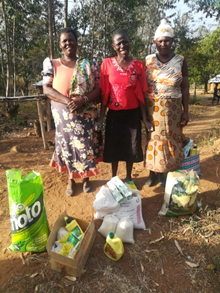 Widows come together in edifying fellowship
The widows whose living standards were extremely difficult in the past, continue to exhibit growth and progress both physically and spiritually. Following are three examples.
Agnes
In terms of orderliness and responsibility, Agnes rates very high. Her excellent leadership has developed while in this program. Since she is one of the original widows blessed to be part of the Bryce Homes program from the onset, she has been able to learn a lot and share this knowledge with others. Just like Agnes, these widows develop these virtues through the Christian fellowship they experience with others in the program. Thank the Lord for the good work done by the pastors in charge who provide guidance. They have worked hard to study the Word of God and teach it correctly for the benefit of these highly valued families.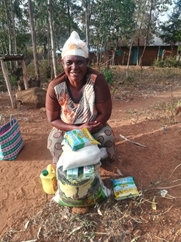 Agnes displays a smile that speaks blessings.
Leah
Leah is another success story when it comes to caring for the children (partial orphans). Although we are aware of what it takes to mold children to live a God-fearing life, it has not been easy here in Kenya. Some children develop irresponsible behavior while others have even become juvenile delinquents. Quite often we have been called to council children who are disrespectful to their widowed mothers. Leah, one of our Bryce Home widows has accompanied us when we have visited these homes and provided council to the families with positive results. God blessed Leah with a soothing voice and a character laced with love. To be precise, Leah is a good counselor for children, especially the adolescents.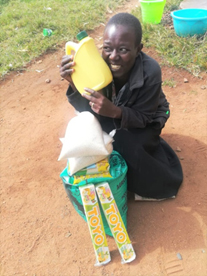 Widow Leah
Bernadette
Of all the elderly widows in this program, Bernadette has been very encouraging. She is a grandmother who is over 80 years old. In her old age, she never ceases to amaze us. Surely, she has brought honor to her home. When we visited her, we were so surprised to see her give direction to her grandchildren as well as her daughter in-law instructing them to do certain tasks. Since she is now too old to do much on her own, it is wonderful to learn that she remains upright in mind to ensure things work out for her family.

Bernadette is so happy to be in Bryce Homes Program.

A good number of the homes have benefited from shelter upgrading. This program ensured that they have improved houses fitted with water reservoirs and wood stoves. Also provided were the pit latrines with bathrooms. These initiatives that are so remarkable have given them a new lease on life. We are currently encouraging every young widow to begin a Small Business Opportunity to help provide for their families. We are thankful for this generous support for the SBOs and pray that it will continue.

Pastor Lucasí family
Lucas pastors a church in a community where several of our Bryce Homes are located. Services are held several times a week and his teaching has influenced many lives for Jesus Christ. The house behind the family in this photo is one built by the Bryce Homes Program.
As we brace for economic hard times here in Kenya, we pray that the Almighty God will continue to sustain the Bryce Homes. Our next bulletin will focus on the children.