In This Issue






Links Of Further Interest






Quick Links










The Weekly News In Review Newsletter is a compilation of the news articles that have appeared on the Understand The Times website during the previous week.



October 14 - Call for Muslim-Christian Unity 'Very Encouraging', Says Vatican Interfaith Head
Article: Ecumenical Movement - Other Religions Uniting With Roman Catholics
A top Vatican official in charge of relations with Islam said a recent letter from Muslim scholars to Pope Benedict XVI and other global Christian leaders is "very interesting" and "very encouraging."
"I would say that this represents a very encouraging sign because it shows that good will and dialogue are capable of overcoming prejudices," Cardinal Jean-Louis Tauran said Friday, according to The Associated Press.
Using quotations from the Bible and the Koran to support their message, the authors of the letter argued that the most fundamental tenets of Islam and Christianity are identical: love of one (and the same) God, and love of one's neighbor.
Shortly after news of the letter was released, Anglican Archbishop Rowan Williams, who is among the letter's recipients, responded, saying "[t]he call to respect, peace and goodwill should now be taken up by Christians and Muslims at all levels and in all countries."
In addition to Benedict and Williams, Thursday's letter also addressed Ecumenical Patriarch Bartholomeos I, "first among equals" in the Eastern Orthodox Communion; Dr. Samuel Kobia, general secretary of the World Council of Churches; as well as leaders of world groupings of Baptist, Lutheran, Methodist and Reformed Christians.




October - 15 Fatima's message is that following Gospel is path to peace, pope says
Article: Roman Catholic Church And The Last Days
FATIMA, Portugal (CNS) -- The heart of the message of Fatima is that following the Gospel is the path to authentic peace, Pope Benedict XVI said in a message broadcast Oct. 14 at the Marian shrine.

Marking the 90th anniversary of the last apparition of Our Lady of Fatima to three young children, Pope Benedict said the shrine continues to echo Mary's call to "her children to live their baptismal consecration in every moment of their existence."

"She is the refuge and the path that leads to God," he told thousands of pilgrims at the shrine for an anniversary Mass and the dedication of a new shrine church.

During his midday Angelus prayer at the Vatican, the pope asked Mary to give "all Christians the gift of true conversion so that the perennial Gospel message, which shows humanity the path to authentic peace, would be proclaimed and witnessed to with coherence and fidelity."

"Our Lady did not ask to be admired, invoked or venerated," he said. "She asked people to entrust themselves to her. She asked that the hearts of individuals, nations and all humanity would be consecrated to her."

As Mary's choice of appearing at Fatima to three illiterate children demonstrates, "heaven requires the effort, even seemingly insignificant, of the most humble servants," he said.




October 14 - The faithful remember miracle of Fatima
Article: Signs And Wonders
With tears streaming down her cheeks, Victoria Dumlao spoke of the day last month when she and others believe they
saw an image of Jesus and his mother Mary in the sky above a Catholic shrine in Warren County.
"The sky, it showed us, Jesus, the Eucharist," she said. "To see is to believe."
So, fueled by curiosity, spirituality and a hope they, too, would have a holy experience, the faithful more than 3,000 -- came by bus and church van, by bicycle and car from as far away as California to celebrate Mass and listen to several priests talk about the sightings.
"Just as everyone who sought refuge on Noah's ark, so, too, all those who find refuge in Mary will be saved from damnation and eternal death," Rev. Ronan Murphy preached. "Prayer is the most powerful force in the universe."
Shortly before Mass began, parishioner Jacinta Velasquez of Jersey City purchased a statue of Jacinta Marto, after whom Velasquez said she was named. "It's not only a souvenir from today, but something to remind me of miracles," she said.
"I don't need people to believe that I saw," she said. "I know that I saw and when you have the faith everything that you need will be provided."




October 16 - Believers See The Holy Father In Bonfire Flames
Article: Signs And Wonders
A fiery figure in flames is being hailed as the latest miracle of Pope John Paul II.
The image is said by many to be that of the late Holy Father with his right hand raised in a blessing. It appeared during a commemoration ceremony to mark his death.
Details of the figure in the flames have appeared on the Vatican News Service - a TV station which specialises in religious news broadcasts. Vatican News Service director father Jarek Cielecki, a Polish priest and close friend of the late Pope John Paul II, described the event after attending a service at Beskid Zywiecki, close to the Holy Father's birthplace at Wadowice, in southern Poland.
The pictures are being broadcast continuously on Italian TV and also posted on religious websites as links to the Polish religious website www.korazym.org.
''I was so happy with the picture that I showed it to our local bishop, who said that Pope John Paul had made many pilgrimages during his life and he was still making them in death.''
Father Cielecki said: ''You can see the image of a person in the flames and I think it is the servant of God, Pope John Paul II.''




October 15 - Osteen Reveals Keys to Becoming a 'Better You'
Article: Apostasy
Following the huge success of his first published work,
Your Best Life Now: 7 Steps to Living at your Full Potential
, the bestselling author has on shelves 3 million copies of his latest work - the highest first
printing
for a hardcover book in history of publishing house Simon & Schuster. Osteen is currently on a national media tour.
"I don't go in and give you a hundred scriptures in each chapter," said Osteen, answering critics about his book being another self-help book.
"[B]ut it's the principles of God's words," he added, according to Houston's ABC 13.
Like Osteen's first book, Become a Better You is mainly taken from the megachurch pastor's weekly sermons which are positive messages without the traditional teachings of suffering or what critics call the prosperity gospel. Osteen believes his newest work is better than his first, which sold about 5 million copies.
Become a Better You features "7 keys to improving your life every day." Although his first book presented steps to living "Your Best Life Now," he said, "it is important that you do not become stagnant."
"God always wants to increase us, to do more in and through us. He always wants to take us deeper into self-discovery and then wants to raise us to a higher level of living," he writes in his newest book.




October 16 - Bush to Meet With Dalai Lama Today
Article: One World Religion.
WASHINGTON (AP) - President Bush and the Dalai Lama will meet today with a ceremony planned for tomorrow to award the spiritual leader the Congressional Gold Medal. China is warning that the events are bad for U.S.-Chinese ties.
The Dalai Lama is the exiled spiritual leader of Tibet's Buddhists. While the Dalai Lama is lauded in much of the world as a figure of moral authority, Beijing reviles the 1989 Nobel Peace Prize laureate and claims he seeks to destroy China's sovereignty by pushing for independence for Tibet, where the Dalai Lama is considered a god-king.
Bush supports the Dalai Lama's visit, although the White House tried to ameliorate Chinese anger before the Tibetan priest's arrival. Bush told Chinese President Hu Jintao at a recent meeting that he would be welcoming the spiritual leader to Washington.
"We would hope that the Chinese leader would get to know the Dalai Lama as the president sees him - as a spiritual leader and someone who wants peace," she said.




October 17- Putin warns US against military action in Iran
Article: Wars And Rumors Of Wars
Russia's president, Vladimir Putin, gave Iran's leaders a public morale boost in their nuclear dispute with the west yesterday by issuing a veiled warning to the US not to resort to military strikes over the issue.
Mr Putin used a historic visit to Tehran - the first by a Kremlin leader since Stalin in 1943 - to amplify his opposition to an American attack against Iran. "We should not even think of making use of force in this region," he told a five- nation summit meeting of Caspian Sea nations.
In a coup for Tehran's leadership, he invited the Iranian president, Mahmoud Ahmadinejad, to Moscow for talks. Mr Putin called on the five countries - Azerbaijan, Kazakhstan, Turkmenistan, Russia and Iran - not to allow an outside power to use their territories to launch an attack on another member of the group.
Despite the meeting's failure to satisfy Iranian demands for a fairer allocation, Mr Ahmadinejad praised the communique as "very strong" after it gave explicit backing to Iran's nuclear programme. It declared that all signatory nations to the nuclear non-proliferation treaty - including Iran - can "carry out research and can use nuclear energy for peaceful means without discrimination". The wording supported Iran's claim that it is being singled out unfairly over its nuclear ambitions, which it insists are peaceful.




October 16 - Aiming to Stoke Eucharistic Fervor in Canada
Article: Roman Catholic Church And The Last Days
The faithful will have the opportunity to rediscover the central place of the Blessed Sacrament in Christian life, said the apostolic nuncio to Canada about the upcoming Eucharistic Congress in Quebec.

Cardinal Marc Ouellet, the archbishop of Quebec, addressed the more than 80 bishops for the last time before the International Eucharistic Congress to be held in June 2008. He outlined the preparations for the event that is expected to involve close to 15,000 participants.

Also in his opening remarks about the congress, Archbishop Ventura said: "The celebrations that surround the 400th anniversary of Quebec City, and consequently the arrival of the Catholic faith to this part of the world, enrich themselves through openness to the spiritual dimension.

"The faithful will thus have another opportunity to rediscover the central place of the Eucharist in Christian life and the fundamental role that it has played and can play again in the building of a better society."




NEWS ALERT - October 17 - Dalai Lama's All Smiles as He Receives Congressional Gold Medal
Article: One World Religion
Comment from Understand The Times - October 17
Understand The Times sends out news alerts to inform our newsletter recipients about current events that line up Bible Prophecy. This news alert is somewhat different. Today I experienced a news event first hand while in Washington D.C. Then I had one of my researchers find the news event online to post as an alert.
I am writing this from the Washington Dulles Airport on my way to London, England. I had a one day layover in Washington, spending some time with my wife Myrna while she was attending a work related conference. This morning I went with a friend to see the Smithsonian museum located at the Washington Mall. While there we walked towards the House of Congress where a large crowd was assembling. When I asked a security guard what was going on I was told that the Dalai Lama was soon to appear following a presentation of a Congressional award.
The sound of Tibetan chanting and whaling over the loud speakers confirmed that a ceremony was about to take place. A large sign posted the following message: "There can be no world peace without first obtaining inner peace."
While the secular media would never report what I am about to state, my perception is that this event has paramount significance in the spiritual realm. Last week a so-called "born-again" President stated that all religions pray to the same God. This week in front of the United States House of Congress, Tibetan monks were chanting to the gods and a "man of peace" who some say is God was being honored.
America is on the precipice of an unprecedented disaster and a spiritual judgment. A country supposedly founded on Christian principles has now openly abandoned the God of the Bible and is headed towards Babylonism.
Worse yet, people who profess to be "born-again" Christians, don't understand the significance of what is happening from a biblical perspective. The world is being prepared for a false peace and a false Christ. The Roman Catholic Church will soon have the solution to bring about this peace plan that will be ushered in by the Queen of Peace ("Mary") and her son the (Eucharistic Christ). It is amazing when governments of the world begin to bring this about.
President Bush and the leaders of Congress put aside their differences Wednesday to bestow the nation's highest civilian honor upon the Dalai Lama, calling the exiled Tibetan religious leader a "warrior for peace."
The Dalai Lama said he was "deeply touched" by his receipt of the Congressional Gold Medal, which he received in an ornate ceremony under the U.S. Capitol dome - but not before having a hearty laugh over his inability to speak perfect English.
"It is a great honor for me to receive the Congressional Gold Medal. This ... will bring tremendous joy and encouragement to the Tibetan people, for whom I have a special responsibility," the Dalai Lama said, reading from his prepared remarks.




October 17 - Bush warns of World War III if Iran goes nuclear
Article: Wars And Rumors Of Wars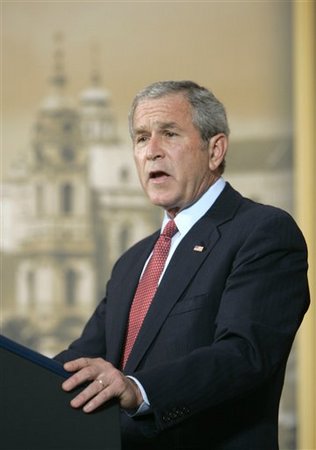 US President George W. Bush said Wednesday that he had warned world leaders they must prevent Iran from getting nuclear weapons "if you're interested in avoiding World War III."

"We've got a leader in Iran who has announced that he wants to destroy Israel," Bush said at a White House press conference after Russia cautioned against military action against Tehran's supect atomic program.

"So I've told people that, if you're interested in avoiding World War III, it seems like you ought to be interested in preventing them from having the knowledge necessary to make a nuclear weapon," said Bush.




October 17 - Rick Warren Launches New Plan to Multiply Impact Worldwide
Article: Misc.
Saddleback Church, one of the largest churches in the nation, has launched a new global vision to multiply impact on the local and international levels. Within the next three years, megachurch in the Lake Forest, Calif., aims to launch nine new off-site campuses in addition to its San Clemente campus, which meets every weekend at the local high school, and step up its global P.E.A.C.E. plan. By 2010, Saddleback hopes to see 10,000 more lives changed and baptized.
"One of the most important words in the Christian life [is] 'go,'" said Rick Warren, founding and senior pastor of Saddleback, during his "Multiplying Our Impact" sermon series last month. "The Christian life is a journey and over and over again God says you are to go. We are not a passive faith; you are a 'going' faith."
"What we have seen is that many churches that see the lostness that surrounds them are willing to embrace new modern methodologies to communicate the unchanging message of the hope of Jesus," said McGill.
Now, Warren is building a PEACE Coalition of partners that includes the government and NGOs and businesses in addition to churches. The "P" in PEACE 2.0 now stands for "Promote reconciliation" while churches will continue to focus on planting churches.
Why? Because it's the responsibility of the church to do it, said Warren. And
Saddleback wants to be part of God's plan of exposing every tribe, language, people and nation to the gospel.




October 18 - China summons U.S. envoy over Dalai Lama award
Article: Misc.
BEIJING (Reuters) - China slammed the United States on Thursday for awarding the
Dalai Lama
one of its highest honors and summoned the U.S. ambassador in
Beijing
to complain, saying its actions had "gravely undermined" relations.
China, which considers the Dalai Lama a separatist, had already denounced the award as a "farce" that would hurt relations between Beijing and Washington.
"The move of the United States is a blatant interference in China's internal affairs, hurts the feelings of the Chinese people and has gravely undermined relations between China and the United States," Foreign Ministry spokesman Liu Jianchao told a news conference.
"We urge the United States to take concrete steps to remove the terrible impact of its erroneous actions."
The United States is the latest country after Germany and Australia to incur the wrath of Beijing over visits this year by the Dalai Lama.




October 18 - Putin touts new nuclear weapons against US
Article:Wars And Rumors Of Wars
President Vladimir Putin has announced plans to build a new generation of nuclear weapons after accusing the United States of harbouring an "erotic" desire to invade Russia and steal its natural resources.
Delivering one of his most belligerent anti-Western tirades, Mr Putin also suggested that America and its allies had concocted a fake assassination plot to prevent him from visiting Iran this week.
Russia's already rapid rearmament would be stepped up even further, Mr Putin promised. Ambitious plans to bolster the country's nuclear arsenal - as well as its conventional military hardware - were well underway.
They include new missile systems, modernised nuclear bombers and submarines. "We have plans that are not only great, but grandiose," he boasted.
"For them, Putin is the only man who can defend us from these vicious enemies."




October 18 - Joel Osteen Converts To Mormonism?
Article: Apostasy
Larry asks Joel the question if Mitt's Mormonism would keep him from voting for him. Osteen steered fine initially saying, that what he had read demonstrated that he was a man of character. But then Osteen veered into the unforgiveable - being a theological dufus:
"I've heard him (Mitt Romney) say that he believes in Jesus as his Savior, just like I do... I hadn't studied it deeply and maybe people don't agree with me..."
He also wanted to know intensely if what Osteen said was in fact an endorsement of Mormonism.

On the technical side of things - the answer is yes. If Joel Osteen believes that he and Mitt worship the same "Jesus" then Osteen is a heretic and should never preach again at least certainly not in evangelical churches.

Which in a very small snapshot demonstrates Osteen's problem start to finish. He's a nice guy, he gives great "power of positive thinking" pep talks. But for Heaven's sake - some one please recognize that he is either willfully negligent or completely




October 18 - Mel Gibson Named 'Most Powerful Christian' in Hollywood
Article: Apostasy
Mel Gibson has been named the "most powerful Christian" in Hollywood by the multi-denominational website Beliefnet.
American filmmaker and actor Mel Gibson shares a laugh with the audience at a panel discussion about the green challenge in businesses during the Forbes Global CEO Conference, Tuesday Sept. 11, 2007, in Singapore. The director of hit movie "Passion of the Christ," who is Catholic, topped the Beliefnet Power Dozen list of Christians that "have the clout to choose their career direction, while keeping their faith and even injecting it into their work in subtle or not-so-subtle ways."
Many attribute Gibson's blockbuster movie, which aimed at providing an authentic portrayal of Jesus Christ's crucifixion and even featured Hebrew and Aramaic languages, as the spark that helped Hollywood re- discover the Christian and faith market.
Furthermore, Gibson has also financed the building of a Roman Catholic church in California.




October 18 - Rice Prays for Mideast Peace at Jesus' Birthplace
Article: One World Religion
Note: Rice believes in "replacement theology" - that the church is Israel and that the promises for Israel are for the church not Israel.
"Being here at the birthplace of my Lord and Savior, Jesus Christ, has been a very special and moving experience," said Rice, the daughter and granddaughter of Presbyterian ministers, after the tour, according to The Associated Press. "It is also, I think, a personal reminder that the prince of peace is still with us."
She highlighted that the three largest monotheistic religions of the Holy Land - Judaism, Christianity and Islam - have the opportunity to "overcome differences, to put aside grievances, to make religion a power of healing and a power of reconciliation, rather than a power of divisions."
While, Rice did not comment on Israel's West Bank separation, she did note that she grew up in the segregated U.S. South where people turned away from violence when they felt they could get a fair chance in life.




October 18 - Harry Potter Author Reveals Books' Christian Allegory, Her Struggling F
Article: Rising Interest In The Supernatural
During a press conference at the kick-off of her "Open Book Tour" on Monday, the British author told reporters that while religious themes were always present she purposely refrained from referencing any particular religion in order to conceal the ending.
Apparently, the last installment of the series is about resurrection and life after death.
By the end of the book, Harry becomes the "Master of Death" and "resurrects" from the dead the spirits of his parents, his godfather, Sirius Black and his old teacher Remus Lupin.
Even though her books contain religious themes, the church-going author revealed that she struggles with believing in a basic Christian tenet of life after death.
"The truth is that, like Graham Greene, my faith is sometimes that my faith will return. It's something I struggle with a lot," Rowling admitted. "On any given moment if you asked me [if] I believe in life after death, I think if you polled me regularly through the week, I think I would come down on the side of yes - that I do believe in life after death. [But] it's something that I wrestle with a lot. It preoccupies me a lot, and I think that's very obvious within the books."




October 17 - Vladimir Putin pledges to complete Iranian nuclear reactor
Article: Wars And Rumors Of Wars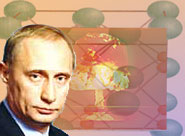 President Putin forged an alliance with Iran yesterday against any military action by the West and pledged to complete the controversial Iranian nuclear power plant at Bushehr.
Mr Putin and Mr Ahmadinejad met after the summit for private talks. State television in Tehran quoted Mr Putin as saying that Russia would continue to "assist Iran's peaceful nuclear programme".
Russia is building Iran's first atomic power plant in the port city of Bushehr. A row over Iranian payments has slowed down the work, and Mr Putin emerged from yesterday's meeting without setting a date for the $1 billion (£500 million) project.
However, Russian media later reported that Moscow had promised to complete the work on schedule. "The construction and the commission of Bushehr will be implemented in accordance with the agreed timetable," the Russian news agency Ria reported, citing the two leaders' joint statement. Mr Putin also invited Mr Ahmadinejad to Moscow.

We hope the Weekly News In Review has been a blessing to you.
In Jesus,
Roger Oakland