In This Issue






Links Of Further Interest






Quick Links










The Weekly News In Review Newsletter is a compilation of the news articles that have appeared on the Understand The Times website during the previous week.

This issue is the last for the year of 2006. We hope these articles have been informative and caused you to grow in your relationship with Jesus. You can look forward to our next issues for 2007.

We have also chosen the 15 most important articles for 2006 in our "Year In Review 2006" . You can read these by clicking on the link below:

http://www.understandthetimes.org/yir2006.shtml



December 20 - Zawahiri vows attacks on US, slams Hamas
Article: Islam
Al-Qaeda's second in command Ayman al- Zawahiri has vowed in a videotape that his group will pursue attacks on the United States and slammed Palestinian Hamas for joining the political process.
Only jihad, or holy war, can liberate occupied Palestinian territory, not elections, Zawahiri said in the video broadcast on Qatar-based pan-Arab television Al-Jazeera Wednesday without explicitly naming the Islamist movement.
Zawahiri said Al-Qaeda, which claimed the September 11, 2001 attacks on New York and Washington, will not stop attacks on US soil as long as the United States strikes Muslims on their own land.
"If we are hit in our countries, we will not stop striking you in your country," he said.




December 14 - Pope appears to support Syrian role in Middle East
Article: Israel And The Last Days
Pope Benedict appeared to back a greater role for Syria in resolving Middle East conflicts on Thursday, putting himself at odds with Israel, the United States and France.

The Pope made his comments in an address to Syria's new ambassador to the Vatican in which the Pontiff defended Israel's right to exist within secure borders and condemned terrorism.

"The world looks especially to countries with significant influence in the Middle East in the hopeful expectation of signs of progress towards the resolution of these long-standing conflicts," the Pope told the new ambassador, Makram Obeid.

A report released last week in Washington by the Iraq Study Group recommended the United States engage Syria and Iran to bring about stability in Iraq.




December 19 - Russia Concerned Over Middle East Turmoil, Pledges Support, Putin Assures Syria's al-Assad
Article: Wars And Rumors Of Wars
Russian President Vladimir Putin has voiced concern at the turmoil in the Middle East and stressed Moscow's desire for a diplomatic role in the region, as he held talks with Syrian President Bashar al-Assad, the AFP news agency reports.

"The situation in the region remains tense. We see that the region is practically moving from one conflict to another and that cannot but concern us," Putin said at the Kremlin meeting Tuesday.

Noting that he had recently hosted Israeli Prime Minister Ehud Olmert and Lebanese Prime Minister Fuad Siniora, Putin said: "We continue in the most active way possible to participate in the Middle East peace process and continue to have contacts with all the political forces in Palestine".
Russian weapons sales to Syria were also likely to be a theme, analysts said. In an interview Monday with the official Rossiiskaya Gazeta newspaper, Syrian Vice President Faruq al-Shara hinted that Syria would like to buy more Russian weapons systems -- a trade that has angered Israel and raised eyebrows in Washington.

Kommersant said Damascus is considering buying MiG-29SMT fighter jets from Russia as well as possibly Amur-1650 submarines, Yak-130 planes and additional Pantsir-C1 air defence systems. Kommersant said Russia was looking at possibly expanding a supply base in the Syrian port of Tartus used by the Russian navy and previously the Soviet navy, with a view to turning it into a fully-fledged base and foothold in the Mediterranean for Russia's navy.




December 22 - Iran defies United Nations with pledge of 'going nuclear within weeks'
Article: Wars And Rumors Of Wars
Iran defied imminent United Nations sanctions over its nuclear program yesterday and pledged that it would become a member of the nuclear club within weeks.
After weeks of haggling between major world powers, a resolution is expected to be approved by the UN Security Council before Christmas.
"The nature of this resolution is not capable of pressuring Iran, and Iran will give an appropriate response to it," said Ali Larijani, the secretary of Iran's Supreme National Security Council, and main negotiator on atomic issues. "This behaviour will just create more problems."
Following Iran's failure to halt sensitive nuclear fuel work, the resolution is expected to ban imports and exports of materials and technology relating to uranium enrichment, reprocessing and heavy-water reactors, as well as ballistic missile delivery systems.
Iran's president, Mahmoud Ahmadinejad, yesterday reiterated a prediction that Iran will announce going nuclear in February during celebrations of the 1979 Islamic revolution against the Shah.




December 22 - New flu pandemic could kill 81 million
Article: Signs Of The Last Times
A flu virus as deadly as the one that caused the 1918 Spanish flu could kill as many as 81 million worldwide if it struck today, a new study estimates. By applying historical death rates to modern population data, the researchers calculated a death toll of 51 million to 81 million, with a median estimate of 62 million.

That's surprisingly high, said lead researcher Chris Murray of Harvard University. He did the analysis, in part, because he thought prior claims of 50 million deaths were wildly inflated.

"We expected to end up with a number between 15 and 20 million," Murray said. "It turns out we were wrong."

The new work is published in Saturday's issue of the journal The Lancet.

The 1918 flu outbreak killed at least 40 million people worldwide. But flu pandemics have varied widely in their severity. The most recent, in 1957 and 1968, were relatively mild, killing 2 million and 1 million people worldwide respectively.

To get their estimates, Murray and his colleagues examined all available death registration data from 1914 to 1923. There was sufficient information from 27 countries, including numbers from 24 U.S. states and nine provinces in India.

The researchers compared death rates during the pandemic to average death rates before and after. That revealed how much the pandemic flu contributed to death rates, a figure called excess mortality. They then applied the excess mortality data to worldwide population data from 2004.




December 24 - Rick Warren and Rupert Murdoch Merge Their Purpose Driven Lives
Article: Social Gospel
This afternoon (December 24, 2006) at 3:00 p.m. ET, Fox's David Asman will host a Fox News "exclusive" presentation titled: "
Purpose Driven Life: Can Rick Warren Change the World
?" The "exclusive" will re-air at 9:00 p.m. and 11:00 p.m. ET, and again on Christmas Day at 1:00 a.m. ET. In the show's promo, Fox promises to,
[S]how you how Pastor Warren became one of the most influential religious leaders in America and built one of the largest evangelical churches in the nation.
If you miss the show, Fox News is offering a DVD through a "special offer" posted at the link above: Purchase the "Purpose Driven Life: Can Rick Warren Change the World?" DVD for only $19.99 (plus shipping and handling) by calling (800) 933-0760 or through foxnewsshop.c om. Hurry - supplies won't last!
If you luck out there, you can buy Warren's book via the publishing house Zondervan, or you can contact Zondervan's parent company, News Corp., which, gosh darn it -- can you believe the coincidence?, just happens to be Fox's parent company too!
At the end of the Fox "exclusive," Warren, whose website is PurposeDriven.com, will invite viewers to go to ThePeacePlan. com, which is, "the response and resources website for the Saddleback Christmas Services broadcast on Fox News." At PeacePlan, viewers can, "register their spiritual decision or interest in finding a church" as PeacePlan is, "creating a 'Church Finder' list of every qualified church in our network." It says that,
Your church needs to be on that list so people in your area can find you! People who request follow-up information from the website will give us their name, email, and ZIP code. Then we'll send you the names of people in your area who are looking for a church! We're paying for this. It's free to you and other churches in our network...
If you miss the Purpose Driven special altogether, be sure to catch Fox's broadcast of Warren's Christmas service from his Saddleback church (notice Fox's logo on the homepage) in Lake Forest, California. Fox will air that on December 24 at 8:00 p.m. and 10:00 p.m. ET, and again on December 25 at 12:00 midnight ET, 10:00 a.m. ET, and 2:00 p.m. ET.
Comment: Could anything be more insidious? Nine hours of Rick Warren over a 23-hour period. News Corp. (that's News Corp.) uses Fox News to promote Warren who promotes Fox and around and around we go.
I wonder whether Warren will share the PeacePlan list with anyone. Sorry but my imagination's running wild: Warren gives "the list" to Murdoch who gives it to Karl Rove?




December 27 - Iran President sends message to Pope
Article: One World Religion
IRANIAN President Mahmoud Ahmadinejad has sent a message to Pope Benedict XVI urging greater understanding between religions, officials said today.
Foreign Minister Manouchehr Mottaki arrived in the Vatican City today to deliver in person Mr Ahmadinejad's message, his latest letter in a series of missives to world leaders, the official news agency IRNA reported.
"It is not a political letter," Ehsan Jahandideh of the Iranian president's press office said.
"President Ahmadinejad insisted in his letter on the common teachings of the prophets and the importance of establishing new political and human relations based on those teachings.
"The unjust relations that exist at the moment require the cooperation of different religions to remedy them," Mr Jahandideh quoted the letter as saying.




December 29, 2006 - Warming snaps huge ice shelf
Article: Signs Of THe Last Times
..."This is a dramatic and disturbing event. It shows that we are losing remarkable features of the Canadian North that have been in place for many thousands of years," Vincent said. "We are crossing climate thresholds, and these may signal the onset of accelerated change ahead."
< /div>




December 29, 2006 - Rick Warren Offers Inspiration for 2007
Article: Social Gospel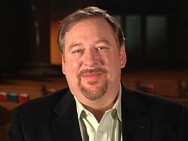 Dec. 29, 2006 - With the war in Iraq and the threat of terrorism, these are times that leave many Americans shaken.
Rick Warren, pastor of California's Saddleback Church and author of the hugely popular book "The Purpose Driven Life," visited "Good Morning America" to offer encouragement as the new year approaches.
..."I see a difference between optimism and faith, and optimism and hope. Faith is, 'Even though it looks bad, I believe it's going to be good because I believe in something greater than myself,'" he said.
Warren said the first step to calming tensions around the world in 2007 was to find peace at home.
"You're never going to have world peace until you have national peace, but you're not going to have national peace until you have peace in communities, peace in families, and peace in your heart," he said.
"I see a trend of growing generosity," he said. "Turn to God ... who can give your life meaning and purpose."




December 30 - Hajj pilgrims 'stone the devil'
Article: Islam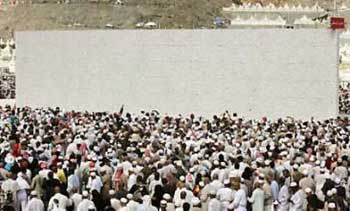 Millions of Muslim pilgrims performing the Hajj in Saudi Arabia have thrown stones at three pillars representing the devil, as part of a ritual.
New security measures have been added in an effort to control the movement of pilgrims and prevent stampedes that have killed hundreds in the past.
Saturday's ritual coincides with the Muslim festival of Eid al-Adha. The Hajj ends on Monday.
Muslims are obliged to undertake the pilgrimage at least once, if able.
An estimated 30,000 Saudi police and security forces have been deployed to marshal the crowds at this year's Hajj.
Before the pilgrims complete the Hajj they must walk seven times round the Kaaba, a cube-like building in the centre of the city's Great Mosque, in an anti-clockwise direction.
The Saudi authorities have imposed a strict quota system to try to keep the number of foreign visitors to a manageable level.
At the last Hajj, at least 345 pilgrims died in a crush during the stone-throwing ritual of the pilgrimage.
The ritual has seen many lethal stampedes, but the number of dead in January was the highest in 16 years.

We hope the Weekly News In Review has been a blessing to you.
In Jesus,
Roger Oakland