In This Issue






Links Of Further Interest










The Weekly News In Review Newsletter is a compilation of the news articles that have appeared on the Understand The Times website during the previous week.



June 27, 2006 - Israeli troops enter Gaza; Bridges hit
Article: Israel and the Last Days
GAZA CITY, Gaza Strip - Israeli tanks and troops entered southern Gaza and planes attacked three bridges and knocked out electricity to the coastal strip early Wednesday, stepping up the pressure on Palestinian militants holding captive a 19-year-old Israeli soldier.

The soldiers and tanks began taking up positions in two locations about a mile east of the Gaza town of Rafah under the cover of tank shells, according to witnesses and Palestinian security officials. Palestinians dug in behind walls and sand embankments, bracing for a major Israeli offensive.

...Israel said only freedom for the captive soldier, Cpl. Gilad Shalit, could defuse the crisis, not a political agreement.

The Israeli military said in a statement that the object of the attacks on the bridges was "to impair the ability of the terrorists to transfer the kidnapped soldier." Knocking down the bridges cut Gaza in two, Palestinian security officials said.

...Shalit's abduction Sunday by Hamas' military wing and two other Hamas-linked groups has threatened to turn already devastated relations between Israel and the Hamas-led government into an all-out war.





June 27, 2006 - Glaciers are melting at their fastest rate for 5,000 years
Article: Signs of the Last Times
By Steve Connor, Science Editor
Published: 27 June 2006
Mountain glaciers are melting faster now than at any time in the past 5,000 years because of an unprecedented period of global warming, a study has found.

Ice cores taken from mountains as far apart as the Andes in South America and the Himalayas in Asia have revealed how climate change is leading to a full-scale retreat of the world's tropical glaciers.

Scientists have warned that human activities over the past 100 years may have nudged the global climate beyond a critical threshold which could see most of the highest ice caps disappearing within the near future. Melting glaciers in South America and Asia not only contribute to rising sea levels, they are also vital sources of freshwater for many millions of people who live within their range at lower altitudes, the scientists said.

The scientists, led by Lonnie Thompson of Ohio State University, present three lines of evidence pointing to a dramatic melting of glaciers in both the Andes and the Himalayas: a change in the chemical isotopes of the ice cores, the widespread retreat of glaciers and the uncovering of frozen plants that had been buried for thousands of years.




June 29, 2006 - United Church of Canada's Toronto branch to unveil boycott of Israeli products
Article: Israel and the Last Days
The United Church of Canada's Toronto branch was set to unveil Wednesday a boycott of Israeli products and companies doing business with its military to end what it calls the illegal occupation of Palestinian lands, the Toronto Star reported.

The move comes on the heels of a similar controversial move by the Ontario wing of the Canadian Union of Public Employees, which last month voted to support an international boycott campaign against Israel to protest its treatment of Palestinian refugees.

We want to commend that position," Frances Combs, co-chair of the Toronto Conference of the United Church of Canada's task force on Israel was quoted by the Toronto Star as saying.




News Alert - June 29, 2006 - Mary a Meeting Point of Cultures, Says Muslim: Encourages Pilgrimages to Marian Shrines
Article: Roman Catholic Church and the Last Days
ROME, JUNE 29, 2006 (Zenit.org).- An Egyptian Muslim and deputy director of a prominent Italian newspaper suggested that Mary could be the figure who brings Christians and Muslims together.

Magdi Allam of Il Corriere della Sera spoke to ZENIT about the appeal he launched in the pages of the national daily newspaper to Muslims living in Italy to visit the Marian shrines in their host country.

The journalist said that he is convinced that the Virgin Mary is a meeting point between Christians and Muslims.

"Mary is a figure present in the Koran, which dedicates an entire sura [chapter ed.n.] to her and mentions her some thirty times. In Muslim countries there are Marian shrines that are the object of veneration and pilgrimage by Christian and Muslim faithful," he said.

"Therefore, I believe that if this happens in Muslim countries, why can't it happen in a Christian country, especially in a historical phase in which we need to define symbols, values and figures that unite religions, spiritualities and cultures?" he asked.
In Allam's opinion, "the Marian pilgrimage of

-- Italy's National Shrine -- could represent a moment of meeting and spiritual gathering between Muslims and Catholics, around Mary, a religious figure that is venerated by both religions."

Vittorio Messori, author of book-interviews with Pope John Paul II and Cardinal Joseph Ratzinger (now Benedict XVI), also wrote in Il Corriere della Sera on June 15 in support of Allam.

He said that the dialogue between Christians and Muslims "can begin afresh from Mary."

Note from Understand The Times: Below is a photo of a statue of Our Lady of Loretto and also a picture of a statue of Our Lady photographed on the second floor of Trinity Broadcasting Network, located on Bear Street in Costa Mesa, CA. You will see the similarity.




June 22, 2006 - 10,000 From All Over the World Expected At Korea Prayer Mountain
Article: Ecumenical Movement - Misc.
NEWS RELEASE
From Global Prayer Movement of Campus Crusade for Christ International

ORLANDO, FL (ANS) -- Co-leaders, Drs. Joon Gon Kim and Vonette Bright, have issued a call to women of many nations to an international prayer conference in South Korea. The invitation rises from a global decline in spiritual and social conditions, and deep desire for spiritual awakening.
"Natural disasters, political turmoil and the situation in Iraq need concerted efforts of prayer and fasting," declared Dr. Kim. "My heart's desire is to mobilize 10,000 women prayer warriors from all over the world to come to Korea for a full prayer and fasting conference. We will also organize workshops on prayer."

...The Osan-Ri Prayer Mountain has been reserved for August 21-24, with accommodations for up to 10,000 persons. "Christian church denominations and mission agencies are encouraged to send representatives and delegations," said conference planning coordinator, Dr. Ben Jennings. "The goal of the Conference is to enlarge a world-wide prayer movement among Christian women."




June 9, 2006 - Randall Terry (founder of Operation Rescue) converts to Catholicism
Article: Roman Catholic Church and the Last Days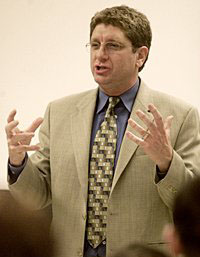 The online edition of World magazine reports for the "June 17" edition (even though today is actually June 9) that Randall Terry, founder of the well-known Operation Rescue has "left his evangelical moorings and quietly joined the Roman Catholic Church."

The news article (scroll halfway down the page) reminds us that that Terry, now 46, started Operation Rescue in 1987, nearly 20 years ago, was arrested over 40 times, and driven into bankruptcy in 1998 following multiple lawsuits filed by the abortion industry.

...A lengthy article in the June 9 issue of the National Catholic Register gives far more information about Terry's history, struggles, and personal life. Terry "entered the Catholic Church on Holy Thursday" (April 13) and spoke with NCR interviewer Tim Drake from Terry's new home in St. Augustine, Florida. Drake describes Terry's legal battles and the "string of 27 lawsuits by organizations such as the National Organization for Women, the ACLS and Planned Parenthood" which caused Terry to lose his home in 1998.




June 22, 2006 - Our Mother Jesus . . . a sermon by US church's new head
Article: Perilous Times
THE Episcopal Church in America descended into chaos last night after leading bishops on both the liberal and conservative wings dissassociated themselves from a last-gasp effort to avert a schism with the worldwide Anglican Communion.

Just hours after its newly elected woman head preached a sermon in praise of "our mother Jesus", the Episcopal Church agreed to "exercise restraint" in appointing any more gay bishops after a tense day of debate and argument.

...Earlier, at the morning Eucharist at the convention in Columbus, Ohio, Dr Schori signalled her feminist credentials in a sermon that drew on the writings of the 14th-century Julian of Norwich. She said: "Mother Jesus gives birth to a new creation - and you and I are His children. If we're going to keep on growing into Christ images for the world around us, we're going to have to give up fear."

Liberals in Britain and America defended her sermon as being in a long tradition of writings by women theologians that use the metaphor of Jesus as mother.




June 12, 2006 - Joyful pupils listen to Jesus: Red Deer students listen to Jesus during Eucharistic Adoration
Article: Roman Catholic Church and the Last Days
The news came from the joyous outcry of the children, from youngest to eldest, in St. Elizabeth Seton Elementary School. It proclaimed that Jesus, the real Jesus, was coming into the heart of our school to speak to the heart of our souls. Jesus, Emmanuel . . . God-With-Us . . . the real Jesus.

Some children dressed up just for him. Some children pondered what Jesus might say to them. Some children skipped into their mother's arms, speaking of such a wonder.

The inaudible news came from the heart of Jesus himself, speaking into the hearts of the organizers: urging us on, holding us up, helping us to be bold disciples of Christ. Be not afraid! That was Pope John Paul II's call. Jesus, with these words, was guiding us the entire way!

God is so good. So very, very good.

So we worked on:
Teaching the children about Jesus' real presence in the Eucharist.

Preparing our hearts to be listening hearts, so we might hear his words to us.

Asking the children what songs of worship they would like to sing to him.

Transforming our library, the physical heart of our school, into a throne room for our Jesus.




June 30, 2006 - Witch School Opens In Midwestern Town
Article: Rising Interest in the Supernatural
In the "Harry Potter" series, the Hogwarts School of Witchcraft and Wizardry sits in a mystical Scotland location, shrouded by magic that hides it from unknowing humans.

Starting next week, in the unlikeliest of places, a real witch school will open its doors to the public in a place known as the Sweet Corn Capital of the World.

After almost five years of existence on the Internet, Witch School is expected to operate under normal business hours in the town of Hoopeston, Ill., about 100 miles south of Chicago.

The school is dedicated to educating the public in Wicca, a neo-Pagan religion that incorporates nature and magic into its theology. Until now the school has existed almost entirely on the Internet.

It's a humble beginning, Hubbard says. The school is adorned with a "Witch School" sign and has maintained a quiet presence since moving to Hoopeston in 2003. He says that with an estimated 30 new students to 50 new students registering on the Web site every day, the "cyberministry" is rapidly growing.

The school has roughly 120,000 active students who enroll in Witch School's Internet courses, which range from Druid and Celtic history to crystal and gem magic, Hubbard says. Students then take at least one test a month to stay active and can eventually become an accredited member of the clergy.




July 2, 2006 - IDF Air Strike Hits Hamas Prime Minister's Office
Article: Israel and the Last Days
The Israel Air Force fired two missiles at the office of Hamas Authority prime minister Ismail Haniyeh late Saturday night.

Haniyeh's Gaza City offices went up in flames after an IAF helicopter attacked the building, which was empty at the time. "They have targeted a symbol for the Palestinian people," said Haniyeh as he gazed at the smoking ruins.

The PA security militia created by Hamas was also struck, as well as another building used and occupied by armed terrorists. IAF fire killed one terrorist and injured a second.

We hope the Weekly News In Review has been a blessing to you.
In Jesus,
Roger Oakland