In This Issue






Links Of Further Interest






Quick Links






Quick Links










We have compiled a list of twenty trends, in the news, for 2007. You can read this review by clicking on the link below
http://www.understandthetimes.org/yir200 7.shtml



January 4 - Evangelicals Rebuke NAE Leaders over Islam Letter
Article: .One World Religion
Some prominent evangelical leaders are criticizing the heads of the National Association of Evangelicals for signing a letter to Muslim leaders containing controversial language.
The critical leaders include Dr. Albert Mohler, Gary Bauer, and Dr. Patrick Sookhdeo who voiced opposition to the apology in the letter for the sins of Christians during the Crusades and for "excesses" of the global war on terror, without mentioning Muslim acts of violence.
Moreover, the leaders contend the letter compromises the importance of Jesus in Christianity in order to appease Muslims.
Mohler noted that the letter "sends the wrong signal" and contains basic theological problems especially in "marginalizing" Jesus Christ, according to Focus on the Family's Citizenlink. He also rejected the apology for the Crusades




January 4 - US 'doomed' if creationist president elected: scientists
Article: Creation / Evolution - Misc.
A day after ordained Baptist minister Mike Huckabee finished first in the opening round to choose a Republican candidate for the White House, scientists warned Americans against electing a leader who doubts evolution.
"The logic that convinces us that evolution is a fact is the same logic we use to say smoking is hazardous to your health or we have serious energy policy issues because of global warming," University of Michigan professor Gilbert Omenn told reporters at the launch of a book on evolution by the National Academy of Sciences (NAS).
"I would worry that a president who didn't believe in the evolution arguments wouldn't believe in those other arguments either. This is a way of leading our country to ruin," added Omenn, who was part of a panel of experts at the launch of "Science, Evolution and Creationism."
"If our country starts to behave irrationally whereas all the other countries coming up and chasing us (to take over as the world leaders in science and technology) behaving rationally, we are doomed," Omenn said.




January 4 - Myanmar issue must remain a priority: EU envoy
Article: Misc.
UNITED NATIONS (AFP) - Efforts to promote democracy in
Myanmar
must remain a priority for the international community,
European Union
special envoy for Myanmar Piero Fassino said here Friday.
After talks with UN chief Ban Ki-moon and his envoy on Myanmar, Ibrahim Gambari, Fassino said they found common ground, particularly on the need to enlist the support of all key Asian countries for diplomatic pressure to secure a political dialogue between the Myanmar regime and the opposition.
"This is a situation we want to avoid," he said. "We want to keep Myanmar at the top of the international community"s agenda ... Our common goal is unblocking a situation which today appears stalled."
He added that one of the key objectives remained the release of Myanmar opposition leader and Nobel Peace laureate Aung San Suu Kyi as well as of all leading other political prisoners.




October 8 - As Obama Talks Religion, Questions Surround His Controversial Pastor
Article: Social Gospel
Barack Obama has put his religion back into the headlines, trumpeting the power and salvation of faith and asking a church audience in South Carolina to help him become "an instrument of God" and join him in creating "a Kingdom right here on Earth."
Obama has written and spoken about being inspired by the preaching of the Rev. Jeremiah Wright Jr., and his calls to "spur social change." The title of Obama's second book, "The Audacity of Hope," which essentially launched his presidential bid, was taken from a sermon by Wright.
Some of Wright's sermons, which often address themes of white supremacy and black repression, have come under scrutiny by those who interpret them as racially divisive. Such preaching, they believe, polarizes Americans rather than unites them.
"Statements that suggest you cannot truly understand God unless you are black or poor are exclusive."




January 7 - Jesuits gather in Rome to elect new "black pope"
Article: Roman Catholic Church And The Last Days
ROME (Reuters) - There won't be any white smoke to tell the world he has been elected, but another sort of secret conclave began in Rome on Monday -- to chose the worldwide Jesuit leader who is known as the "the black pope".
At Jesuit headquarters a block from the Vatican, 225 delegates from around the world will choose a new superior general to run the largest and perhaps most influential, controversial and prestigious Catholic clerical order.
Their leader is traditionally known as "the black pope" because of the colour of the simple cassock he wears and because -- like the pope who dresses in white -- he has worldwide influence and usually keeps the position for life.
In the 1960s, the all-male order officially known as the Society of Jesus peaked with some 36,000 members worldwide. It now has about 19,200 members involved in education, refugee help and other social services.
The new Jesuit leader is elected by a secret ballot. After he is chosen, the delegates are not allowed to leave the room until Pope Benedict is informed, in keeping with a centuries-old tradition that the "white pope" be the first to know who the new "black pope" is.




January 6 - On Mary, Mother of God
Article: Roman Catholic Church And The Last Days
VATICAN CITY, JAN. 6, 2008 - Here is a translation of the address Benedict XVI gave at the general audience Jan. 2. We are "contemporaries" of the shepherds, of the magi, of Simeon and Anna, and while we go with them we are full with joy, because God has desired to be the God with us and he has a mother, who is our mother.
We think of the privilege of the "Immaculate Conception," of being, that is, immune from sin from the moment of her conception: Mary was preserved from every stain of sin because she had to be the Mother of the Redeemer. The same goes for the title "Assumed": she who gave birth to the Savior could not be subjected to the corruption that comes from original sin. And we know that all these privileges are not given to distance Mary from us, but on the contrary to make her more near; in fact, being totally with God, this Woman is very close to us and helps us as mother and sister.
Precisely because Mother of the Church, the Virgin is also Mother of each one of us, who are members of the Mystical Body of Christ. From the cross Jesus entrusted the Mother to each of his disciples and, at the same time, entrusted each of his disciples to the love his Mother. Thus, in the supreme moment of the fulfillment of his messianic mission, Jesus leaves to each of his disciples, as a precious inheritance, his own Mother, the Virgin Mary.
Dear brothers and sisters, in these first days of the year we are invited to attentively consider the importance of the presence of Mary in the life of the Church and in our personal existence. Let us entrust ourselves to her that she may guide our steps in the his new period of time that the Lord has given to us to live, and that she may help us to be authentic friends of her Son and thus courageous builders of the his Kingdom in this world, Kingdom of light and of truth.




January 7 - Human life under attack warns Benedict XVI
Article: One World Religion
Religious freedom is another area where the Pope sees human dignity and human rights as being attacked. According to the Pope, "There are many places where this right cannot be fully exercised. The Holy See defends it, demands that it be universally respected, and views with concern discrimination against Christians and against the followers of other religions."
Actions stemming from this way of life are the "Only in this way can we build the future of humanity; only in this way can we facilitate an integral development valid for today and tomorrow", the Pontiff said.
.- Continual attacks against human life that are being launched around the world must be addressed by today's intercultural and inter-religious discussion, Pope Benedict told the diplomatic corps this morning.




January 6 - Bush to propose ME plan to combat Iran
Article: Wars And Rumrs Of Wars
US President George W. Bush will work with
Middle
East
allies to develop a security plan to counter Iran during his upcoming visit to the region. In his weekly radio address, Bush said that curtailing Iran's "aggressive ambitions" will be one of the key aims of his trip to the region this week.
Bush said Iran remained a threat because it continued to develop missiles that could deliver nuclear weapons and had resisted international demands to suspend uranium enrichment, a process that can produce fuel for a reactor or fissile material for a bomb.
"It's important for the people in the region to know that while all options remain on the table, I believe we can solve this problem diplomatically, and the way to do that is to continue to isolate Iran in the international community," Bush said.




January 8 - As Bush flies to Israel, 'rogue' tornadoes rip Midwest US
Article: Israel And The Last Days
At least two people were killed Monday night when an army of tornadoes tore across the Midwest United States, just hours before President George W. Bush departed for the Middle East where he plans to put his hand to dividing up the Land of Israel.
As many as 37 "rogue" tornadoes - as Fox News described them - fueled by moist air from the south, tore homes from their foundations and knocked railroad cars of their tracks as it rampaged across southwest Missouri, southeastern Wisconsin, Arkansas, Illinois and Oklahoma. The Associated Press described the storms as "a freak cluster of tornados."
A sheriff in Wisconsin's Kenosha County, where 11 houses were destroyed, told the news agency he had "never seen damage like this in the summertime when we have potential for tornadoes. To see something like this in January is mind-boggling to me. This is just unimaginable to me."
Weathermen said record warm temperatures were being experienced across much of the United States, and forecast more "wild weather" to come as a result.




January 7 - Myths Exposed on Charismatic Christianity in America
Article: Misc.
Many people believe that charismatic Christianity is almost exclusively a Protestant phenomenon, but research shows that one-third of all U.S. Catholics (36 percent) fit the charismatic classification, according to the new Barna study. And nearly one-quarter of all charismatics in the U.S. (22 percent) are Catholics.
Another misconception is that charismatic churches belong to a strictly separate group of denominations. In reality, charismatic churches have crossed denominational boundaries in recent years. A Barna survey of senior pastors reveals that seven percent of Southern Baptist churches and six percent of mainline churches are charismatic.
"The freedom of emotional and spiritual expression typical of charismatic assemblies parallels the cultural trend toward personal expression, accepting diverse emotions and allowing people to interpret their experiences in ways that make sense to them," Barna explained. "It is not surprising that the Pentecostal community in America has been growing." He added that he expects charismatic Christianity will continue to grow.




January 8 - Worldwide Eucharistic adoration campaign for priests and sex abuse victims started
Article: Roman Catholic Church And THe Last Days
According to Cardinal Cláudio Hummes, the head of the Vatican dicastery, the purpose of the initiative is for there to be somebody, somewhere, praying for priests every hour of the day before the Blessed Sacrament, as well as imploring the intercession of the Virgin Mary.
Hummes, the head of the Vatican ministry for the clergy, said a letter was sent to "dioceses, parishes, rectories, chapels, monasteries, convents and seminaries" calling on them to organise groups of "adorers".
.- The Congregation for the Clergy has launched a worldwide Eucharistic adoration campaign for the holiness of priests and for vocations to the priestly life. One particular focus of the new effort is to pray for the victims of clergy sexual abuse.




January 9 - Pro-Evolution Book Says Science and God Compatible
Article: Creation / Evolution - Misc.
A new book produced by scientific advisers to the government in support of evolution says science and religion, as two separate ways of human understanding, can be compatible and it is possible for one person to embrace both.
"Attempts to pit science and religion against each other create controversy where none needs to exist," states the book, asserting that one does not have to abandon belief in God to accept evolution.
According to Alan Leshner, CEO of American Association for the Advancement of Science, the scientific community is "working more and more with religious communities so that we can talk about ways that people can have this co-existing understanding (of science and religion)," he said Monday on The Diane Rehm Show.
"Over and over, religions that see the Bible as an allegory, as a description of an overall process that isn't tied to literal day by day, those religions seem to understand better how science can co-exist with a religious belief or even a biblical belief. It's the literalist point that has tremendous problems."




October 10 - Philippines celebrates Feast of the Black Nazarene
Article: Signs And Wonders
2.2 million devotees seeking blessings and atonement from sins packed the streets around Quiapo church, which hosts the life-sized wooden statue. Two died and dozens were injured in the press of the crowd, Inquirer.net reports
Spanish missionaries brought the statue to the nation from Mexico in 1606. Their ship caught fire, and though flames darkened the statue it survived the blaze. Many devotees believe the statue has miraculous healing power and can wash away sins.
A replica of the statue was carried from the church on a cart in an hours-long procession through the packed streets. Many of the pilgrims pressed forward, trying to touch the replica.
.- Filipinos celebrated the Feast of the Black Nazarene on Wednesday, centering their veneration around a black statue of Jesus, that many believe has miraculous capabilities.




January 11 - Study: What brought people to church may not keep them there
Article: Emerging Church
Now, church leaders are looking for new ways to keep them there after new research revealed that worshipers' spiritual growth did not keep pace with their involvement in church activities.
The findings, based on research at Willow Creek and similar churches, showed that involvement in church activities did not carry with it a boost in spiritual growth, defined as "increasing love for God and others."
Church activities "don't seem to be lifting them up the spiritual ladder to a new level," said Cally Parkinson, who helped manage the evangelical church's research effort.
Senior Pastor Bill Hybels said it was "almost unbearable" to learn that nearly a quarter of his people were either "stalled" in their spiritual growth or dissatisfied with the church, with many considering leaving.




January 10 - The US president's global agenda
Article: Israel And The Last Days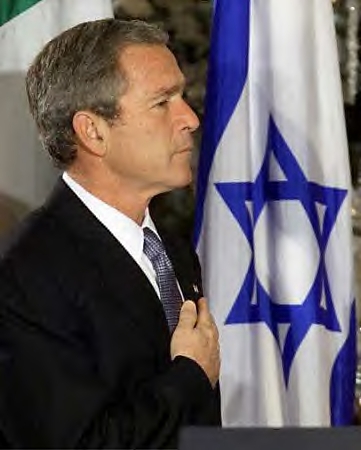 While US President George W. Bush's current visit to Israel and the Middle East is no doubt of historic consequence, for the people of Israel, it did not take his presence in Jerusalem to prove his overwhelming commitment to the welfare and security of the nation.

It is therefore no surprise that as he approaches the latter months of his presidency, Bush has chosen to come to the region to bolster Prime Minister Ehud Olmert and Palestinian Authority President Mahmoud Abbas - both of whom are weak leaders requiring the backing of a committed US ally. <!- - display the rest of the paragraphs -->
Bush's presence here will also play an invaluable role in shoring up support within the Arab League for the understandings reached at Annapolis. He is hoping to stress to the Arab world that they have both a responsibility and a direct interest in helping to foster an effective political dialogue between Israel and the Palestinians.




January 10 - Bush: Palestine will emerge before I leave office
Article: Israel And The Last Days
US President George W. Bush said Thursday he believes Israel and the Palestinian Arabs will sign a peace treaty enabling the creation of "Palestine" on the historical land of Israel by the end of his term in the White House, a year from now.
Bush is half- way through a three-day stop in Israel - on an eight day tour of the MiddleEast - the main purpose of which is to "nudge" Israel and the Palestinian Arabs into resuming negotiations he hopes will culminate in the creation of a new Arab state on the Jews' ancestral and biblical land.
Peppering his speech with the phrase "I believe," Bush said he was convinced that it was possible that "Palestine will emerge" before he leaves office.




January 11- Big Brother to control thermostats in homes?
Article: One World Government
Add thermostats to the list of private property the government would like to regulate as the state of California looks to require that residents install remotely monitored temperature controls in their homes next year.
The government is seeking to limit rolling blackouts and free up electric and natural gas resources by mandating that every new heating and cooling system include a "non-removable" FM receiver. The thermostat is also capable of controlling other appliances in the house, such as electric water heaters, refrigerators, pool pumps, computers and lights in response to signals from utility companies. If contractors and residents refuse to comply with the mandate, their building permits will be denied.
She claims residents will be able to manually override controls in all cases, but the 2008 Building Efficiency Standards (Page 64), known as Title 24, specifically states: "The PCT shall not allow customer changes to thermostat settings during emergency events."
Other opponents of the state proposal expressed concern that its mandatory nature is a sign of increasing "Big Brother" government control.




January 9 - How Do Unchurched Americans View Christianity?
Article: Misc.
In a portrait of the "unchurched" in America, a new study found that most are willing to hear what people have to say about Christianity but a majority also sees the church as a place full of hypocrites.
"A full 72 percent of the people interviewed said they think the church 'is full of hypocrites,'" said LifeWay Research director Ed Stetzer.
"If you aren't going to church, you don't have an opportunity to be informed about what the Bible teaches or what other faiths teach," he said. "It's not surprising then that unchurched people lump world religions all together and consider the gods described in them as being the same."
Up from 17 percent in 2004, 22 percent of Americans say they never go to church - the highest ever recorded by the General Social Survey. But the problem is compounded by a widespread notion of religious tolerance that says religious and spiritual truth is a matter of personal opinion, Stetzer said, according to the report.
"We found a real openness to hearing about matters of faith, but the study also clearly documents what I call the Oprah-ization of American Christianity," he said. "It's very much a generic 'big guy in the sky' view of God and a 'you believe what you believe, I believe what I believe' viewpoint on theology. People say, 'Who am I to judge?'




January 10 - 666 Draws Comment in House of Commons
Article: Misc.
LONDON - The beast of the Book of Revelation intruded into the banter of the House of Commons on Thursday when a motion calling for the disestablishment of the Church of England was numbered 666.
The last book of the Bible says 666 is the number of a beast that "had two horns like a lamb, and ... spake as a dragon," and that "doeth great wonders, so that he maketh fire come down from heaven on the earth in the sight of men."

"It is incredible that a motion like this should have, by chance, acquired this significant number," said Bob Russell, a Liberal Democrat lawmaker. "It looks as though God or the devil have been moving in mysterious ways," he said.

The motion simply states: "That this House calls for the disestablishment of the Church of England" -- in other words ending its status as the country's legally established, official faith.






January 9 - Sarkozy seen as backing Blair for top EU job
Article: One World Government
Former UK prime minister Tony Blair will attend a conference of French president Nicolas Sarkozy's centre-right party UMP on Saturday (12 January), in what is said to be his first intervention for a party other than his own.

The move is fuelling speculation that Mr Blair, who belongs to the UK's center-left Labour party, is in the running for EU president - a new high-profile job that can be held for up to five years starting in 2009.
The two men will debate Europe and Mr Blair may get clear backing from Mr Sarkozy in exchange of his participation at the conference, according to media reports.

The president of the socialist group in the French national assembly, Jean- Marc Ayrault, has accused Mr Sarkozy of preparing the ground for Mr Blair's candidacy for the EU top job with Saturday's event. "I see something emerging from the UMP's side and from the president of the republic (.), which is preparing Tony Blair's candidacy for EU president", Mr Ayrault was reported as saying by French news agency AFP on Tuesday (8 January).





January 11 - Last Call for the Society of Jesus - To Obedience
Article: Roman Catholic Church And The Last Days
The Jesuits elect their new superior general and discuss the reasons for their decline. But the Vatican authorities have already said what they expect from the order: more obedience to the pope, and more fidelity to doctrine.
And on February 21, Benedict XVI will hold an audience with the newly elected head, together with the delegates who have come to Rome representing the almost twenty thousand Jesuits all over the world.

Moreover, the congregation will discuss a report on the Society's strengths and weaknesses, and a dozen questions concerning the identity and mission of the Jesuits in today's world. Including their vow of special obedience to the pope.

It is easy to guess that cardinal Rodé expressed the thought and expectations of Benedict XVI. One thing that preoccupies the Church's leadership is the influence that the Jesuits have on the bearing of the other religious orders, and on the formation of priests and theology students in the many schools and universities that the Society operates all over the world, beginning with the Pontifical Gregorian University, which prepares many future bishops.





January 12 - Monks in Oklahoma are creating a cloistered compound built to last 1,000 years
Article: Roman Catholic Church And The Last Days
HULBERT -- A vision born 35 years ago on the campus of the University of Kansas and nurtured in a monastery in France moved closer to reality this week, as monks at Our Lady of Clear Creek Monastery moved into their new residence building.
"We wanted to build a community like the ancient monasteries, a place devoted to the contemplative life and prayer."

But their dream was to build a European-style monastery, constructed to last 1,000 years.

The courtyard and monks' rooms are part of the cloistered area, not open to the public, as part of the monks' discipline in separation from the world, and silence. "This is to create an atmosphere conducive to prayer and communion with Christ," Anderson said.

Hospitality is a hallmark of the Benedictine Order, providing a place where visitors can find peace and quiet, and a sense of orientation, sanity and spiritual light, Anderson said.

We hope the Weekly News In Review has been a blessing to you.
In Jesus,
Roger Oakland