A Church and Community Center for a Kenyan Village
My first trip to Kenya was during the month of November 2011. I stopped in Kenya on my way home from South Africa in and visited several communities I had been made aware of through the ministry of one of the local pastors. While I had been accustomed to visiting areas of the world where parentless children went to bed hungry every night, the needs I saw first-hand in Kenya touched me deeply.
The people in one area in particular and the experiences I encountered, remain etched in my mind. Over 50 percent of that community consisted of widows and orphans as the result of the devastation caused by AIDS.
Before my arrival the community was notified of my scheduled visit. A large gathering including grandmothers, mothers and children of all ages greeted me, singing and praising the Lord showing how grateful they were that I had come to visit them. Several communicated personally with me. One grandmother prayed God would provide material assistance though this "white-skinned" man who had come from the west who she believed God might use to help her find a way out of the hopeless situation she faced.
For a short video illustrating this scenario please click on:
https://www.youtube.com/watch?v=h-ypFgX0Z_A&list=UUKB5wYb_lCrTACVlq0S0R1w
A month or two after my first visit to Kenya, Understand The Times, with assistance from Lighthouse Trails, established the Bryce Homes Kenya Program. A partnership was made with three capable Kenyan leaders committed to the program.
Initially there were five Homes. This expanded to twelve, then twenty and now twenty-four. There are now six Bryce Homes in the remote community where the widows and orphans gathered to greet me in November of 2011.
The Bryce Homes Program has made a huge impact on this region of Kenya. Not only have the people living there seen "true Christianity" in action, the chief of the area has told us that the whole community has benefited in many ways. Six new homes have been built, food and clothes provided and water collecting and purification systems to provide clean and pure drinking water.
When church services are held outdoors by the Bryce Homes families, the praise and worship attracts others in the community. Thus the reason for this update regarding a plan for a church building program. Already a pastor has committed to overseeing the Bryce Homes in this area and care for the flock that has been established. Gatherings occur regularly outdoors under the hot sun. There are only rocks and the odd log to sit on. When the sky opens and the rain pours down, the congregation if forced to flee to their homes until the rain subsides.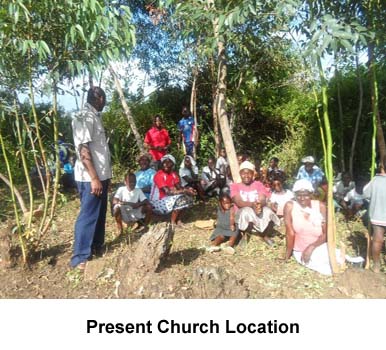 A legitimate and worthy request has come from our Bryce Homes Kenyan leaders regarding the constructing of a church shelter for this region. Not only would this provide a place of worship for each of our six Bryce Homes, it would provide a tremendous opportunity for outreach to the entire community with the gospel on a weekly basis.
The number of adults and children expected to attend a Sunday morning service would be over 200. Mid-week the shelter would be used for other activities that would benefit the entire community. The facility could also be partitioned in the future with removable walls so that it could be used for an education center where a Bible College could be established. It could also be used as a place where various trades could be taught with the goal to assist young people to work towards self-sufficiency.
While North Americans are accustomed to raising and spending millions of dollars for steeples, stages, balconies, carpet and chandeliers, the church shelter we are planning capable of holding 250 people will be very basic – a place for the congregation to get out of the sun and rain. Of course another necessity would be a latrine – preferably one with four compartments in order to meet the demand.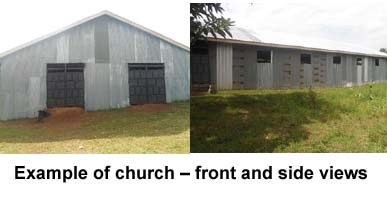 Now, the cost for a church building similar to the one above would be around submitted $3700. This includes church building and the latrine. Three thousand and seven hundred dollars is a project that can be accomplished as God's people provide.
The floor will be plaster. Ventilation will be provided through open doors and windows. A steeple is not included in the plan. Plastic chairs will be added later for the congregation.
Speaking of a building fund, several generous year-end donations have already been given to Understand The Times in the past week designated for Kenya. As we feel God is leading us, the Church Building Fund for Kenya has begun.
We are hoping and praying the church may even be completed when one of my Board members and myself visit Kenya in March of 2015. If you are interested in investing in this project, let us know.